Before I start. All the pictures in this blog (and all my blogs for that matter) are left handed. I suggest all you righties out there copy the pics and flip them, as I do with your's.
Continuing the 'atomic' theme I now introduce you to Manhattan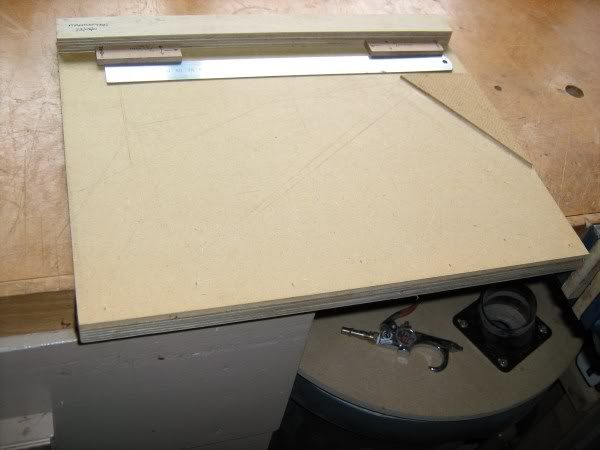 This is the cutting board I use for parquetry. Made in 2001 and still going strong. Its basically like a bench hook, as used for hand sawing, with a couple of differences. Its made from a piece of MDF 350×300 x 6mm with a couple of strips of 12mm Birch ply attached(one at top back, the other at front bottom). To extend knife blade life the face of the MDF can be covered with self adhesive vinyl tile.
The piece of 3mm Hardboard (Masonite, could also be vinyl tile) attached at the right side is a 60°/30° right angle triangle which is a special mod' (modification) to this jig to allow easy cutting of diamonds for Louis Cube patterns.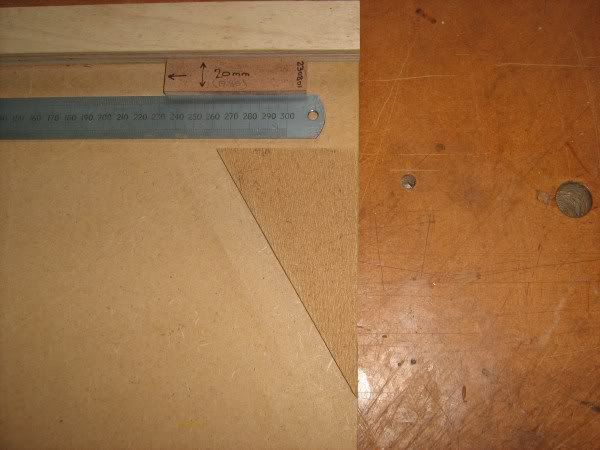 In addition there are two identical spacers used to set the piece width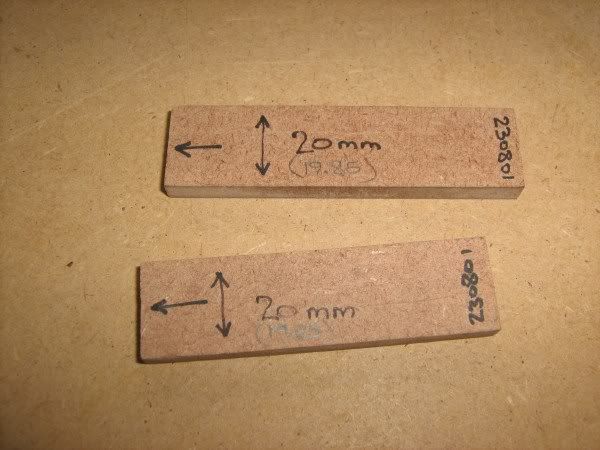 Before I start cutting there's one thing to attend to which veneers and people with long hair have in common. Split ends. I tape mine with veneer tape (very thin paper tape with a gum backing, which you have to wet, like old postage stamps), 'because they're worth it!'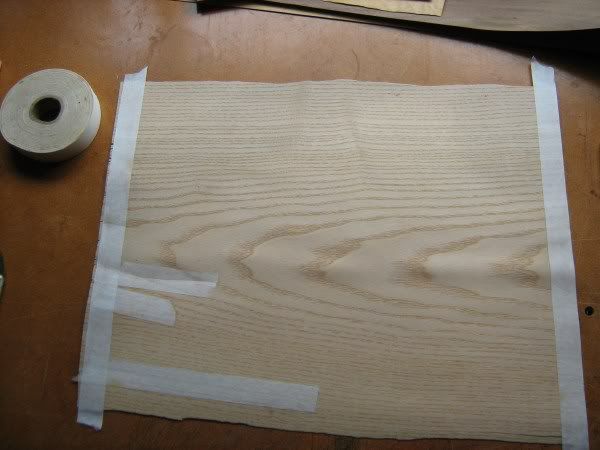 Time for cutting the diamonds for the pattern. First I cut all the pattern veneers into strips (this time 20mm wide). Butt the veneer edge up to the back ply strip. Knife cut is the side of the ruler closest the ply strip.
The handy spacers making sure all the strips are exactly the same width. Once I've cut all the veneer into strips I move on to the second operation which is to cut the diamonds. Aligning a strip to the sloped side of the triangle guide I first advance it until the square end is all the way under the ruler and trim off the triangle of excess. Then I butt the sloped end of the veneer up to the ply and cut off a diamond.
I've used the same spacers for a perfect diamond.
When the strip becomes too short to reliably keep the 60° angle (by alignment to the triangle)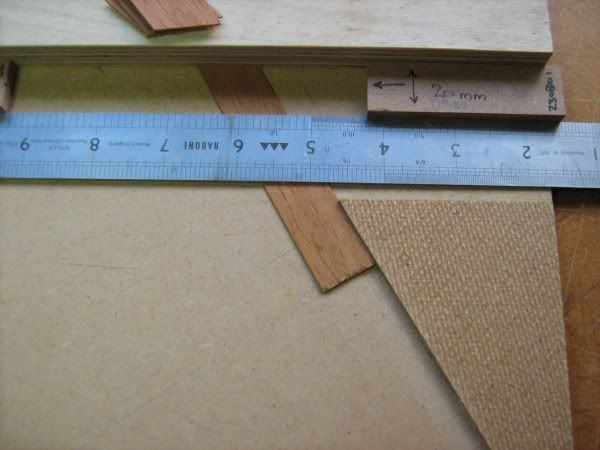 just move it over and bring in the next strip to align it against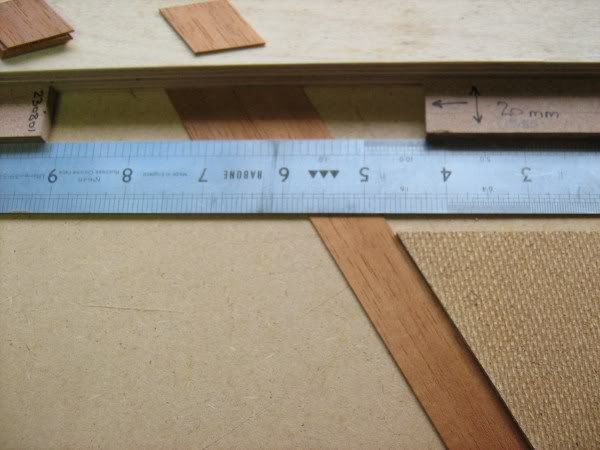 After a couple of hours and aching muscles in the lower arms I've cut all the diamonds. Time for tea and custard creams ( biscuit of choice for me ).
Be seeing you.
-- Martyn -- Boxologist, Pattern Juggler and Candyman of the visually challenging.
---