As I'm sure I've mentioned before I do a fairly mundane day job, stacking shelves. One of the main tools for this is a clipboard, to hold my picklist. It invariably goes missing. Either I leave it in a trolley somewhere or, worse still, somebody 'borrows' it without asking. Hence the cry 'Where's me clipboard!'. The use of 'me' instead of 'my' is a dialect feature of East London and Estuary English which, along with commeritis, I can't shake off.
So I've decided to make my own. How hard can it be? I've already decided on a 3 mm Birch ply board, veneered on both sides. I used to do a lot of veneering, parquetry (regular geometric shapes), back in the day. The first thing to do was search out Enola Gay, my veneer clamp. There is an 'atomic' theme to the way I name my clamps etc, as Patron once noted. They include
Enola Gay – Veneer Clamp (1220mm x 310mm)
Little Boy – Veneer Caul (400mm x 300mm)
Fat Man – Veneer Caul ( 400mm x 500mm)
Los Alamos – 45° Mitre jig (sled)
Trinity – 30°-60° jig.
I digress. To the best of my recollection I haven't opened Enola up since we moved here in 2004. I found her at the back of the wood pile and removed the spiders (ugh Arachnids!) etc and here she is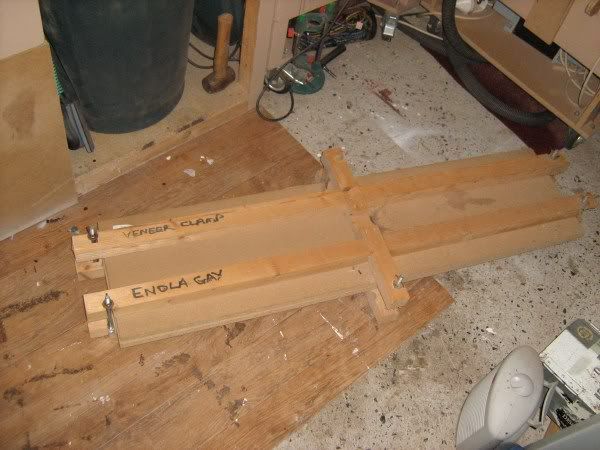 The first layer was some fairly unimpressive ash, ideal for the working face of the board.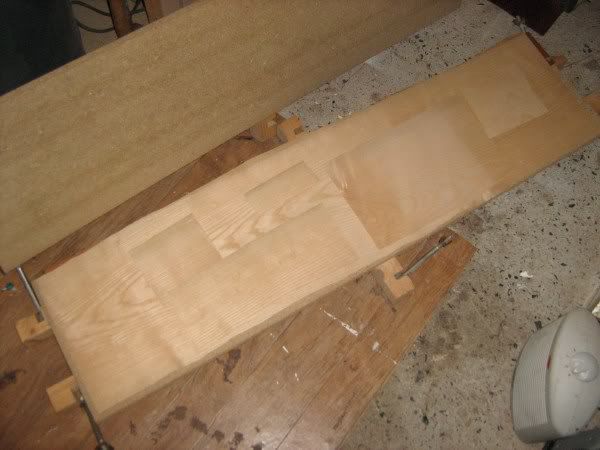 Next and sadly last layer held Sapele, some kind of Lacewood and a thin strip of American Black Walnut.
This gave me an idea. When I was heavily into veneering I used to make writing slopes. Here are the last two, partially completed ones.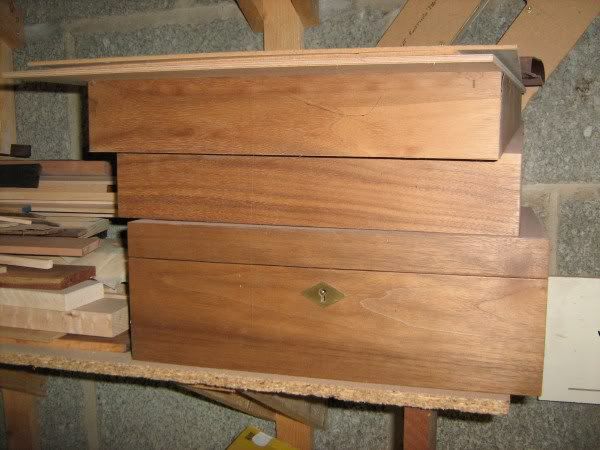 On top of which I found the rest of my Walnut stash and some small bits of Ripple Sycamore. Together with the clip I rescued from a badly beaten old clipboard here are my materials.
I plan on veneering the working face with one solid piece of Ash and the rear will hopefully be some form of Louis Cube (Tumbling Blocks) pattern, suitably edged for wear and tear. Although I may not have enough veneer to pattern the whole of the back, we'll see. I plan on finishing the board in Yacht varnish. Its going to have to take a lot of punishment. Not least from my steaming tea mug stood on it.
This has to be easier to do than start Impossible V, which is in the pipeline. All I can say to people new to patterns is 'Beware the Tumbling Blocks. Look where they lead to!'
Be seeing you!
-- Martyn -- Boxologist, Pattern Juggler and Candyman of the visually challenging.
---