So 1st fallback reached yesterday. I have to border the pattern. For the pattern glue-ups I used a traditional glue, PVA. This is good for this purpose but if I had mitred all edges (and the top) the tiny 1mm squares at each corner might not have held on at all. Worse still is the possibility that they would chip off over time. So bordered it is.
Using 7mm strips of Purpleheart I set out the patterns to give me an overall idea of what it would look like.
I then labelled everything so I new what was going to go where
Then gave each side a Purpleheart edge
For this and all other glue-ups I am using Viscose Cyanoacrylate (Superglue). I can hear groaning from the back. I know there are people out there who think superglue is cheating. I'm sure the same was said about PVA when that was introduced. I use appropriate technology for the job I want to do. Do you want to see me hew all the pieces out with a stone adze (rhetorical question).
The excess Purpleheart was trimmed off on the disc sander.
Next I edged the top in Purpleheart using mitred corners. Darn I love that disc sander, so precise. To see how things fit I did a dry fit-up with the parts just taped together. The pinwheel bottom is only there because I haven't cut the strips to size yet. The bottom strips will be mitred like the top.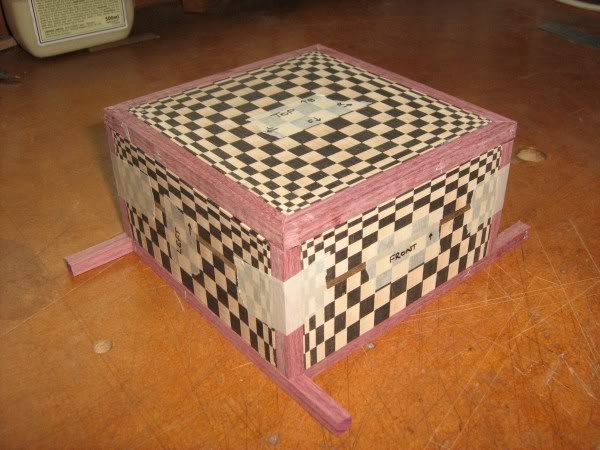 For those of a squeamish nature who don't want to risk their sanity look away now because here's a peek inside (box upside down). It might help if you squint but then again it might not.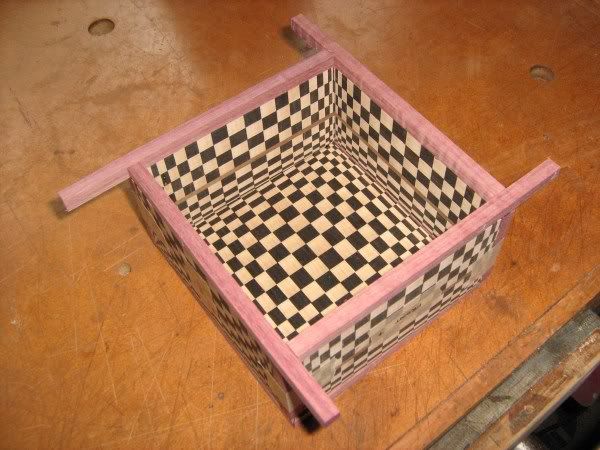 There is still much to do before its finally glued-up. I have to mill the slots to take the lipping (which locates the top on the bottom of the finished box). Make a bottom. Mill slots for it in the purpleheart which will line the bottom of the sides. Drink more tea. Stare at the box with one eyebrow raised and an insane glint in my eye and an evil chuckle (heheheheee) and finally finish sand and seal the inside.
Be seeing you.
-- Martyn -- Boxologist, Pattern Juggler and Candyman of the visually challenging.
---