Hello all
I have a box design I want to do and it involves inlaying small irregular shaped pieces. How am I going to do it? I thought long and hard.
Having already gone to acquisition level 2 once before. I've gone and got myself a scroll saw. Its only a cheapie at £55 ($84). 16", 90 watt motor, tiltable table. I've had my first play. I'm using a piece of 6mm MDF as a zero clearance device. I'm quite impressed. The test for the inset pieces was easy. So I decided to see how far I, a scroll saw novice, could saw to the edge. The wierd outline shape and the two initials are done with grain going vertically with respect to the picture for the initials and across for the shape. The material is 1mm thick sycamore. The third initial broke off so now I know the limits. They were free hand so they're not very tidy. I've tried following a drawn line and I'm getting better at it, its difficult to get used to moving the material you're cutting around whilst you're cutting. This is disaster on a tablesaw and the bends you can acheive are much tighter than on a bandsaw (which I'm still not quite as happy as I can be on).
The vibration is minimal and for the money I'm very pleased. I don't think I will ever get to the standards that cozmo35 and Scrollgirl and I'm not going to even try. Suffice it to say that it (and my amateur skill level) does what I need it to do. The box concerned will make the light of day, shortly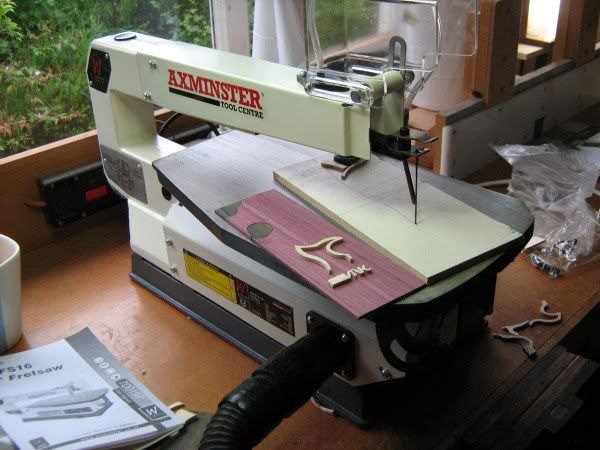 -- Martyn -- Boxologist, Pattern Juggler and Candyman of the visually challenging.
---