You are not going to believe how simple this glue-up is going to be. Some of you will not believe it will work. Others, possibly some of the cutting board purists, will say I'm cheating. Frankly Scarlet I don't give a damn (name that movie). This is a box top and all its joints don't have to be impervious to water, like a cutting board. I will flood the top of the pattern with a clear epoxy finish ultimately, anyhow.
These are the players in this little drama. Left, the pattern held tightly in a six sided frame (more of which in a moment.Top left, vertically grain orientated (relative to the Ebony grain direction in the pattern) 1.5mm Birch aeroply. Top right, horizontally grain orientated 1.5mm Birch aeroply. Bottom left 6mm MDF backing board. Bottom right, 6mm MDF top board, slightly smaller than the pattern being clamped.
The pattern frame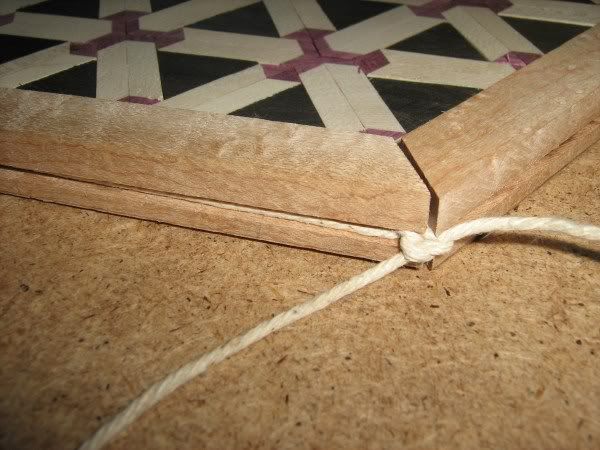 consists of six pieces all slightly shorter than the side length of the pattern. Each with a slot at the rear to accept a long string, used to pull them and therefore the pattern evenly together. Tied off when tightened.
Clamped
withe twelve clamps. In order from bottom to top. Backing board, horizontal aeroply (top glued), vertical aeroply (top glued), pattern in frame, top board (holding the pattern pieces flat). Its in there with the glue setting as I blog. Oh and yes I'm aware that I will have to cut the pattern frame off afterwards. Will it work? Should do, don't know. Its the first time I've done it like this. We'll see.
-- Martyn -- Boxologist, Pattern Juggler and Candyman of the visually challenging.
---