Not a threat. A lyric from an early Pink Floyd album. But I am going to do it, to the blanks. There's some trig. in this part of the blog. If you don't know Trigonometry youll just have to trust me. First this is what came out of the glue-up.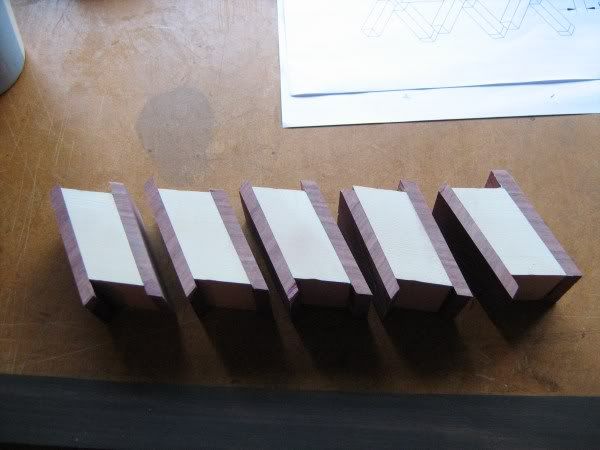 Now I'd pre thicknessed both the Sycamore and the purpleheart on the side which will be triangle shaped before gluing up so all I have to do now is thickness the other side, to 4mm. I do this by trimming the end off in the table saw then precision sanding it to size. The overall length of the rod piece is 42mm (8mm Purpleheart, 30mm Sycamore and 4mm Purpleheart). This is an opposing corner to corner measurement and as the blank is a rhomboid (lozenge, call it what you want) cut at 60° If I now thickness the blank to 36.37mm (42 x sin 60°) the thin side should be correct. Like so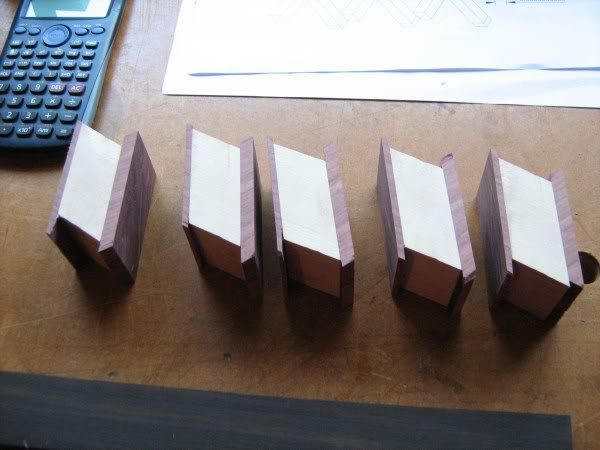 I tidied up the sticky out edges of the purpleheart and then cut the blanks into slices, so
and so
of which I'll use the 20 best to cut up in the other direction and shape to produce 78 of these
Which when mirrored produce 42 of these (are you watching Barbs?)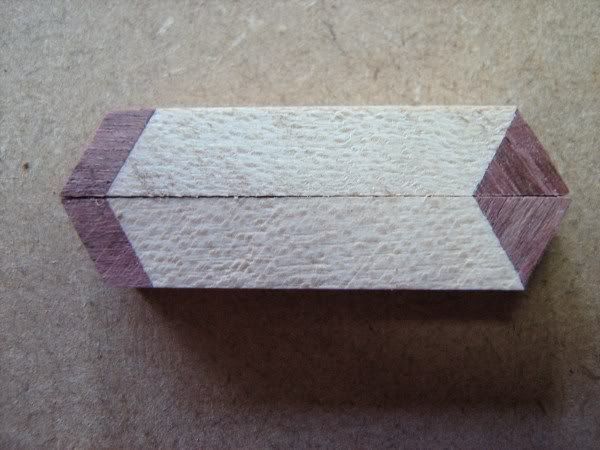 I shaped the triangle end on the disc sander before I cut the new slice up into 5 pieces. This was a trial and so I didn't use one of the good ones hence a few ends fell off but I think you can start to see how the pattern will be made up and how all the grain directions match (important that as I said before, to maintain the illusion of cube faces, if my cutting is up to scratch)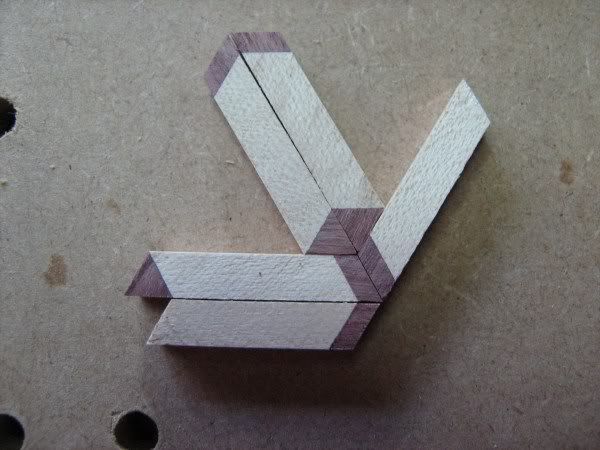 Lots of work shaping and slicing to do now so it may be a while till the next part. Please bear with me. As I said if it don't work you can all have a bloody good laugh. I know the final glue-up will be comical, fo me that is.
-- Martyn -- Boxologist, Pattern Juggler and Candyman of the visually challenging.
---