I've accepted the mission and the secretary has already dissavowed all knowledge of me (for all you MI fans).
Armed with my plans and two sticks of wood (one Sycamore, 50mm square. One Purpleheart, slightly bigger) I enter the arena of 'The Impossible'. I feel someone is watching me. Is it the ghost of the great M.C.Escher or has the medication worn off already? No its you lot. Quiet at the back. ThreeSpeed, the mad professor is about to start. Here is where we begin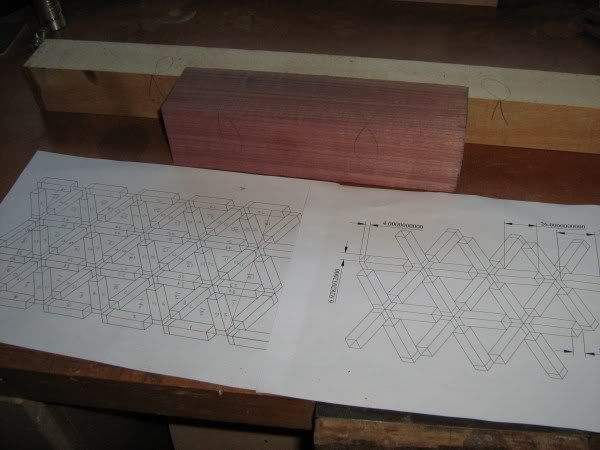 Plan 1 – How many pieces to this jigsaw puzzle
Plan 2 – Dimensions. There are only two to this pattern although you may see three. Seriously I'm not working to ten decimal places. Looks impressive though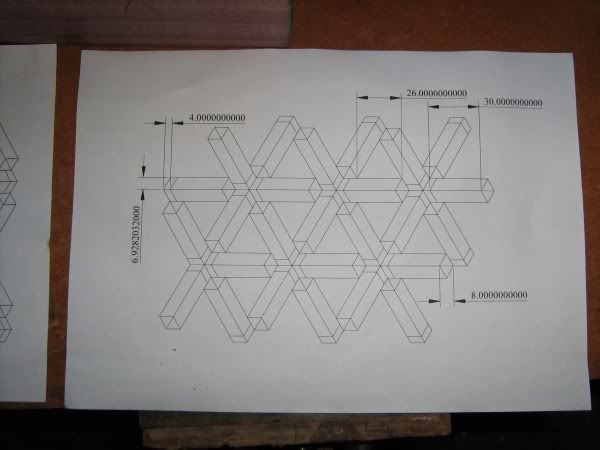 'Yes but why such big pieces of wood?' I hear you ask 'The dimensions on plan 2 are tiny'. Well in order to make the size of the pieces as accurate and similar as possible you cut and glue up big slices. Then you cut them into smaller, same size, lengths from this 'blank', later. You'll see, I promise.
Suffice to say at this size (50mm square) I estimate I can comfortably get 25 pieces from each blank. I need 78×42mm pieces of Sycamore and Purpleheart for the rods at the top of the diagram below. That means four x 30mm long pieces of Sycamore and twice as many four and eight mil' slices of Purpleheart.
All this at an angle of 60 degrees. See below
The jig is clamped to the mitre fence, set at 30 degrees. To the left you will see a setable end stop. After cutting off the end of the Sycamore this stop is set to 30mm and five slices cut (one is my ace in the hole, I always screw one of them up). The process is then repeated with the Purpleheart with the stop set at 8mm, however this time I cut ten slices. I realise five of these only need to be 4mm long. I'll resize that end of the blank, when its completed, to reflect this. Each blank will look like this, when glued up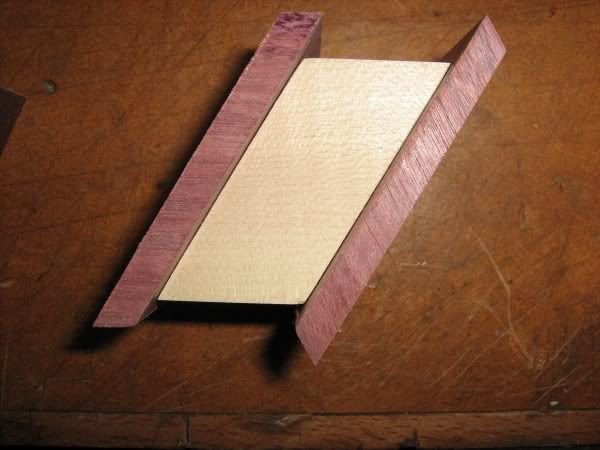 Note the grain directions of the Purpleheart. For the individual parts of the big cube sides (as they appear in 3D) to make passable images of faces this is how it needs to be.
I'll glue up five in a row, comme ca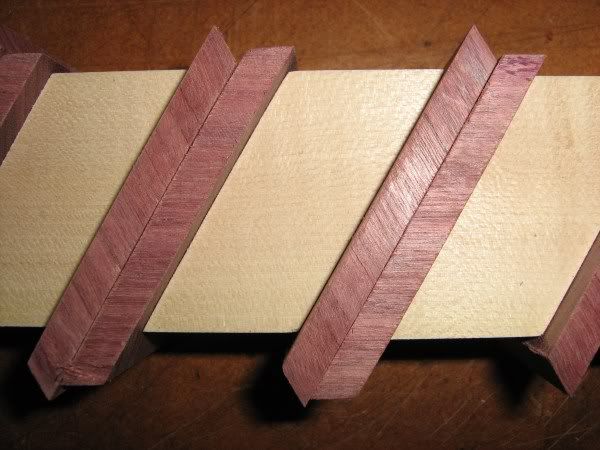 with no glue between the two adjacent purpleheart pieces to keep five seperate blanks,but first I need to go and make a clamping jig for that and precision sand the thickness of the sycamore on the drum sander. I couldn't have attempted this project without it or my glue-up experience with the Snakes cutting board.l
Are you with me so far? There will be questions at the end!
-- Martyn -- Boxologist, Pattern Juggler and Candyman of the visually challenging.
---