Well part of it anyway. A new set of eight clamping sticks, waxed this time and polished. Major squeeky bum (ass) time. Glue in a dish. Brush at the ready. Quick slurp of tea and there off…...........
Pick up the piece, slap on the glue, position it in the frame. Repeat until you're sure you've done something wrong. Put it right. Continue…...... After 20 minutes—->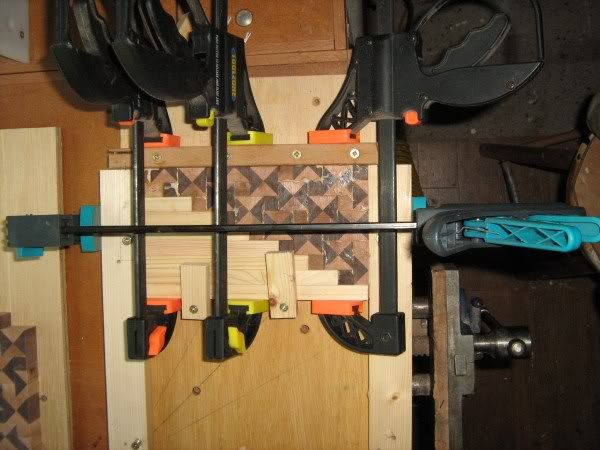 The glue was probably OK for another two rows but I bottled it (chickened out). Wasn't used to the clamping system and I noticed that the packing stick end was rising off the board. Thats why the two hastily put together screw downs towards the bottom of the picture (between the clamp heads).
All is now serene. Whilst clamping time for Titebond III is only 1/2 hour it states on the pack that you're not to stress the joints for another 24 hours. Any experience out there as to whether I can chance it and glue up another two rows before bedtime (five hours away)?
-- Martyn -- Boxologist, Pattern Juggler and Candyman of the visually challenging.
---