I bet you're all thinking "That darned fool has forgot to cut the little circular dents in the guide rails for when the drum is close to the table", aren't you?
Well I haven't, so there. Here's how I do it. Now the drum is a nice cylinder I attach two 1" strips of 60 grit to the ends using double sided tape.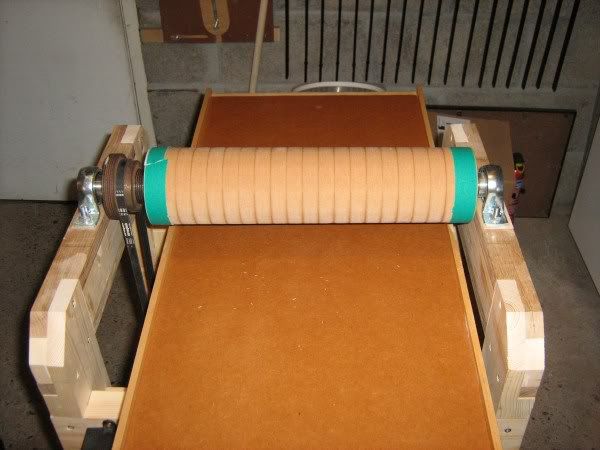 Then I wind the table up, slowly, to cut them, so


The 60 grit and tape is then removed. I then applied the adhesive backed velcro ( 4" wide strip), in an anticlockwise spiral to the drum and fixed 150 grit velcro backed abrasive roll to the velcro. Just to be perverse and bridge the small dips at the edges of the adhesive backed velcro I wound the abrasive on in an opposite, clockwise, spiral. Bound the ends on with duct tape.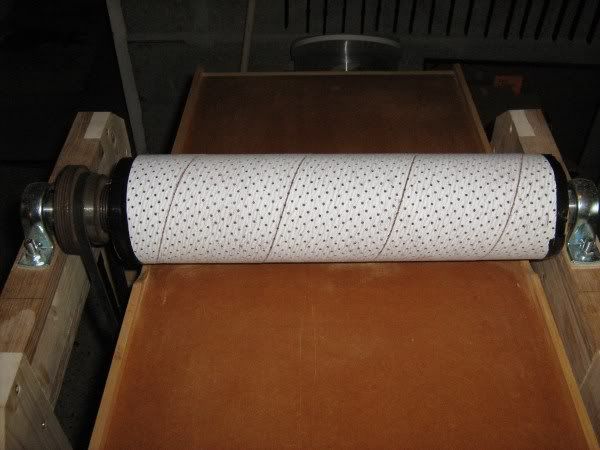 Fixed the hood and started to play. I tried a tricky piece of Yew. This is the best my planer (jointer) could do with it. Torn grain as you can see


After six or seven 5 thou passes with the sander, 150 grit, 950 rpm this was the result


No torn grain at all.
WOW, you were right, Autumn, I love my sander. I've been putting lots of things through it.
Including the Vortex4 pattern I blogged that I couldn't get the Ebony dust out of the Pau Amarello on. Now its perfect


Steve's (spalm) idea about putting a lip on the back of the 'truing' sled worked perfectly for sanding some small box sides (also Yew), thanks Steve.
What a brilliant tool. I don't know how I worked without it.
There are some minor things left to do, like a paint job but I think thats about it for this blog. Hope you've enjoyed it, I have. Now I'm off to flatten every piece of wood in the shop, bye.
-- Martyn -- Boxologist, Pattern Juggler and Candyman of the visually challenging.
---