Hello all. Been a mixed day today. Pist that I have a problem deciding how to mount the motor. My old motor doesn't have feet along its side, as in the design. Its only mounting points are on the end where the spindle emerges. I've discussed this at length in the comments of the last blog entry with Autumn and jm82435 (thank you both for your valuable input) and I've decided to take this offline and have a major think.
So how to pick myself up. Well the drum glue-up went well. Its solid and none of the discs move independantly. Here it is back on the framework


The belt is in position ready for the motor (yeah as and when).
Decided to do some running repairs on the pulley sets. Both of which suffered a bit when I 'removed' the motor from its previous home. JB weld to the rescue. I'll clean them up, tomorrow, when its good and solid..


The rest of my shop time today was dedicated to making the height adjuster. A veritable banquet of mixed imperial/metric dimensions as the bolts and threaded rod are european and I've cut the wood to imperial sizes. Ho hum. Here it is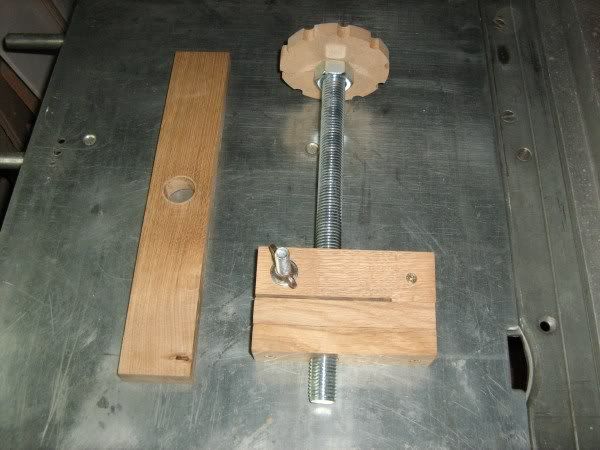 Its pretty much as in the destructions except I've made the adjustment wheel circular, with ten indentations. There is method in my madness. The 20mm threaded rod has a screw pitch of 2.5mm (1/10"). Each indentation is 1/10th of a rotation of the wheel. So each notch is 2.5mm / 10 = .25mm (1/100"), clever eh.
Well I got dragged out to a quiz evening at our local pub so no more for today. See you all anon.
-- Martyn -- Boxologist, Pattern Juggler and Candyman of the visually challenging.
---