Hello again, fans of the drum sander.
Yesterday I wrestled home an 8' x 2' sheet of 3/4" MDF. I am one of those fortunate to be at school when the metric system was being introduced so I can still speak imperial, which is lucky as the plans for this thing are American in origin. The plans call for 3/4" ply for the table and drum parts but I have decided (he'll regret it he always does when he makes these assertive decisions) that MDF is going to be more appropriate for this project. Two reasons.
1. MDF has a nice flat, smooth surface. I tried oiling up an offcut


and I can see no reason this can't be used for the working surface of the table. Again the design call for a layer of Formica. Whilst this IS available here no regular outlet wants to sell you less than a 5' x 10' sheet and I can't be arsed (English slang – bothered) to grub around for an offcut, not even on Ebay. Anyway if the surface gets scuffed up, with wear, I'l put a layer of hardboard on it. If that gets trashed then (and only then) will I seek out Formica. So there.
2. The edge, when suitably sealed will be more uniform on the drum. This is made out of 20×3/4" discs of MDF.
So I cut the two boards for the table and 20 square blanks for the drum discs up. Glued up the two-layer 'table'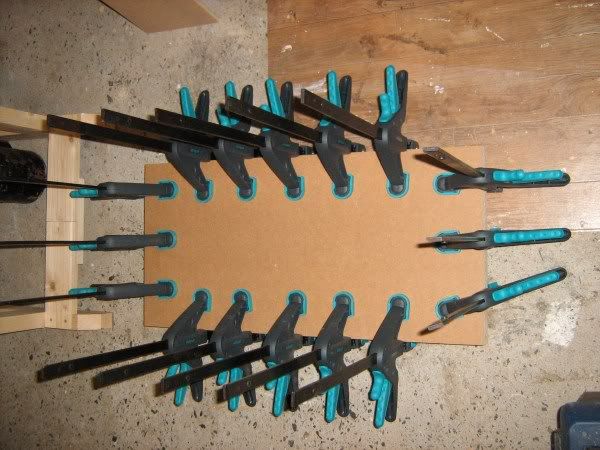 and proceeded to cut central holes in all 20 of the drum blanks. Merde, nous sommes European avec un systeme metric. (google translate would be good here). My capacious metric bit set has various 18mm and 20mm bits but no 19mm bit (3/4" = 19.05mm). Then I remembered my old woodwork teacher saying "Never throw an old tool away", in my head. After grubbing around for 15 minutes I found my old imperial bit stash at the back of a draw, complete with a 3/4" flat bit. Thank you Mr. Jenkins, right about so many of life's mysteries, an ex-marine woodwork teacher. Set up the drill press and holed the lot in 15 minutes.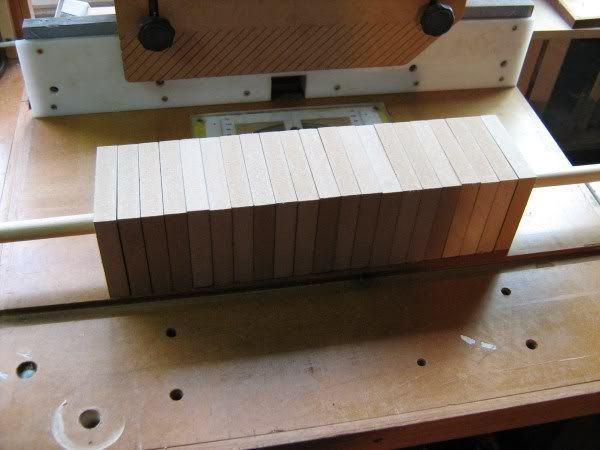 Or from the end. I present at great expense and short notice a 15" long 3/4" hole in 20 sheets of MDF.


I've made up a jig to cut them circular, on the bandsaw.


and now I have to pluck up the courage, fettle the bandsaw and go for it.
-- Martyn -- Boxologist, Pattern Juggler and Candyman of the visually challenging.
---