Hello all this has been the most fraught day of this make and the most exhilarating. The cramp from my arm died down after about the fourth beer so I wasn't too bright this morning when I started again.
However I set about making the border for the top. I cut each piece roughly to size, with a knife. Like cutting matchsticks. Then shaped the mitred ends on the disc sander (180 grit disc).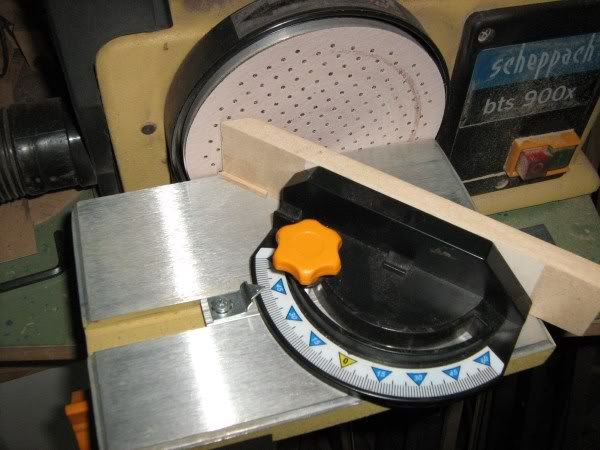 You can just about pick out one of the side pieces nearest the disc on the lefthand side. Before long I had all the pieces done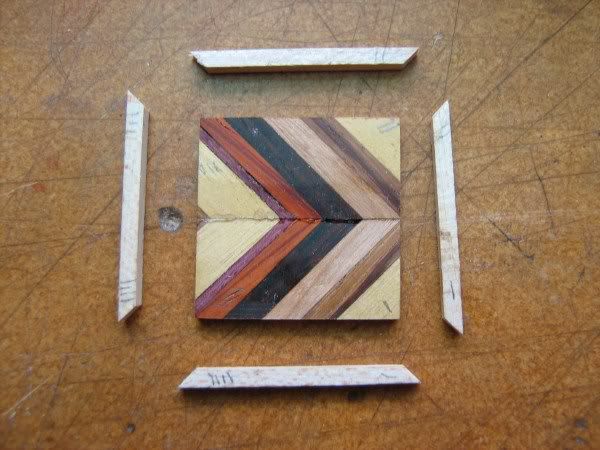 Gluing together was done, as was most of the construction, under my magnifying lamp


When this was finished I cleaned it up very very carefully on the belt sander (180 grit belt). I cleaned the top of the sides up on this too and the stuck the box and top together. Shaky hands. Cup of tea. Good talking to myself then action. Result.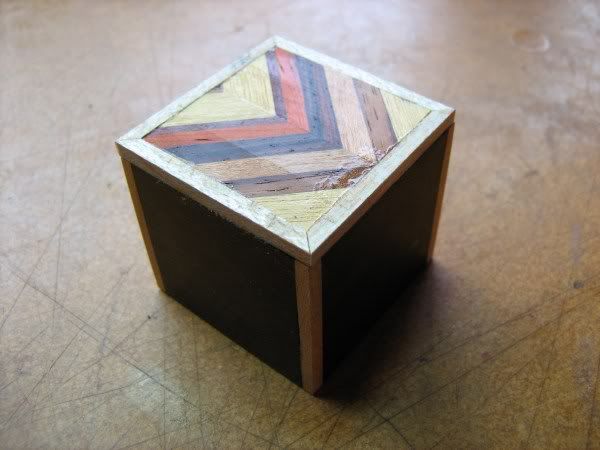 After cleaning up on the belt sander and a coat of sanding sealer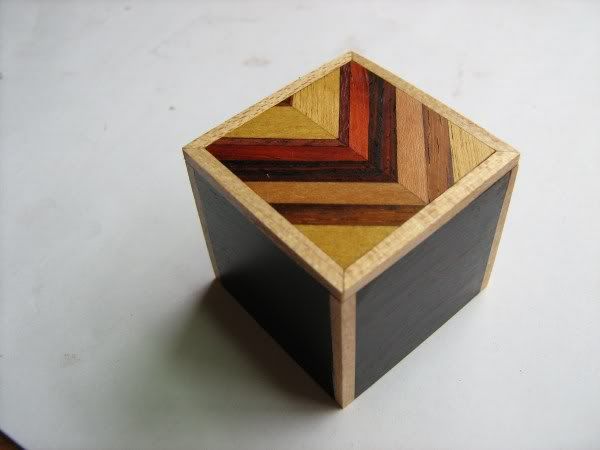 My guts churned. This was the moment of dread. So kean was I to get it over with I didn't even take pics of the box seperation. Within minutes I had cut most of the way through all four sides on the tablesaw leaving only the teasing apart of the two halves, back on the bench with a knife.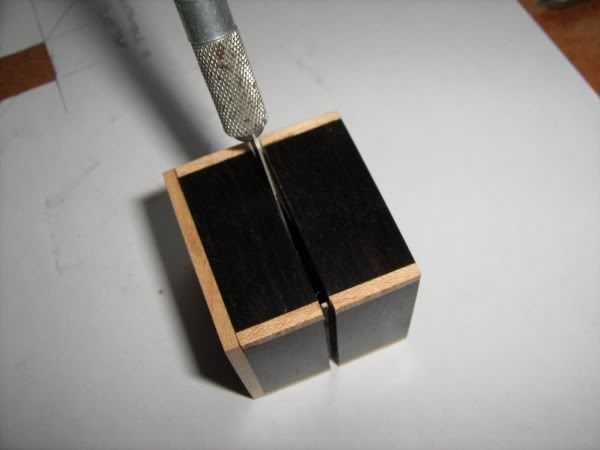 To reveal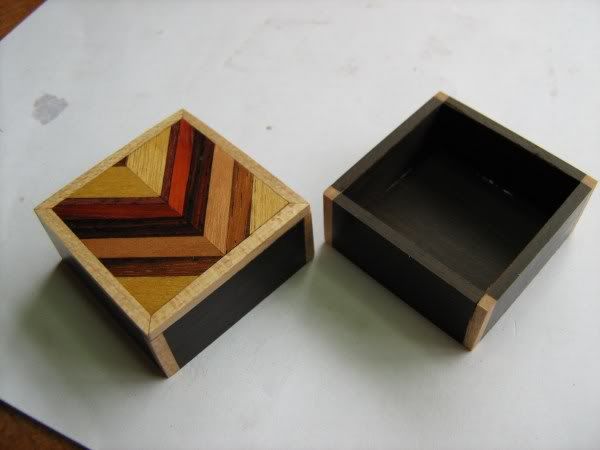 Most of the rest seemed to fly by. As you can see above I cleaned up both box halves. I then cut and fitted the lipping in the bottom half. Cleaned it all up with 240 grit. Applied sanding sealer, with a cotton bud, to the insides of the box. and polished it.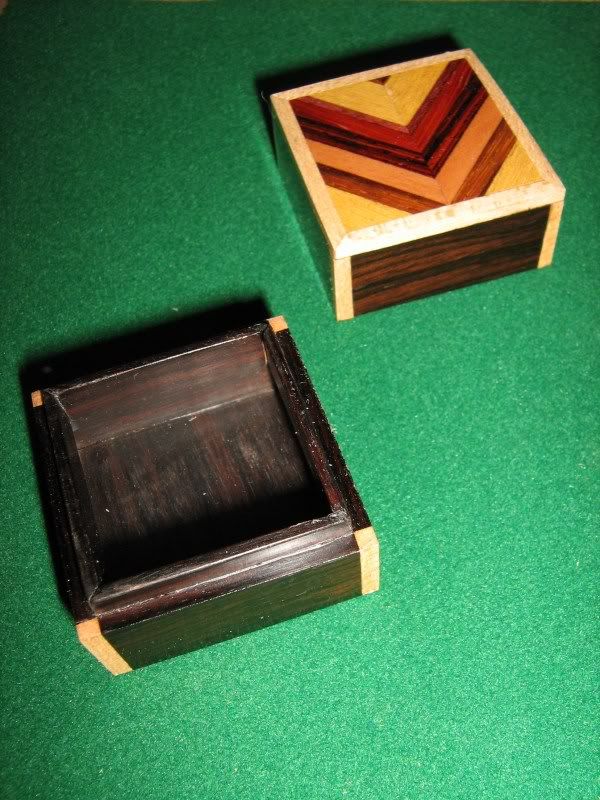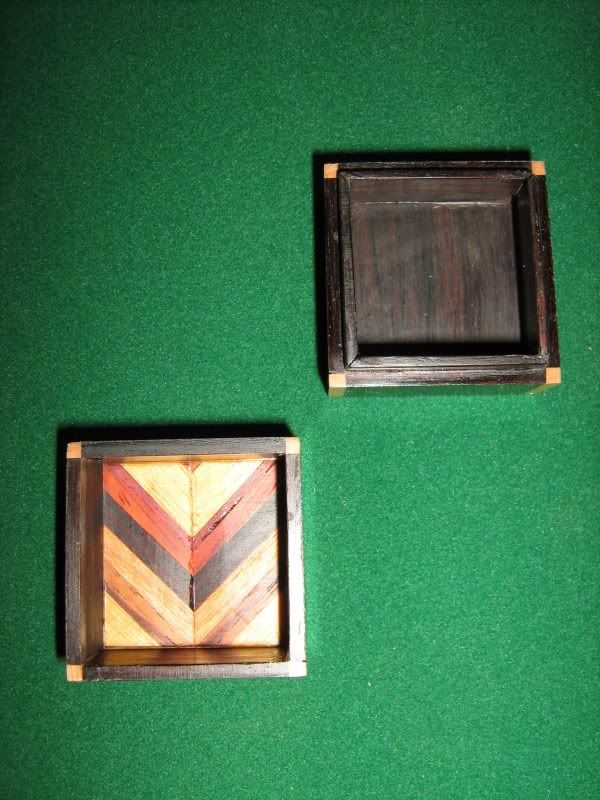 As you can see I didn't clean up the inside of the top. The top was starting to get a bit thin anyway and doing this would have ruined it.
Please excuse any crumbs of white dust. At this scale they appear enormous. Suffice it to say I have now finished. That is both the box and I are finished. I need a long lie down.
I hope you have enjoyed this oddessey into the realms of scrap box making. I certainly have
Martyn
As promised I will now post this as a completed project.
-- Martyn -- Boxologist, Pattern Juggler and Candyman of the visually challenging.
---