Hello again. Day two of the challenge. I decided to measure up everything and arrange it before me to see what materials I have to make this box.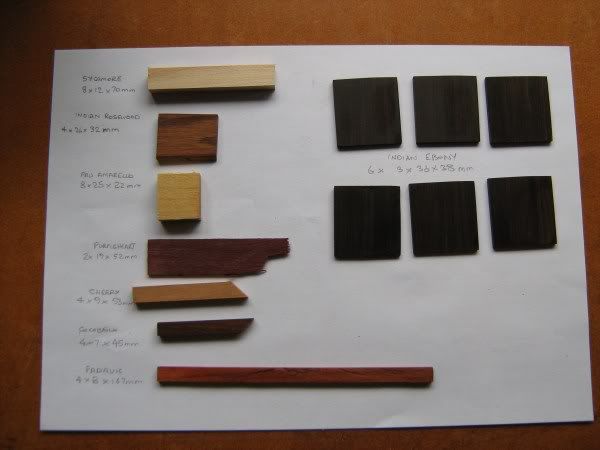 It didn't take long to decide on a four sided box. I will make it vertically grained as this is where I have most length in the flitches and I'll loose at least 2mm height when I seperate the box halves, top from bottom . Another piece will be the bottom of the box and the last will be the lipping for the inside, this will locate the top.
The next thing to catch my eye was the (relatively) enormous piece of Sycamore. If I cut this into six 3mm square lengths I could use these for corner pieces for the sides (butt jointed) and a border for the top (mitred).


Brilliant. But, as you can see, like most best laid plans this one went slightly awry. When cutting the Sycamore (same ZC clearance jig as yesterday) one of the pieces was caught by the saw blade and flung off who knows where. Unless I find it I only have five 3×3x70mm pieces and may have to join the top borders. A minor inconvenience. I'll already have to join two of the sides corners.
The rest of the pieces are planned to make up a chevron pattern for the top, so.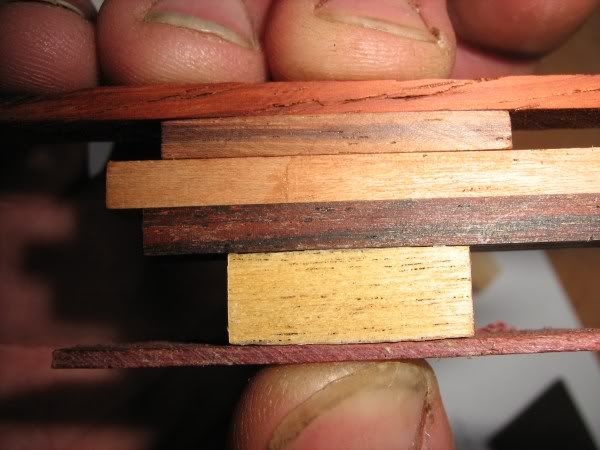 Once they're sized to 8mm deep there should be enough material there for this.
Martyn (in Lilliput) signing out
Addendum
I found it. Looks like the saw chewed it a bit before it spat it out. Don't know if I can rescue any of it.


Yes! 34mm.
-- Martyn -- Boxologist, Pattern Juggler and Candyman of the visually challenging.
---