This was a challenging commission from a very dear friend. Make a box containing her Red Star.
Well the starting point was a mozaic she has hanging at her home, conveniently posted on her Facebook page (I do love the net, everything at you fingertips).
I decided to base the design around the large, black bordered, star in the top left. The design was accepted so here I went. The first question I asked myself was – How to do it? The clue was in the mozaic and heres how I did it. Please bear with me some of the pics are blurred, these were taken before I discovered the macro setting on my camera.
First I made a blank with 12mm of Padauk with 1mm of ebony on both sides.
Then I sliced across this at 18 degrees.
Then I flipped one piece and re-glued them into one.
I made up a plywood jig, with an included angle of 36 degrees to hold this new piece whilst I cut off both the back angles.
I flipped the jig and the new blank and set the blade to fence gap on the table saw to 4mm and used it to slice up the blank into five identical pieces. Push stick not shown, but essential. I like my fingers as they are.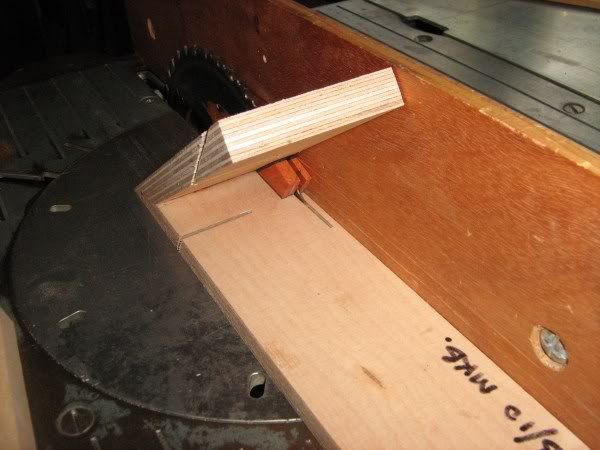 Here are the pieces.
And here they are re-arranged into a star.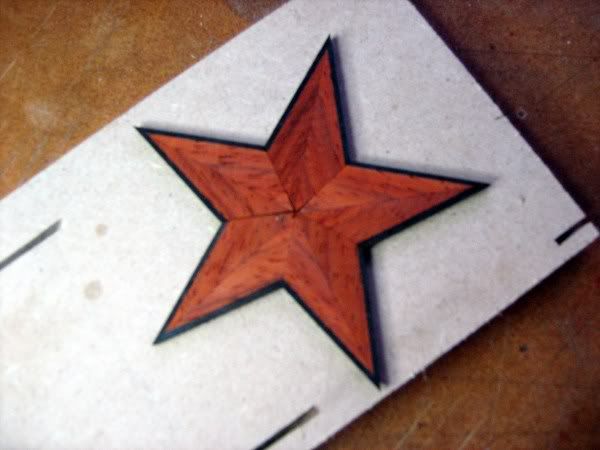 This was glued to a base board with a surrounding of Sycamore, cut as needed.
The box construction was as in the Black and White Dots blog.
-- Martyn -- Boxologist, Pattern Juggler and Candyman of the visually challenging.
---