Here are the mitre jigs (sleds) that I use for my box sides. The first is a typical 45 degree job with a square blade guard, there is a stop block underneath (not shown).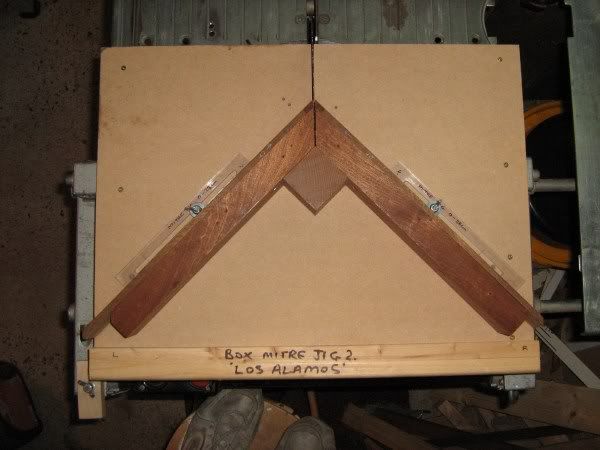 There are two additional features however. The first are the two clear perspex stops, for repeatability of cut length, nothing unusual there.
The second is something I've started to use to prevent tear out of the end grain on the mitred end. These are adjustable sacrificial jaws attached to the outsides ouf the mitre arms. These are Iroko but any scrap timber, or MDF, will do.
I find that however well adjusted the blade is, for squareness, over a period of time the tips of the mitre arms (where the blade passes through) will wear and the gap become wider. This leads to tear-out of the end grain on the inside of the mitre on the box side being cut. Even with an 80 tooth blade. At the beginning of doing a batch of sides I bring both jaws into the centre of the saw cut region (loosen cross-head screws, move jaws in, tighten cross-heads). Having squared up the blade beforehand I do a pass with no timber on the jig to open up the jaws again. Each time this is done the jaws are good for cutting about a dozen boxes worth of sides, with no tearout.
The second jig is the 60/30 degree one I used for the Vanishing Point box. It has a stop block underneath (not shown).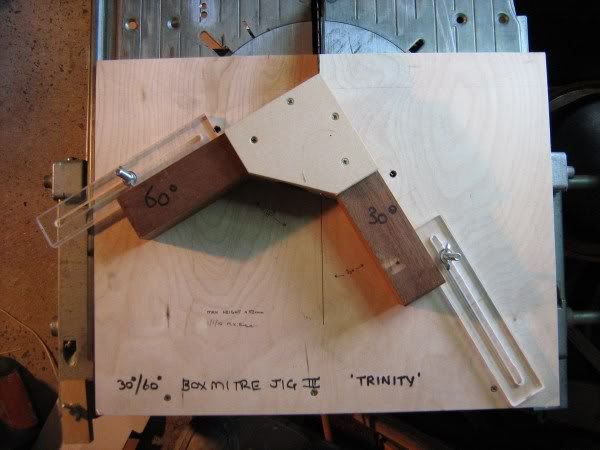 As its a fresh jig there are no sacrificial jaws fitted yet. However I've used the rear section for a dust extraction port this time.
I've also used the fact that there is active dust extraction (and therefore partial vacuum) to provide a degree of holding for the box side being cut.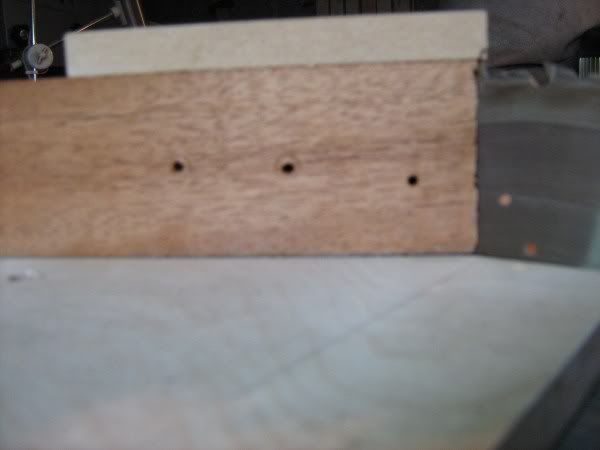 The three holes (3mm diametre) are bored through the whole depth of the mitre arm and allow the 'borrowing' of some of the vacuum of the dust extractor to hold the piece being cut onto the mitre arm.
My next project is to adapt the first jig for dust extraction/vacuum holding. After that possibly an adjustable angle jig.
-- Martyn -- Boxologist, Pattern Juggler and Candyman of the visually challenging.
---