I've always liked the early 20th century artist, Piet Mondrian's Neo Plasticist style (example below) and would like to include this style of design in my box work.
As you can see his compositions use a white (and sometimes gray) background; red, yellow and blue and a strong black divider. I use Sycamore (white), Ebony (black), Padauk (red), Pau Amarello (yellow) and the only problem one is blue. The closest naturally occuring is Purpleheart.
I decided to take on an easy one first
and here's the result
Well a few days on and the pattern has made it into its box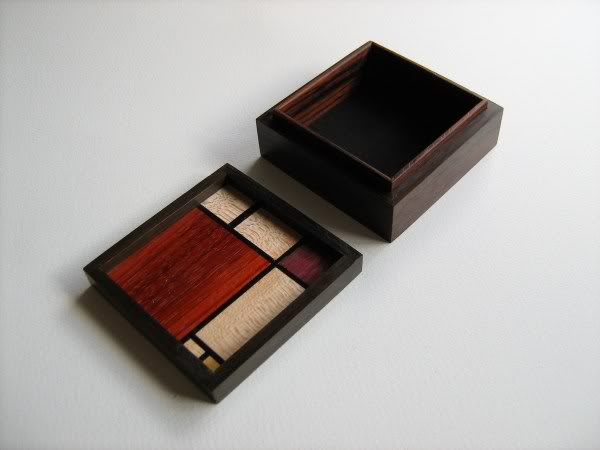 The box is Sonokeling Rosewood with an Indian Rosewood liner (didn't have any Sonokeling left and had to raid the scraps box).
This also shows a variation on my basic mitred box construction where a liner in the main body of the box is used to locate the lid.
Martyn
-- Martyn -- Boxologist, Pattern Juggler and Candyman of the visually challenging.
---