Inspired by the work of Patron I have recently rescued my bandsaw from its dusty corner of the workshop and have produced this pattern. I intend to use it as a box top but might just frame it and hang it on a wall as a picture. I think it looks like a pair of eyes, hence the title.
Heres how its made
1. Take four square slices of timber; Ebony, Purpleheart, Yew and Sycamore of identical size.
2. Tape them together with double sided tape.
3. Cut your pattern.
4. Mix and match to create a pattern.
5. In this case the resulting pattern was sliced again to duplicate it.
6. Glue to a base board.
7. Finish. Sanding sealer with wax topcoat, to preserve colour and brightness contrast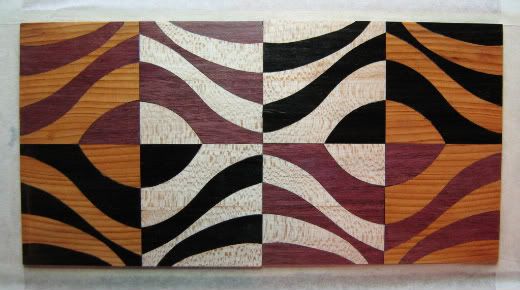 -- Martyn -- Boxologist, Pattern Juggler and Candyman of the visually challenging.
---