The following is my entry into the bookcase design contest.
Several weeks ago a potential client approached me with an unusual problem. She wanted a bookcase for her new condo. Not unusual except that it needed to be wall mounted, could have NO back, and needed to match the color of her current cabinents. That's correct, wall mounted with no backing, an open bookcase. Apparently, several other contractors looked at it and told her it was impossible or made excuses as to what could and couldn't be done. So, I took the challenge and crafted a bookcase for her and mounted it.
As serendipity would have it, this occurred shortly before this contest was posted such that I was able to not only construct and finish this bookcase but test it as well. I am happy to report the design is solid, works well, and looks great.
So, here is my bookcase. An open backed, wall mounted bookcase that appears to be "glued" to the wall. The mounting hardware is hidden inside of the bookcase. The mounting hardware can be made at any machine or welding shop or if you have the skill yourself, if your own shop.
First, the hardware. There are two mounting brackets. Each is 56" – 57" in length. Each has two 1/2" rods 6" in length welded at a 3 – 5 degree up angle to the brackets. These are mounted to the wall and attached to the studs for support. They MUST be stud mounted or else the weight of the bookcase will tear through the drywall.
The bookcase itself is fairly simple to construct. It is 3 5' lengths attached to each other by 5 11.5" separators. I chose to use biscuits to join these but in the future I will probably opt to do a more complicated dovetail joint. I chose a simpler design for the client which she approved. The trick to this upper and lower shelves. Each has a 1/2" hidden slot routed into their back. This slot houses the bracket such that the bookcase sits flush to the wall. Also, each shelf also has two (2) 5/8" holes drilled into them approximately 7 inches deep. These holes are the guild holes for the bracket bars that hold the bookcase up.
Well, there is my submission. I have one sketch submitted that is the actual sketch used to show the customer what I intended to build and she approved. The other three photos are the actual bookcase minutes after I installed it.
Thank you.
Design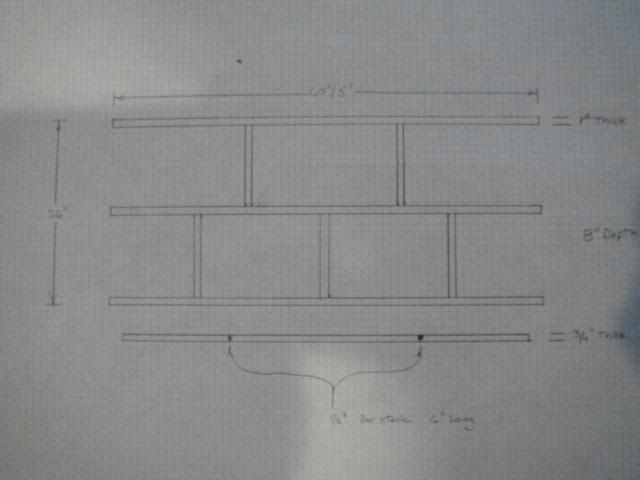 Picture 1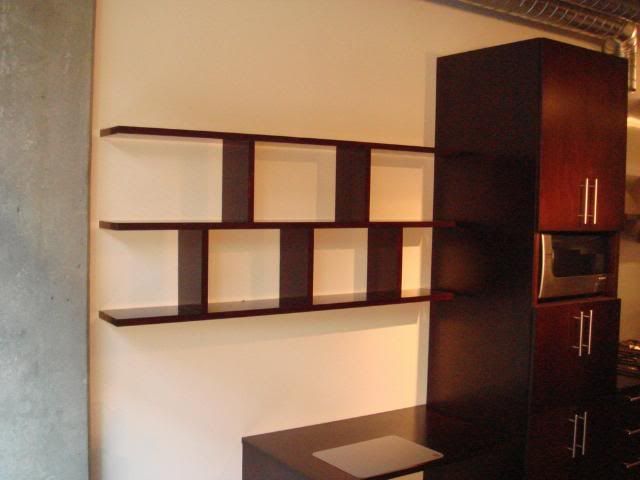 Picture 2

Picture 3

Brass
---