Ok, when I last left you this cutting board was just a Sketchup design. After a trip to the hard wood dealer and some basic milling I arrived at this very hefty glue up. I tried to do the ripping on my BOSCH, but even with a thin kerf blade it was a little too much for that saw, so I took over my buddies cabinet shop! Here are some shots of the first glue up..


Here is the blank, out of the clamps and sanded to 1 1/2" thick..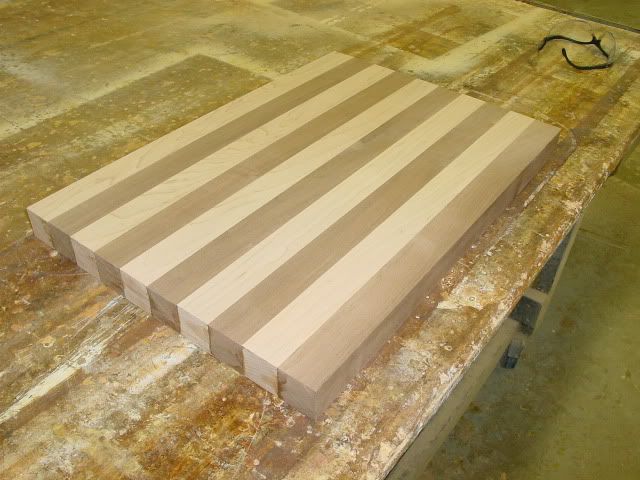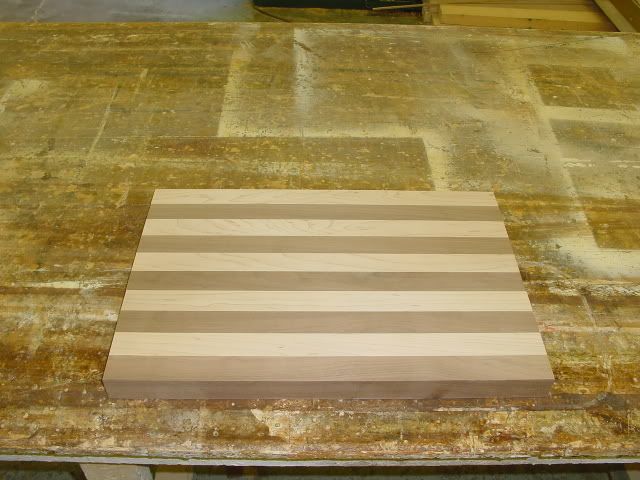 Ok, now the fun part..After squaring one end up on the radial arm, I cut 1 5/8" strips out of the glue up and flip every other one. Then another glue up..Here is where things started to get a little dicey. It never occurred to me that these were laminated pieces not solid wood and I might consider gluing it up in sections to keep it straight…or using some solid wood cauls on the ends to squeeze the pieces together. You can see the top left of the board curving in from the clamps.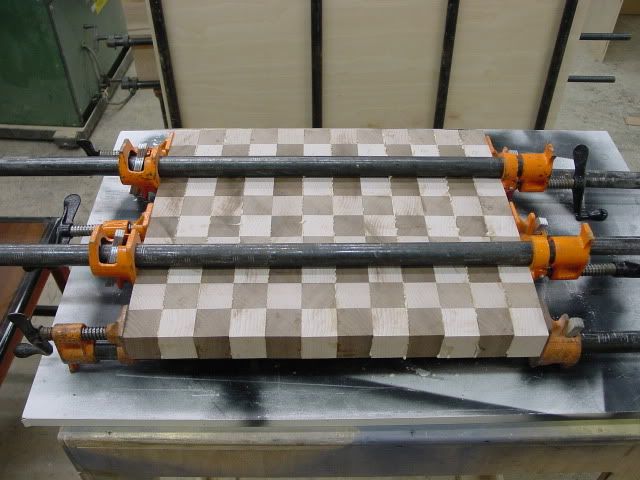 definitely a slight alignment problem..everything was getting skewed slightly by the clamping pressure..


Here is the board out of the clamps and sanded with a dual drum sander to 1 1/2". You can clearly see the left side bending in..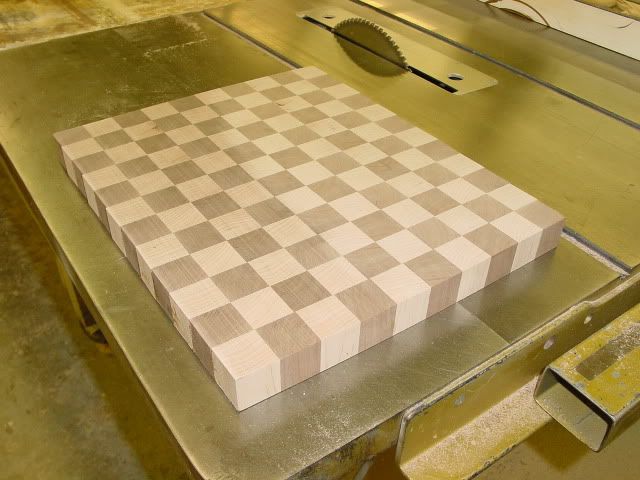 Well it is what it is, so I just made the best of it. I carefully cut the sides down trying to strike a balance between keeping things square and perpendicular and making the boarder look even. Here is the board after I cut the border, and polish sanded it from 80 to 180 with a pneumatic orbital palm sander..


Not too bad..it looks ok. After this I took it home a routed a 1/8" radius on all the edges and sanded it to 250. Then multiple coats of mineral oil. I have a light and heavy viscosity mineral oils and I use the heavy one for end grain boards..it slows the absorption down a little. The end grain really soaks up the oil!
Check out my project posting for the finished pictures!
-- http://www.facebook.com/pages/DSO-Designs/297237806954248
---