I know what your thinking…this lunatic made a Sketchup model of a cutting board? Can't he just wing it?
Ya sure, I have made quite a few cutting boards with and without plans. The few I have done plans for were in Autodcad, to work out the design details, but this is the first time I have used SU for planning a cutting board. I wanted to be able to know exactly how much material I was going to need, and how it was going to have to be glued up so it would come out exactly as I wanted.
This is actually the first custom cutting board I have been paid to make. In a previous project post I showed a cutting board I made for a friend to give to his wife for mothers day. A neighbor of his saw it and wanted one of his own. My friend showed him pictures I had sent him of the end grain checkerboard cutting boards I made and he wanted one, only full size 12×16, 1 1/2" thick with a half size border around it. And he wanted the checks to be 1 1/2" square. So I needed to be precise about how I glued up the blanks, so I would have enough material to make sure it came out the right size. SU is perfect for this, I did three different models, the first one shows the first glue up with all the material sizes. The length takes into account how many cuts I need at 1 1/2" including saw kerfs.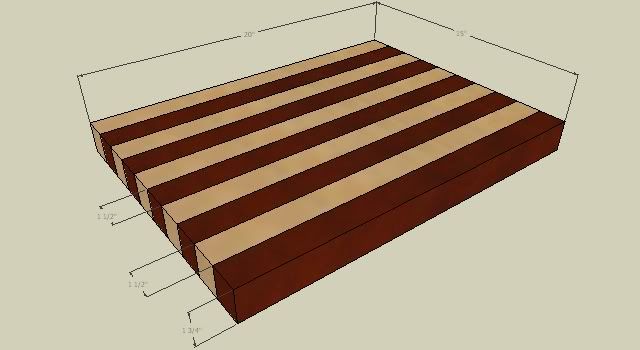 The next model shows the second glue up. After the 1st glue up is scraped, flattened, and sanded to 1 1/2" thick, (Usually I would plane it flat, but this one wont fit through my planer!) I take 1 5/8" rips and set them on end and offset every other row…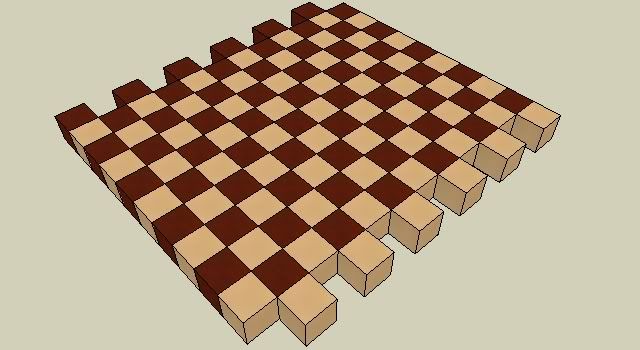 The last model shows the finished board as close to the dimensions that the customer wanted I can get while maintaining the other criteria. Sanded to 1 1/2" and the edge squares trimmed to 3/4"
Of course another great reason to do a SU model would be so I can use cutlist. Even though this isn't a large complicated piece of furniture with lots of parts it is still a very useful program to figure out exactly how much material I need and what the exact board footage is so i can price it accurately. I used the first glue up blank to run the cutlist, once for the maple and once for the walnut
So it turns out I needed just under 2.5 board feet of each type of wood. Where I buy my hard woods, 8/4 hard maple is $6.35 b/f, and 8/4 walnut is $10.65 b/f. So my material cost is around $42.00. The walnut is pricey…maybe I should stick to all hard maple butcher blocks! So I bought all my lumber today and spent some time planing it down to 1 3/4" thick…but I am thinking…once I do the first glue up, if I have to use a drum sander to flatten and size the blank….. that could take a while to loose 1/4". Maybe I should take my blank thickness down to 1 5/8, and just be real careful when I glue it up? What do you guys think?
-- http://www.facebook.com/pages/DSO-Designs/297237806954248
---