OK, let me apologize right up front…I didn't take any pictures of the next few operations..they were really basic stuff, and I was so focused on completing them I just didn't think to grab the camera. I last left you when all the trays were glued up and ready for routing. First I did some preliminary sanding of the ends. I clamped the top and bottoms together and installed the belt on my Rigid drum sander. I clamped a temporary straight edge perpendicular to the belt to keep the ends as square as I could. After squaring the ends up I installed a core box bit in my router table to route the shallow grooves in the pieces. I had to double side tape a piece of 1/4" MDF to the table due to the bit being too long and I couldn't get the groove shallow enough. So after the grooves were routed, I gave the ends a slight round over. With all the routing operations finished, I then began the task of sanding. Most of the pieces were sanded to 150 already, so after sanding all the routed areas to 150 I sanded the rest of the pieces to 220. That was a long and tedious process to get into all the areas inside the holes near the inside edges x 10 separate halves! It was also quite tedious to sand the shallow grooves..I had to use a dowel with sandpaper wrapped around it and try to go with the grain. I ended up just going against the grain till I reached the 220 level and then sanded with the grain to make the sanding scratches disappear. It was a long process but always worth it, because if you chince out on the sanding your finish suffers.
Speaking of finish I was going back and forth between shooting these with cans of Deft or having a friend of mine who works at the same cabinet shop I used to, to spray them with professional catalyzed lacquer. I really don't mind finishing, but this guy has been spraying lacquer for 15 years, they have a professional spray booth and this stuff covers better than 5 coats of Deft ….in two coats. I would have been spraying cans, in my garage, picking dust and bugs out of the finish. So I had my buddy shoot them …and it was the right descesion..they came out awesome! HERE ARE SOME PICTURES..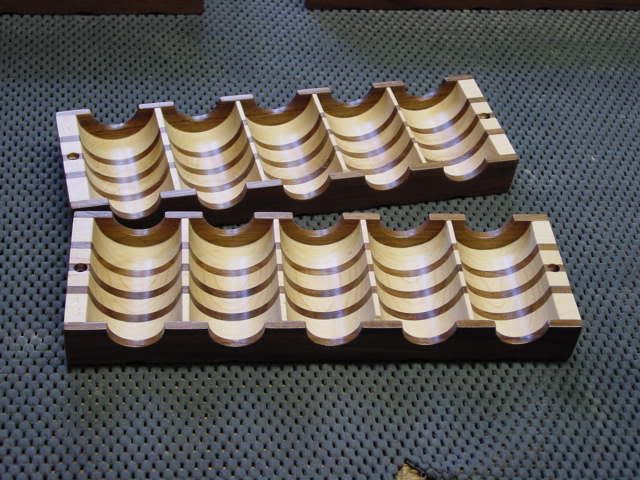 I borrowed 20 chips from the guy I am making these for so I could test out the fit..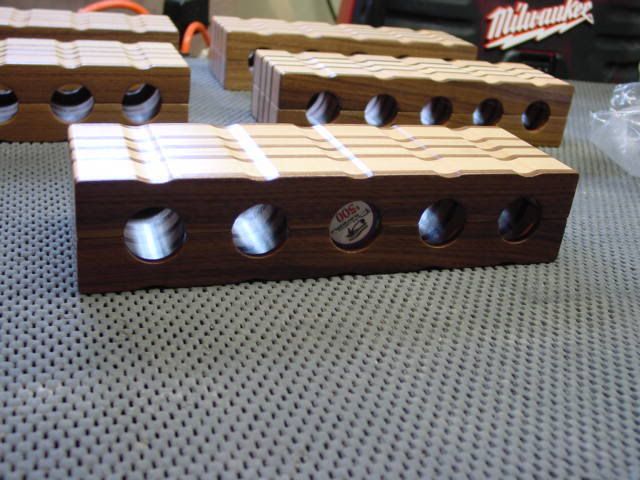 So, all thats left is to install the little rare earth magnets in the holes, maybe throw a couple coats of fine cabinet wax on them and they will be done!
-- http://www.facebook.com/pages/DSO-Designs/297237806954248
---