Ok, after a brief side track, here we go again with the poker chip tray saga..
Where I last left you, I had gotten all the strips glued up into blanks. I had to wait about a week or so, to take a day off and pay a visit to my old boss and his wonderful wide belt sander. Sorry but I didn't take any pictures of the process but it went something like this… The trays were only 10" long, and you cant put anything through the sander thats smaller than 16", so I butted each tray end to end and sent them through. I fished a piece of long scrap out of the scrap bin that was the same starting thickness as my trays and sent that in after the last piece at the end. I also wasn't going to be able to feed and catch the pieces as they emerged from the sander, so I set up a piece of MDF on some horses and the pieces dropped nicely on it. I had to remove a considerable amount of material ( I was 1/4" over) so I loaded a 60 grit belt and that made quick work of the uneven edges and excess glue. Then I kept sanding all the way to a final thickness of 1", changing belts as I went for a final grit of 120. Here are some shots of the sanded pieces…
I love that wide belt sander..the blanks are perfectly flat and sanded nicely to 120..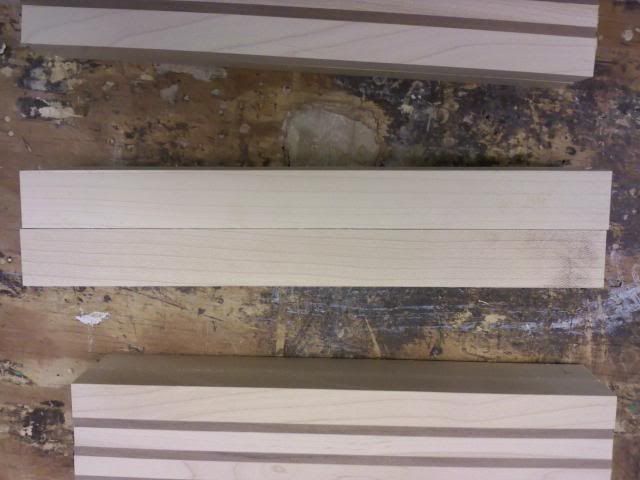 I don't' have a drill pres so I ventured over to my buddies cabinet shop to use his ( it pays to know allot of people who own cabinet shops!). I ended up cutting my blanks to length on his RAS. Honestly, I should have waited till I got home..I ended up with some tearout..the blade isn't the greatest in that RAS, and at home I have a 12" Makita SCMS with a pretty nice blade in it and a zero clearance insert.
Once the blanks were all cut to length, I then cut the walnut pieces to the same size. I was using a stop, so everything would be the same length. I then clamped the matched blanks together and clamped that to the drill press table and bored my 40 mm holes. I bought a brand new carbide tipped forstner bit and it payed off. I cut through the blanks like butta…no burning at all!
The drill press I was using was a little old..I think it had a bit of a run-out problem cause the holes weren't perfectly straight..but nothing I couldn't' clean up with some sanding. I then set up the walnut pieces for boring. Marc's method was to tape the two pieces together….I forgot that, so i just did it like this..
I apologize for the crappy picture…that was with my cell phone. Here is a couple shots of the raw pieces, not yet sanded…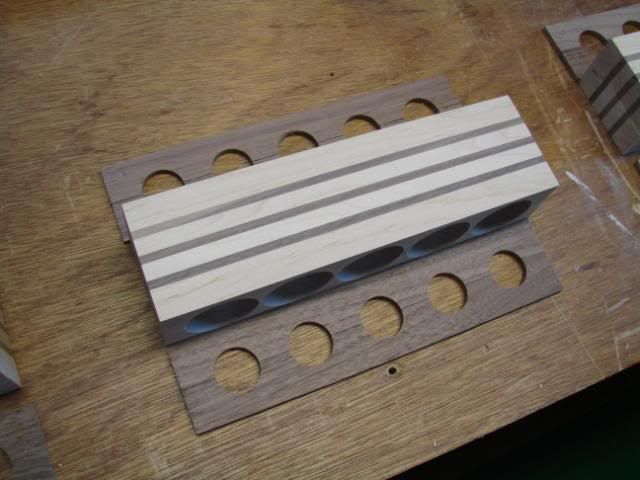 Now it was time to really put the oscillating spindle sander I got for Xmas to work..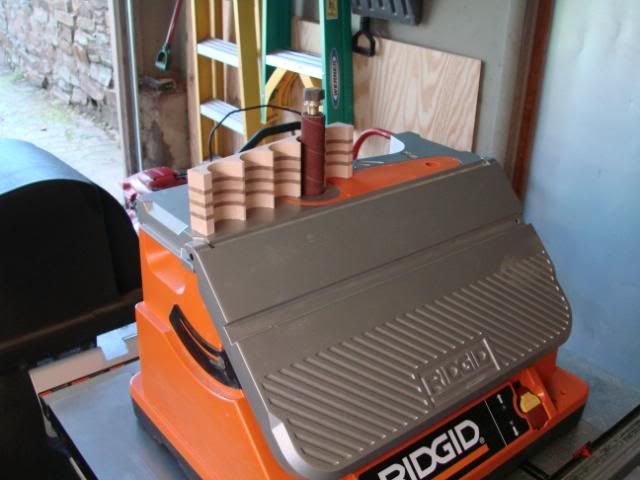 I was using the standard 80 grit sleeve that came with the sander, but I went to Home Depot and despite what I had read in the blogs, they offer a replacement pack of 80 grit sleeves in all the sizes, but heres the good part..it also has a full set of 120 grit sleeves as well!
After thoroughly sanding the holes to 120, it was time to glue on the outside strips. After marking all the pieces so they would line up properly I started glueing..
Heres some trays out of the clamps and waiting for the next operation..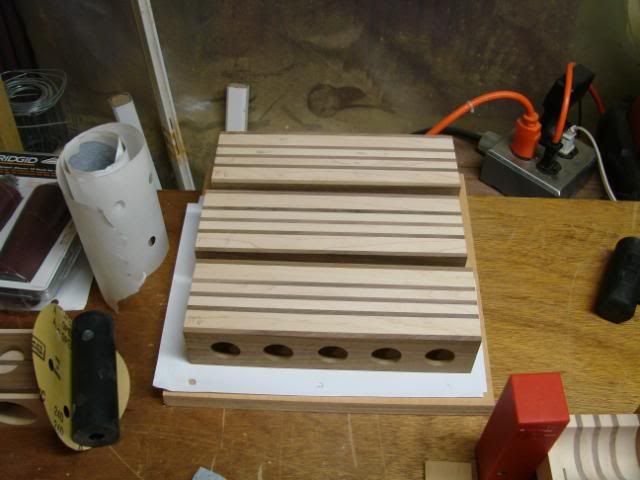 Heres a close up. Still got allot of sanding to do..
OK, so next operation will be rounding over the outside edges, and then routing a shallow groove over each chip slot, top and bottom so they can be stacked when the covers are off. So hopefully in the next episode that will be where were at!
-- http://www.facebook.com/pages/DSO-Designs/297237806954248
---