So I finally started doing some ripping last week. I got my 40T blade sharpened, and I threw together a half ass thin strip ripping jig. The results of that was five pieces that when placed together you could read an eye chart through the gaps between them ! The maple was difficult to push through the saw and I was getting awful saw blade marks and really rough edges, not to mention that my thin strip jig was binding up on the maple. So frustrated, I grabbed my credit card and was determined to remedy the situation. 5 days later, there was a brand new Forrest WWII thin kerf tablesaw blade (review Here) and a thin strip rip jig (review here). So after getting the blade mounted and the saw adjusted I got to work stripping up my material's.


The Forrest produced perfect edges for gluing and the jig worked great to make the pieces consistent. So once I got all my pieces cut I started doing glue ups. Here is a shot of the first "half" in the clamps.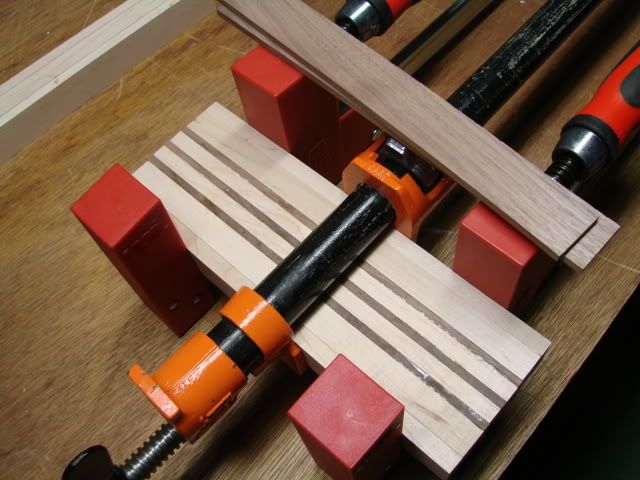 I used a glue roller to apply the glue quickly and evenly. I also sandwiched the glue up between two pieces of scrap maple to help distribute the clamp pressure. I put aside the outside walnut strips..they don't go on till after all the holes get bored. Here is three "half's" drying in the clamps


Unlike Marc who owns more clamps than anyone I know, I can only do three glue ups at once. I am actually going to use only the Bessy's from now on. They have such nice even clamping pressure and the jaws stay parallel to each other. They are just so much easier to use than the pipe clamps. Sure they are more expensive…but you get what you pay for. Here is a shot at all the other "half's" waiting their turn in the clamps.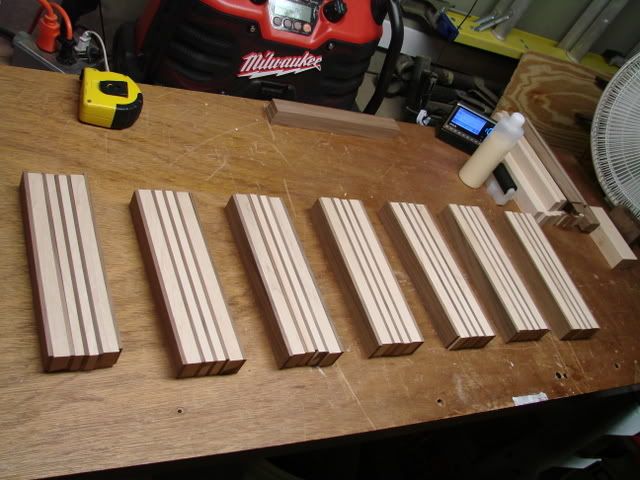 So, once I get the glue ups done I will be paying a visit to my old employer, to "borrow" his wide belt sander. The half's are all around 1 1/4" thick now. I will wide belt them down to 1" and they will be nice and flat and consistant in thickness.
-- http://www.facebook.com/pages/DSO-Designs/297237806954248
---