Hey everyone…
A while back I built a hold'em poker table for a friend of mine

and recently I was invited to a game at his house. When he brought out the poker accessories he had these real nice clay poker chips in a metal briefcase. I thought how nice it would be to have some wood trays that matched the table. I remember seeing an article in a Woodcraft magazine (Mar '07) by Marc Spagnuolo AKA" The Wood Whisperer" for some nice wooden chip trays. I dug up the article and they seemed perfect…great looking, easy to execute and stackable. The article was detailed enough to build from, but of course I can't nail 2 boards together without doing a few Sketchup/Podium renders…and I wanted to monkey with a different look. After a little brainstorming I came up with this.
I am putting a link below each pic to the full size image…. 640×480 just dosn't do these justice!
Here is a basic look at the tray. I kept all of Marc's dimensions and proportions. I threw in this view and the exploded view with dimensions in case anyone out there doesn't have the magazine and wants to build one of these. I am using hard maple and walnut.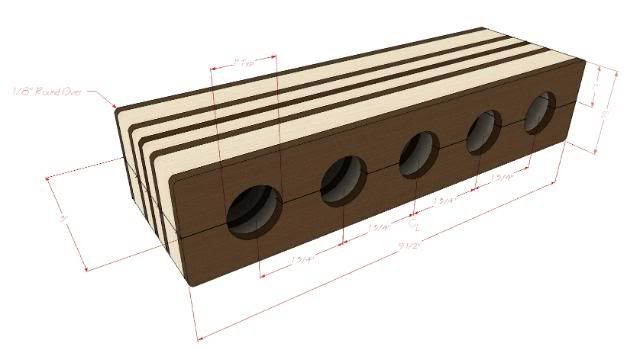 http://i120.photobucket.com/albums/o190/fella77/e5950b2a.jpg
Heres an exploded view of all the individual segments and their sizes. I had the guy at the hardwood dealer plane everything oversize so I don't have to sweat the glue ups as much..I will just plane or sand them to finished width of 1"
http://i120.photobucket.com/albums/o190/fella77/04f8f4b6.jpg
All these images were drawn in Sketchup and then rendered in Podium. Podium doesn't recognize line work or text so to get the line work and text into the image, I had to use a 2D export of the hidden view and combined it with my rendered image in photoshop. I was trying to get a mix between photo real render, and industrial illustration..
http://i120.photobucket.com/albums/o190/fella77/335cec85.jpg
A trip to the local hardwood dealer a mile from my house that has a wall of cutoffs and deals yielded all the wood I will need to make the 5 chip trays that my friend needs ( he has slightly under 500 chips). The walnut I got from the scrap bin ("scrap sounds so harsh..I like "undersized stock" better) is allot darker than the brown in these renders..it's almost black..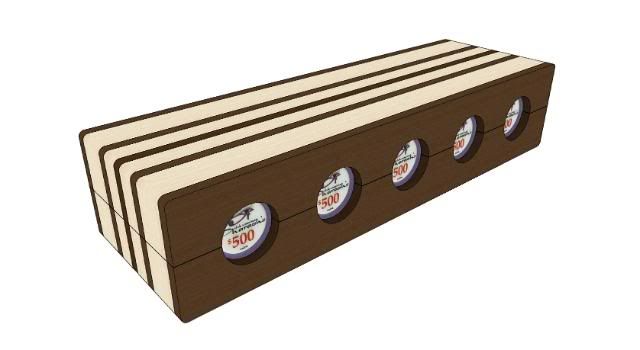 http://i120.photobucket.com/albums/o190/fella77/30ed76f9.jpg
Basically the procedure is rip all my pieces to exact widths, glue up my blanks for the tops and bottoms without the 2 end pieces of walnut. After the glueup, I size the blanks to finished dimensions. Then I clamp together a "top" and "bottom" lay out the hole pattern then bore the 40mm holes. Then I mate up two pieces of walnut for the end pieces and bore a 1" hole in those. Then I glue the end pieces onto my tops/bottoms and round over the edges. I am thinking a few sprayed coats of catalyzed lacquer for these…no stain. I just realized I didn't include the shallow grooves routed over each row so they can be stacked securely with the tops off…DOAH!
-- http://www.facebook.com/pages/DSO-Designs/297237806954248
---