A while back I grabbed a great deal on a complete Veritas steel plate router table setup…complete with the stand, the fence, the fence sled, and a Bosch 2 1/2 HP variable speed router. I built a cabinet for it to sit on with a draw for the bits/router stuff and a couple adjustable shelves and a Kreg router safety switch located at knee height.. The Veritas router stand is open and made of Baltic Birch ply..so I pondered for a while on how to do the dust collection..I was making huge messes whenever I used it! I was going to buy their fence dust fitting that has magnets in it and then maybe try and mount a cone style collector near the back of the router. After some thought and sketching..and many minutes standing at Woodcraft staring at dust collection fittings, I came up with this..I decided to enclose the table and put a 4" fitting on the back..I used Baltic Birch 1/2" ply for the back piece.


I used clear 4" & 2 1/2" to connect everything to the Y I mounted to make the connection to my dust collector. I have a longer hose I use to connect my D/C to my table saw, and jointer with a quick connect sleeve..


I used some hose mounting clamps to mount the Y..but they didn't fit too good…I have to modify them so they fit a little tighter.. I silver taped all the seams and cracks where I thought I might have air leaks..some pictures don't show it all..I did everything once I was done ….this is a look inside the base..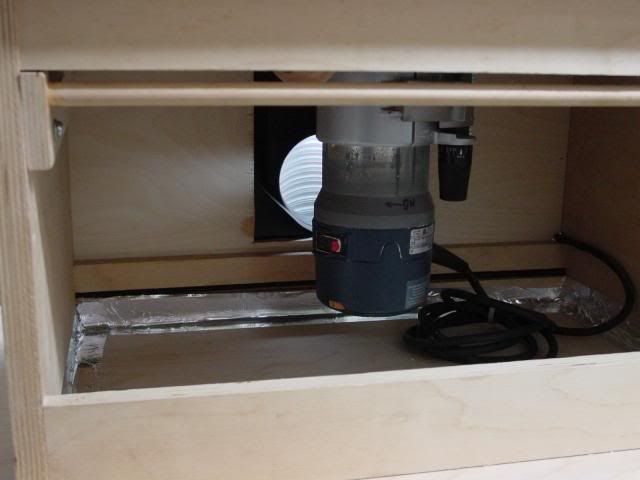 Instead of paying 45.00 for the Veritas magnetic fence dust fitting, I bought the Woodcraft router fence D/C fitting for 7.00 and drilled and glued cups and installed rare earth magnets I had left over from another job..works perfect..sticks it down to the top almost too good!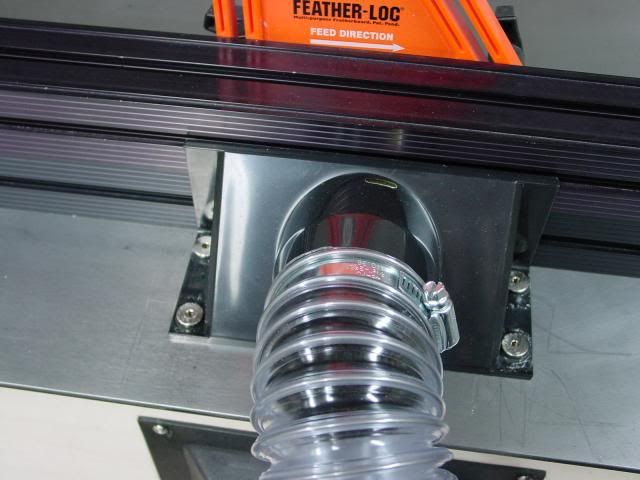 Here is what it looks like when I use it.. I have limited space in my shop so I stow this against the wall and roll it into position when I use it ..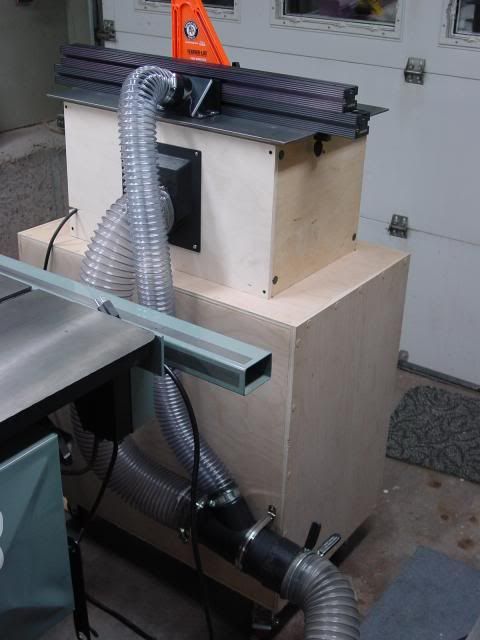 For the front I cut a piece of 1/4" and made it slightly smaller than the opening so I can get proper flow..the suction holds it in place perfectly! I have experimented with using a small block to wedge in at the top..sort of like a hopper window..to let a little more air flow through..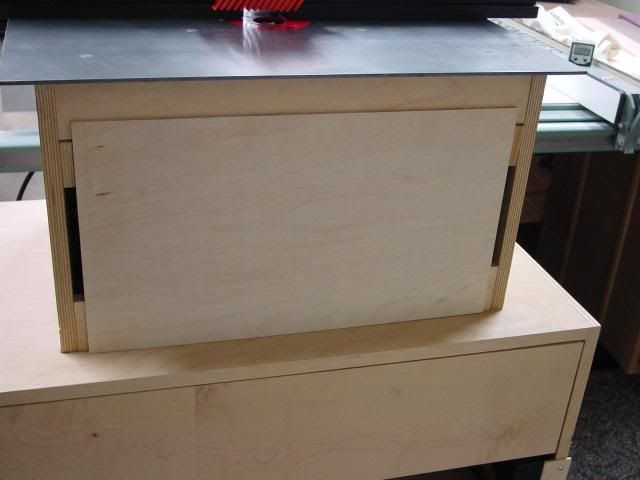 Overall it works well..I still get a little dust flying, but it gets almost all of it. The corners on the inside of the base get filled with sawdust, but I was thinking of fitting some angled pieces to keep that from happening…Or maybe a slanted bottom…
-- http://www.facebook.com/pages/DSO-Designs/297237806954248
---