Lately I have been seeing a lot of work benches fitted with these fancy arm supports for sanding dust collection vac hose..Like this Festool setup .I use a canister vac to do dust collection for a bunch of my "hand" tools ( R/O sanding, biscuit joining, pocket screwing, belt sanding) and have a system of fittings so they all connect to the vac easily. I was thinking of copying the Festool rig and making it out of PVC, but as I stood there in my shop ..staring blankly at the wall..you know..you all do it too…It occurred to me that i could make a platform and get the vac in the air and just hang the hose down. So I cut a scrap piece of ply and screwed it up to the beam. Then I removed all the wheels and feet from the vac, gave it a good cleaning and slid it into place.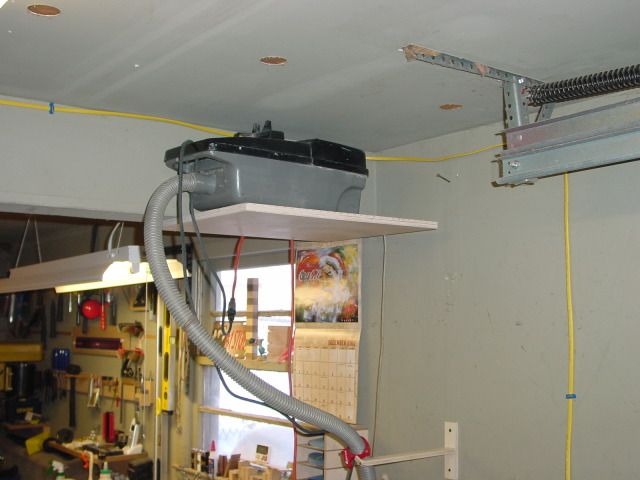 It fit perfect and I liked the way it worked. I don't have to screw anything down so if I need to sand something large like a piece of furniture I can take it down in a second. Once I started using it I began thinking I needed to design some sort of arm with a spring to support the hose to keep it off the surface of whatever I was sanding..Turned out all I needed to do was loop a large elastic band around the hose near the ceiling and drive an eye screw into the ceiling to hook the elastic to.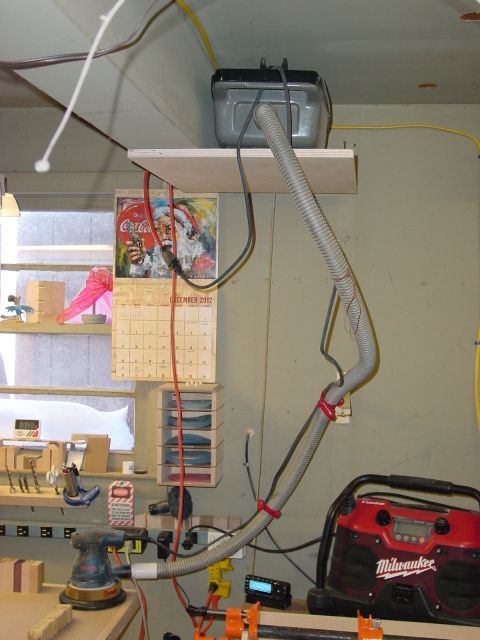 Again that worked great! It allows me to pull the sander in any direction I want and still keeps the hose from dragging on the piece being sanded. You can see the elastic but not the eye hook..its not setup for use in these pictures.
Another great thing that happened by accident was I was getting a tremendous amount of static electricity buildup in the hose. If I got my arm or head anywhere near it, it was quite uncomfortable. Once I ran the power cord up the side of the vac hose, it all but eliminated any static charge near the hose.
So, to review…didn't cost me a dime..works great..just the kind of upgrade I like!
-- http://www.facebook.com/pages/DSO-Designs/297237806954248
---