Hey everybody! I was just reading and responding to someones forum topic about shop design, and I remembered that a while ago I downloaded a Sketchup component library that contained models of most of the power equipment you would find in a wood shop. I got it from the downloads/components page of the old Sketchup (pre Google). I don't remember who did the modeling but they graciously put it up there for anyone to download and use. Here is a couple of screen shots of the stuff thats in it….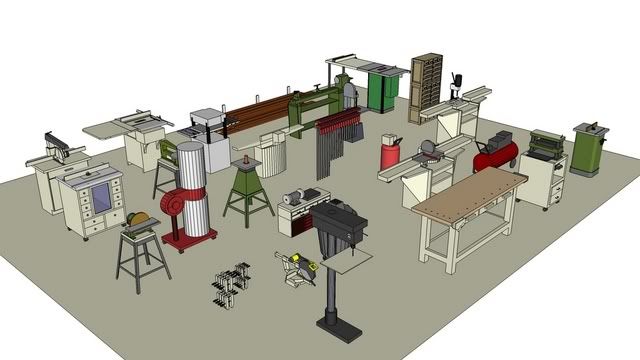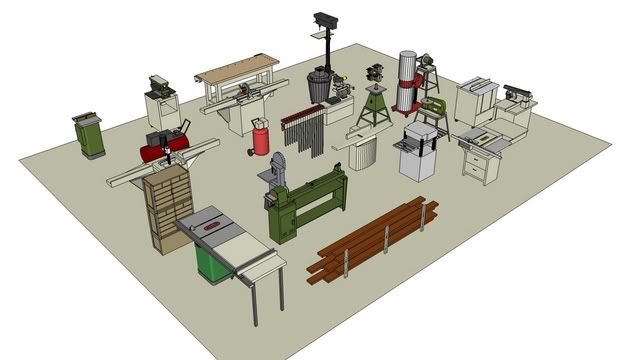 Each item is a component group. They are a little low poly, but the detail is pretty good on most of the items. You could easily use any of the models as a starting point to super detail an individual piece of equipment.. The great thing is you could just create a basic room representing your shop and then just drag and drop whatever pieces you have, then move them around, re arrange to your hearts content. You could make a couple of cubes and position them to represent the in-feed/out-feed clearances of certain machines..just paint them with an transparent material like colored glass. Then as you move things around you could instantly see if you are going to have the room for a good work flow. If you wanted to be super precise, you could take rough measurements of your equipment, then re scale the model to be the perfect size. The possibility's are endless!
So I went to the Sketchup downloads/components page to copy the link to the file to post for everyone, but they don't have it up there anymore! Bummer! I was going to just ask people to email me if they wanted a copy of the file, but I had a feeling that allot of people might want the file. So I put it up on my personal web space here is the link http://members.cox.net/fella/Woodworking%20Tools.skp The first time you open it with SU ver 6 you will get a message about it being in and older file format..don't worry just save it when your done playing, and you shouldn't see it again.
Well everyone download the file and start working on your shop layouts! This is a good way to play around with Sketchup without having to do allot of modeling first. Post some screen shots of your virtual shops!
-- http://www.facebook.com/pages/DSO-Designs/297237806954248
---