I attended two weddings this summer. I gave certificates for custom cutting boards for gifts. I like to do this rather than just make one and give it , this way the couple has input as to what kind and style of board they would like. I also decided to make a matching serving tray for the cutting board, carrying over the style and woods that I use in the board. The first couple decided they liked the end grain checkerboard butcher block style board..

So I created a basic design for a serving tray in Sketchup, and I have two different versions that I am trying to decide between. I did a couple quick renders, with the new Podium 2.0 to get an idea which version I like better..so please everyone chime in and give me some feedback..
This one..Mostly Walnut with a maple bottom and the checkerboard stripe. I can also do an opposite version thats is mostly Maple with a Walnut bottom and the same stripe..
This version has a little more flair carrying the black/white theme a little farther, with split color corner splines!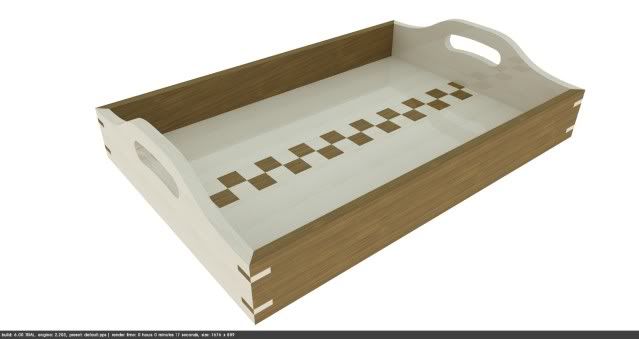 Let me know what everyone thinks..i kinda like the second one, but I am not sure if it might be a little too out there…
-- http://www.facebook.com/pages/DSO-Designs/297237806954248
---