Recently, we lost a valued member of our family.


Sam was a silver tiger cat, who was born on St. Patrick's day, 1992….he was 19. So I was preparing to build a pet urn for his ashes to be kept in my wife reminded me that we still had ashes from our boxer Lucas, who had passed a few years ago. Since these two were buddies in life, and now that Sammy has gone to the great cat box in the sky I thought it would be nice to make matching urns for them. I looked online, and on here at some designs and this is what I came up with so far. These are Podium renders of my Sketchup model. I worked out this version based on the dimensions of the box that Lucas's ashes came back in…I will make Sammy's box exactly the same only smaller. I don't know the dimensions yet as he hasn't come back from the crematorium yet..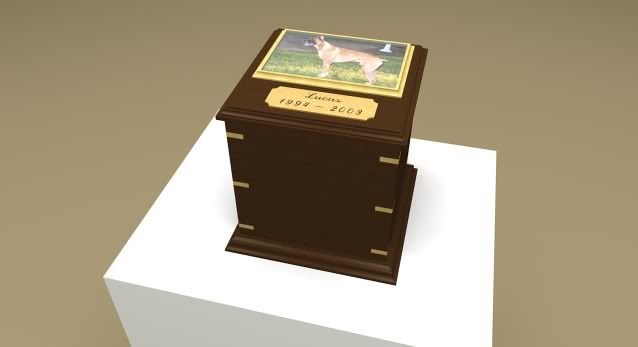 FULL SIZE
It will be made from Black Walnut, with Maple miter splines, and a Maple picture frame.

FULL SIZE
The base will have a Roman Ogee profile, and the top will have a beaded cove profiled edge. The picture frame will be a simple cove profile.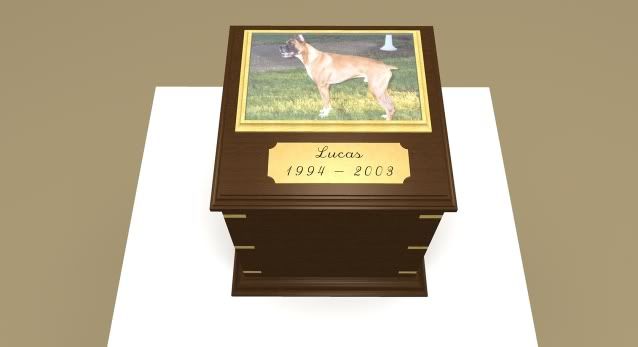 FULL SIZE
The name plate will be brass engraved. The picture will be 4×6. I showed these renders to the wife and she liked the basic design allot, but she suggested that I lay the box down horizontally, and then I could put the picture frame on the front instead of the top. That sounded like a good idea to me, so stay tuned…I will re work the Sketchup model and we shall see what that version looks like!
-- http://www.facebook.com/pages/DSO-Designs/297237806954248
---