OK..So I am slowly but surely tweaking my garage into a shop..a little at a time. Before I launched into any real projects I wanted a proper work bench…the hollow core door across two plastic saw horses just wasn't cutting it. I wanted something that was heavy duty, with thick legs like a traditional wood working bench, with mortise and tenon joinery..but I didn't want to go through the whole learning curve..I just wanted a bench. I remembered seeing an article in FWW that was a plan for a bench exactly like that, made of layers of plywood laminated together. You use jigs and blocks to create the joinery. The top was a layer of 3/4 ply with a layer of 3/4 MDF on top and a hardwood edge to finish it off. So I bought two sheets of my favorite shop fixture materiel…3/4" birch ply at HD..50 bucks a sheet. Stripped that all up into 3 9/16" strips, then cut all my parts to length. I used a jig described in the instructions to make the tenons on the stretchers and a couple blocks with packing tape to make the mortises.
Here is a shot of the finished legs..I trimmed them with two passes per side on the table saw down to 3 1/2"

Then with everything glued up, and sized and sanded I started assembling things..

Heres the base with the sides all glued up, clamped together and squared up..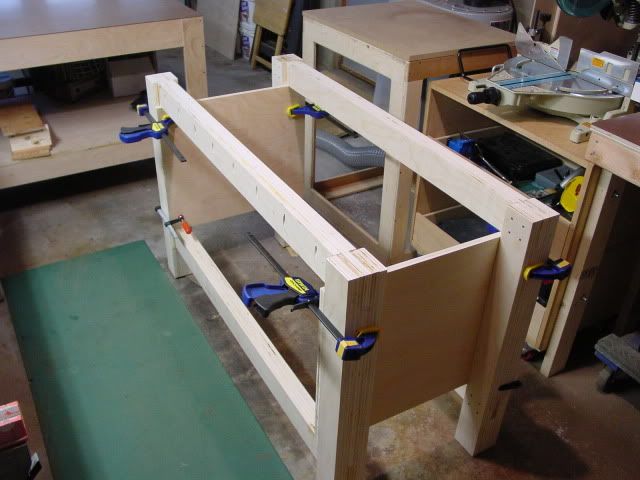 The MDF was screwed to the plywood from underneath and then the top was pocket screwed through the upper stretchers..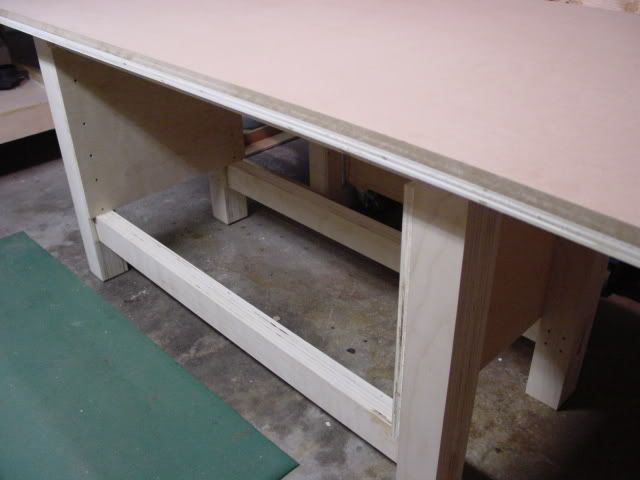 Then I just put on some HD 3/4" solid maple trim..I actually found a piece in the bin that was curly..I put that on the front..mitered all the corners and shot it on with brads, then screwed it on into both the ply and MDF…The finished product!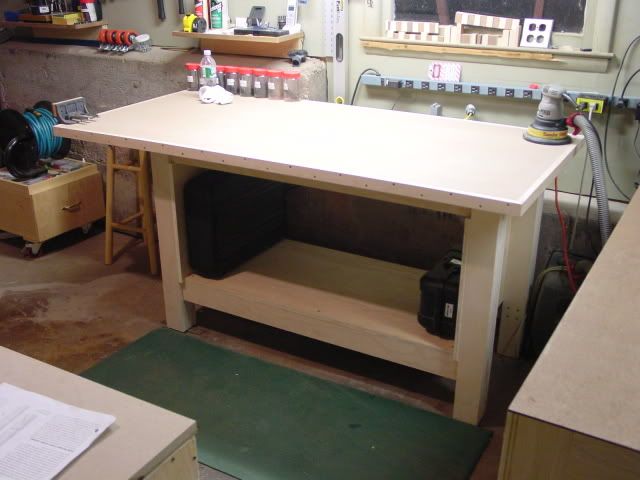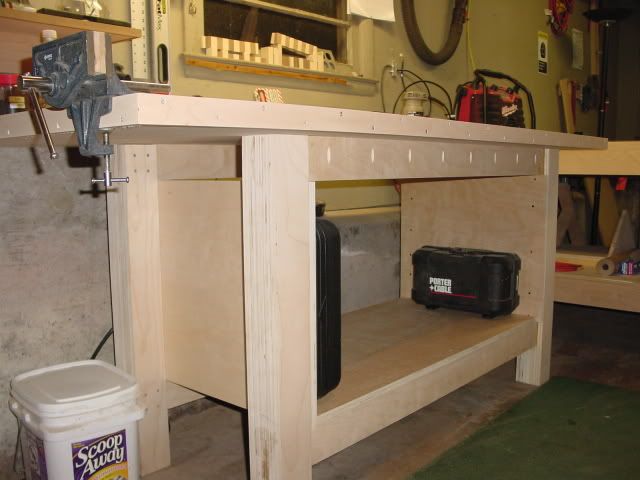 I am very happy with the result. The bench is rock solid, and the top is nice and flat. I am going to install a nice vice on the left end, and drill some holes for some round bench dogs.
-- http://www.facebook.com/pages/DSO-Designs/297237806954248
---