I recently got a great deal on a Kreg precision measuring kit at wood shop liquidation sale. I was considering buying the kit brand new for $140 bucks… I got this one for $25, but it was missing all the hardware. I sent an email to Kreg explaining my situation and asking if they could sell me the replacement parts and they promptly answered back saying they would send me out all the hardware I was missing for free! I can't say enough great things about Kreg and their customer service. A week later I received a package containing all the hardware I was missing and one each of the left and right reading self adhesive tapes. I didn't even ask him for those..you can buy them anywhere…but he included them anyways! Awesome!Thanks to the great customer service rep at Kreg!
So I decided I was going to build a simple out feed table out of 2×4's screwed to the wall studs and 2×4 legs. I topped it with 3/4" shop birch and 1/8" hardboard. I used a light coating of contact adhesive so I can change out the hardboard if it gets all messed up. I kept the chopsaw on the cabinet I made for it, and once in the position I wanted it in I locked all the wheels and shimmed it so it is level. The out feed table legs nearest to the cabinet I turned so the long side is facing the cabinet. I drilled holes and installed 3/8" x 2 1/2" lag bolts and washers to lock the two together. I made the fence from 3/4" melamine for the face and 3/4" birch for the base, pocket screwed together. The fence is 2 1/4" high per the Kreg specs for the stops to work right. Here is the finished fence before I mounted the track to it..


It's screwed to the table top with 1 1/2" pan head screws. The top track is attached to the fence with #8×5/8" pan head screws. It's pretty easy to dial in the tape placement and the curser of the stop..in a couple minutes and a few test cuts I had it dialed in as accurate as my Biesmeyer!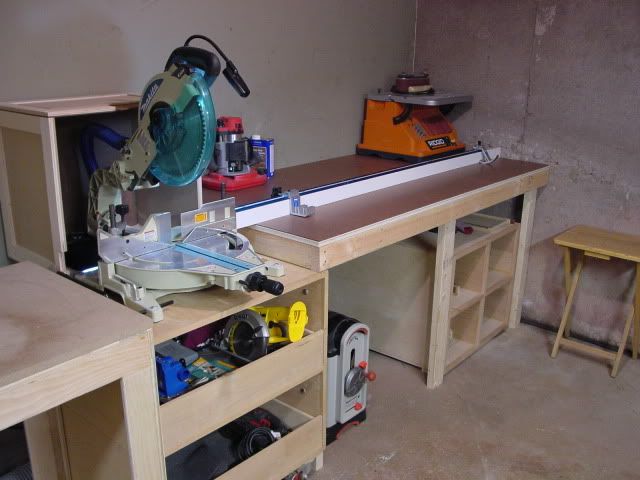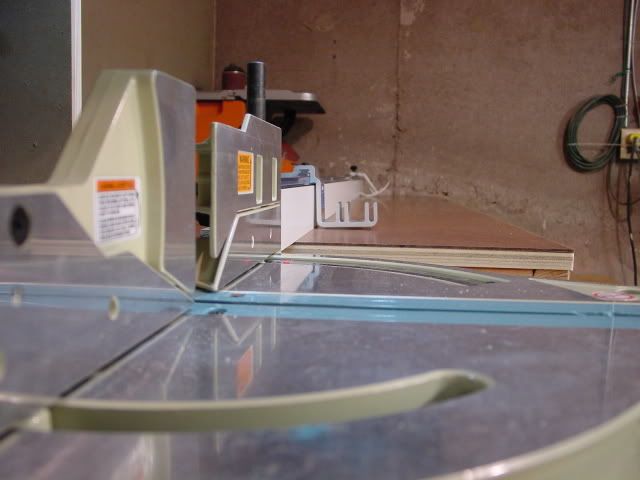 I also threw together a dust hood for my chop saw. I made it out of scrap hard board, scrap MDF, and scrap 1/2" Baltic birch.


I used a table top dust collection fixture mounted under the box. I mounted it to the wall on a french cleat that way I can slide it to the left to do angle cuts. It works pretty good at sucking up most of the dust…..allot better than no hood. I also used some pool hose to direct the saws built in dust collection port down into the collector.

My little shop is starting to come together! I will probably put up a piece of solid wood trim on the front of the out feed table. I have allot of storage behind the fence and I will be putting up more french cleat storage and maybe a cabinet as well. It's a bit of a reach over the wide counter top but I am tall so It's not too bad. Next on my list is a real bench to replace the door on two saw horses I have now! Also I want to make a nice drill press table with a movable fence.
-- http://www.facebook.com/pages/DSO-Designs/297237806954248
---