Bam! I was lurking in the shadows of Craigslist and what did i see? An older gentleman selling all his woodworking equipment and moving into a smaller place. I couldn't tell from the picture in the post what the make of the DP was but I recognized that familiar Powermatic gold paint! I emailed and the son who was listing it for his computer illiterate father sent me a huge picture of it and sure enough it was a Powermatic drill press. I arranged to go look at it, the guys place was about 20 Mins away. It is a Powermatic 1140F 14" 3/4 HP drill press..wired 110 but can be re wired to 230. I flipped it on and it ran nice and smooth and looked to be in great condition. It's manufacture date was 1989, and he said he was the original owner bought it new and used it lightly for the past 21 years. It looked like it was in great shape and he threw in a tool caddy and a bunch of assorted (pile) of drill bits! The press was listed in the ad for $250, but I was able to talk him down to $200 even. I wrestled it into the truck and after a quick clean up here she is in my shop!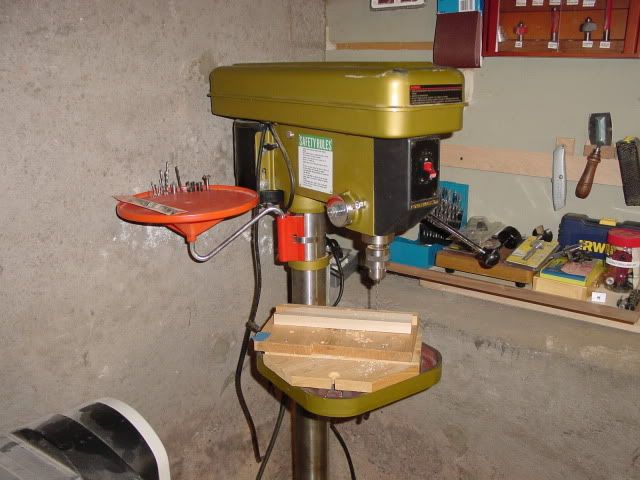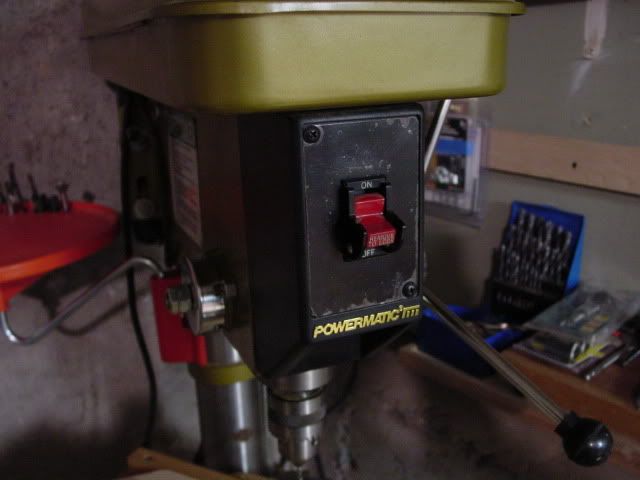 I didn't get a manual for it and I have never owned a drill press so is there any routine maintenance that I should be doing?
It seems to run really good. I changed the belt config to a faster speed (something between the recommended hardwood/softwood speed..around 1900. It is a little noisy..seems to be coming from the tensioner pulleys in between the motor and the spindle..i guess that's to be expected given its age. One thing I noticed that I'm not sure I like is when I pull the spoke wheel to advance the bit down (with the spindle turning or not) there is a clunk that you can hear and feel as the spindle travels down the first inch or so. Other than that it seems to be fine and it doesn't do it every time..it almost sounds like something in the gears…weird.
But it seems to be a great press other than these things..maybe somebody can give me some info as to what they think it might be. The general consensus online is these go for anywhere between $150 and $350…so i think I got a great deal!
-- http://www.facebook.com/pages/DSO-Designs/297237806954248
---