It's one of those questions..like if a tree falls in the woods, and theres nobody there to hear you saw it up into boards, does it make a sound? So, I guess I will have to figure out a way to safely rip these sheets down solo…. something inspired…something eloquent, something…ah, hell wheres the saw horses and the plastic banquet table! I kid you not here it is in all it's git 'er done glory..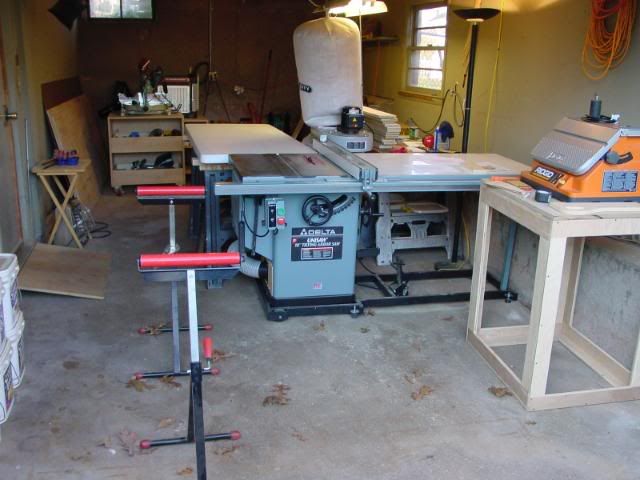 I screwed some 2×4 blocks to the saw horses then use some precisely cut plywood shims to put the surface of the banquet table 1/16" lower than the saw table. I clamped the end of the banquet table to the angle iron across the back of my saw. It was actually really sturdy and the plastic was very slick…the plywood slid right over it with ease. It worked really well and I think I will refine the idea and use it again as a infeed/side table when I rip sheet gooods…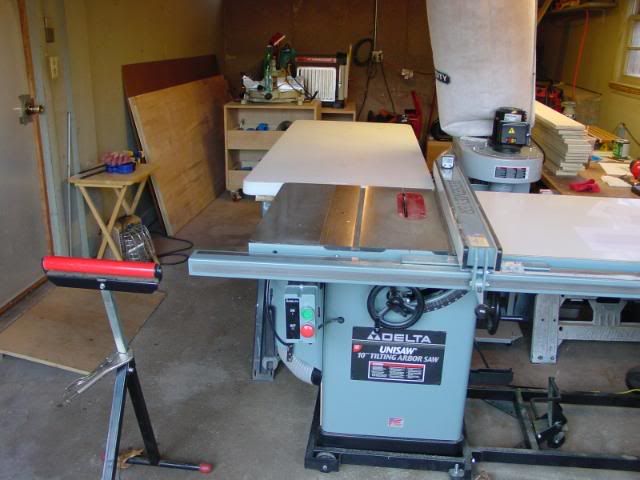 In retrospect I should have placed the roller stands farther in closer to the blade..I could have gotten better support that way, and they were in my way as I was feeding the sheets through the saw..but I was careful and it worked out real nice. As a side note… this was the first real cutting I did with my new saw and it was awesome! This baby sliced through the plywood like butter….the fence is really nice. I need to get a zero clearance insert for it..I was getting a little tear out along the edges, but nothing too bad for a shop fixture. My dust collection adapter worked perfectly all the saw dust except for a little off the front of the saw ended up in the DC bag. I think I might have to get a slightly longer hose for my DC as well. So I ripped all my pieces and put aside the remainder of the sheets. I want to wait till everything is assembled and take my measurements from that for the cuts on the top pieces, just in case I have to adjust something along the way. Next i set up my cross cutting operation…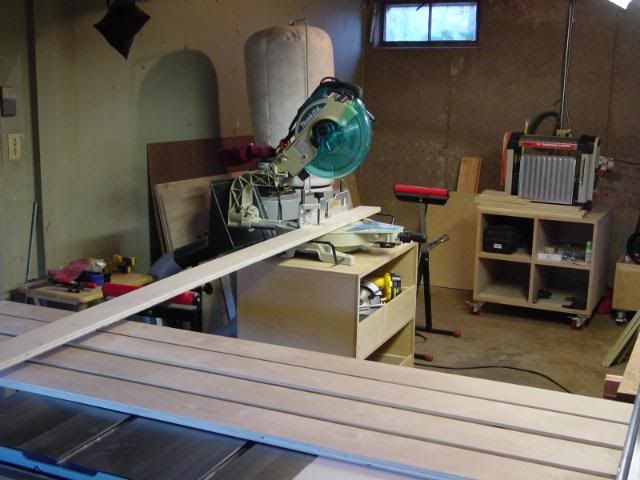 It's basically my SCMS on it's rolling base with a roller stand on either side. Simple but it worked great. I couldn't set up a stop…but eventually I will have a full fence and production stop built for it! So now everything is cut to size and I have a large pile of parts waiting to be assembled.
You can see in the first picture, next to my saw is my amazing assembly cube. I found the plan for this on a woodworking website somewhere, I don't remember where. It has three different heights depending on what side you lay it on, and I made an MDF top for it when its on the tall side to act as a work surface. This thing is one of the handiest items I have ever built for myself. It is invaluable for assembly, and it makes a great work table and when I'm not using it for anything else my oscillating spindle sander calls it home! I showed the plan to my friend that owns a cabinet shop, he loved it so much we made ..I think like six of them from his plywood scrap pile. I kept one..he has the other five in his shop and he uses them every day for a multitude of operations. He clamps two and three together to make large assembly tables. You will see in future episodes of this blog how versatile these are. I cant wait till the scrap pile gets big again…I want a few more of these!
-- http://www.facebook.com/pages/DSO-Designs/297237806954248
---