Well I have been so focused on getting my new old Unisaw tweaked and settled in it's new home I forgot that I need some essentials for it's operation. I wanted to fire it up and try and cut some big slabs of birch butcher block to test its power, but I realized one thing…they are big pieces and I don't have an out feed table! So, basically I cant cut anything bigger than 10 inches…and what fun is that? So I was browsing through the projects and came upon this project by Jayman7. He did his interpretation of an out feed table by Marc "The Wood Whisperer" Spagnuolo, who got his inspiration for his table from Norm . I liked the design allot, it was simple..all plywood and looked pretty sturdy. So…I went to Marc's website and proceeded to watch his video of the construction of his out feed table. I also read all the comments everyone left and their was some really excellent suggestions and observations. So, I sat down and put together my version of everyone else's version of this table! I kept the basic design and just modified the dimensions to fit what I needed for my saw. Click on the link below the image to see it full size.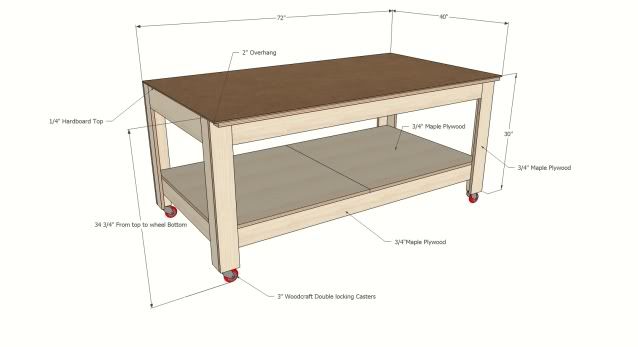 FULL SIZE OF ABOVE IMAGE
I added threaded post Woodcraft double locking casters, and I also covered the entire top with a piece of 1/4" (actually all HD had was 3/16") hardboard. I wanted to be able to roll it out and flip it long ways if I'm ripping whole sheets, and be able to support the width of a sheet for long cross cuts. I also extended the sub top and hardboard out 2" to form a lip that can extend over the back rail for my fence. This way I can but the table right against the end of the cast iron…no gaps. Jayman gave me the idea of using the hardboard and someone that commented on Marc's project suggested a unified top due to the ends of the plywood swelling and expanding above the plywood top and causing a catch hazard….so I am going to cut the hardboard oversize and glue it downs sparingly so I can get it off if I want to change it out in the future, and then I will just cut it flush with my router and a flush trim bit. Here is a another shot of the SketchUp model. This is the exploded view scene…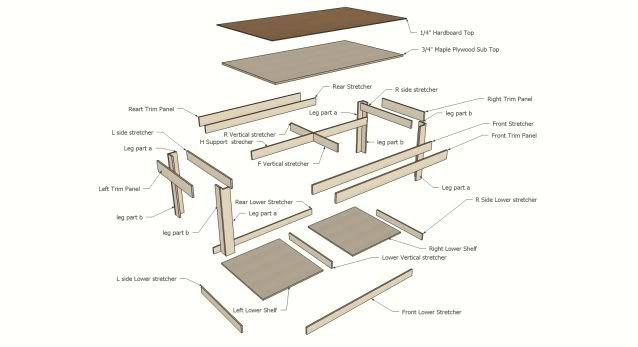 FULL SIZE OF ABOVE IMAGE
I did the post mount casters so I can use a threaded insert or capture nut and jam nut to do a fine hight adjust, so I can get the table dialed in to the perfect hight. I also added a little more support under the top to prevent sagging and beef it up, because you know it's going to be more than just an outfeed table!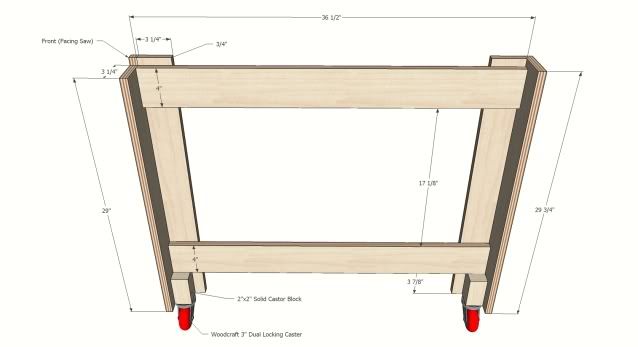 FULL SIZE OF ABOVE IMAGE
In Jaymans thread, somebody asked him to do a SU model of the table for everyone to use. I volunteered to do it, and I am a man of my word..so here it is! Click on the link below and download your own copy of my version of this out feed table. There are 11 different view tabs including complete dimensions and I even did 3D cutting diagrams! Anyone with a basic SU knowledge could easily modify the pieces to fit there unique application. Or, print out all the tabs and build one just like mine! Download the SU model here
So after I got this done it was off to Home Depot to buy some plywood. I noticed their birch ply is American made, with no scary Chinese chemicals or dead rats in it. I have tried it out on a couple shop cabinets and it seems to be OK..and at $39.00 a sheet you cant go wrong for shop fixtures. So three sheets of that and one sheet of 3/16" hard board..$139.00. Not too bad..and I will have some usable scraps. Fire up the table saw!
-- http://www.facebook.com/pages/DSO-Designs/297237806954248
---