I found this Sears Craftsman Shaper Model No. 103.23920 at a garage sale for $50.00. My first thought was,
even if I can not fix it the 1 HP motor is worth more than that on Ebay. It was made for Sears by the
King-Seeley Corp about 1953 and came complete with rust and 5 sets of cutter heads that needed sharpening.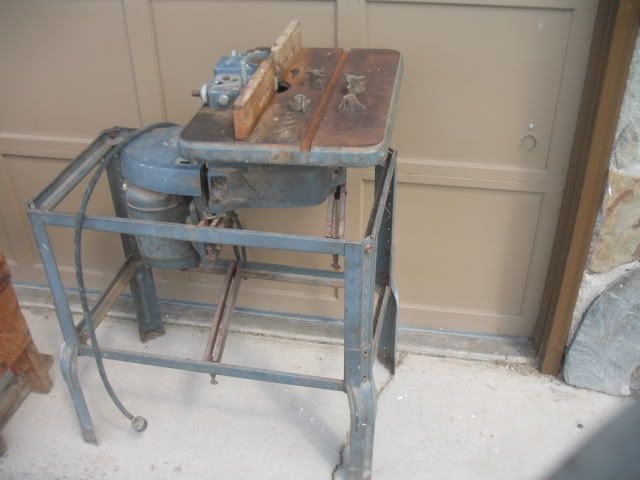 The shaper was made to use either a 1/2 or 3/4 HP electric motor, the original misguided owner decided to make
it heavy duty by using a 1 HP motor. The base of the motor was too big for the shaper motor mount, so Rube
Goldberg just bought some longer bolts and bolted it on with the drive shaft setting at about 10 degrees from
being parallel with the driven shaft. This resulted in the height adjustment on the spindle being unusable and
the spindle rusting in place. I pressed the Spindle out of the mount, cleaned it up and rebuilt the badly chewed
up end and turned it down to hold a new driven pulley that I drilled and tapped to hold two extra set screws in
the bottom of the v groove. The set screws are equally spaced 1/3 of the diameter around the pulley. Here is
a picture of adapter plated that I bolted to the mount and motor to get the two shafts parallel. I always knew that building adapter plates to bolt a 33 Ford Sedan transmission to a J27 Oldsmobile V8 with a
tri carb set up would help me in the future.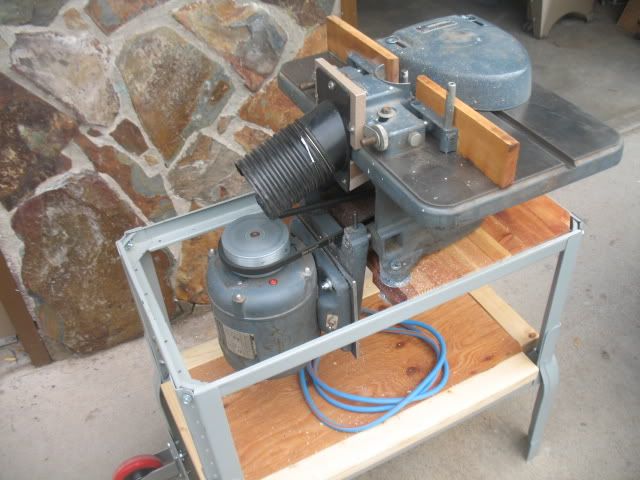 The large flat drive pulley allows the belt to ride up and down on the pulley as you raise and lower the spindle
with the cutting heads to adjust your cutting height. I built a dust collection chute to hook up to my
home built dust collection system on the 4" connection. I left the original switch on the motor, just added a
new three wire cord to replace old two wire relic.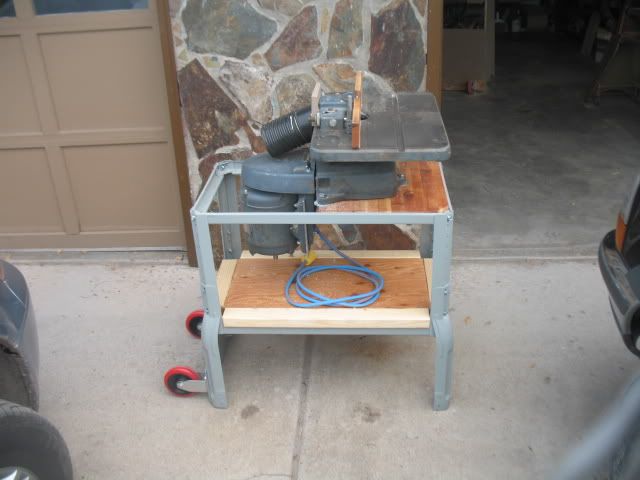 I took the old stand apart and repainted it, used new fasteners and used some laminated lumber I had
for a shaper mounting base and made a shelf out of plywood edged with some two by four pine I had
laying around. I added wheels to make it movable and have not added the levelling feet yet. The wood
is finished in BLO. I put new bearings in the spindle and refinished the two faces on the individually
adjusted halves of the fence with BLO. I have sharpened the cutting heads, and may add a few more and
use it to replace some of my router table tasks. I spent about $75.00 total and about 40 hours of play
on this project and since my better half has informed me I have spent more time working on tools than
using them, and have not done much except tear out my old cast iron fireplace and 5 X 6 foot rock hearth,
with the 6 X 8 FT back wall and 3 ft dividing wall and replace it with a new built in fireplace with cherry
mantle. I should maybe quit playing and go back to work.
As ever, Gus the 71 year young laborer trying to become an apprentice carpenter.
-- As ever, Gus-the 80 yr young apprentice carpenter
---