Well I got sidetracked restoring the Jet sander but did spend time on this while working on that in between waiting for parts. I cut out the circle for the saw swivel clearance like six times. There was really no good way to measure it and get it right the first time because like I said with the blade guard, handle, and motor, the cutout is closer to half a teardrop then a circle. So I'd put the hood in place, put the saw in place, and see where it bound or was too close and cut it bigger. Well I finally got it right and now have a 1/4" clearance from the blade guard, handle, and motor at any point from 47 degrees left to 47 degrees right.
So I moved on and installed the pipe and elbow that will allow me to connect to the dust collector port that is behind the blade on the chop saw. Delta supplies a bag with the saw that normally connects there but I'm not going to use that so I figured I'd connect a hose to it. That was a bit of a problem in and of itself because I had to find an 1-3/4" ID hose and I found out that size is not readily available. I found it at Grainger and DrillSpot.com. I could use my friends account at Grainger but didn't feel like doing that so I ordered it from DrillSpot.com. To my surprise when it arrived today, it came from Grainger so DrillSpot.com must have some agreement with Grainger. Ordered it yesterday, got it today. I like that.
I also spent a lot of time sanding, due to my laziness with gluing it up. I normally use blue tape on the glue joints where the glue can squeeze out. But this time I didn't. When I did the dry fit I scribed a line with a pencil and used the line to mark where to spread the glue. Well now that it's all together you could see those pencil lines. Not a big deal if I where going to paint this but I'm just going to poly it. I like the look of the Baltic Birch so I don't want to cover it with paint. Well that meant I have to remove the pencil lines. Not an easy task when they're right in the corners.
So I tried my PC profile sander, didn't work well and just barely could get in there. And the paper would wear through quickly and then I'd get black streaks from the rubber of the 90 degree profile attachment. So a scraper, foam sanding blocks. sandpaper and a lot of elbow grease the last two days. Oh I found some 3M foam sanding blocks that had a 15 degree bevel on the edge that made getting in the 90 a bit easier.There was also a thin layer of squeezed out glue which added to the difficulty before I could get at the pencil line. I will never do that again, scribe a pencil line, blue tape from now on, no laziness.
Oh, in order to drill the hole for the pipe into the plenum chamber I had to make a template for the hole because it enters the top at a 15 degree angle. So I used a 1-7/8" hole saw and cut a hole in a 2×8 and then cut a 15 degree bevel on it on the table saw. I then clamped it in place and used it as a guide for the hole saw with its drill bit removed.
And the other hole you see is not a mistake, that is where the plastic insert for the cord will go.
Template clamped in place.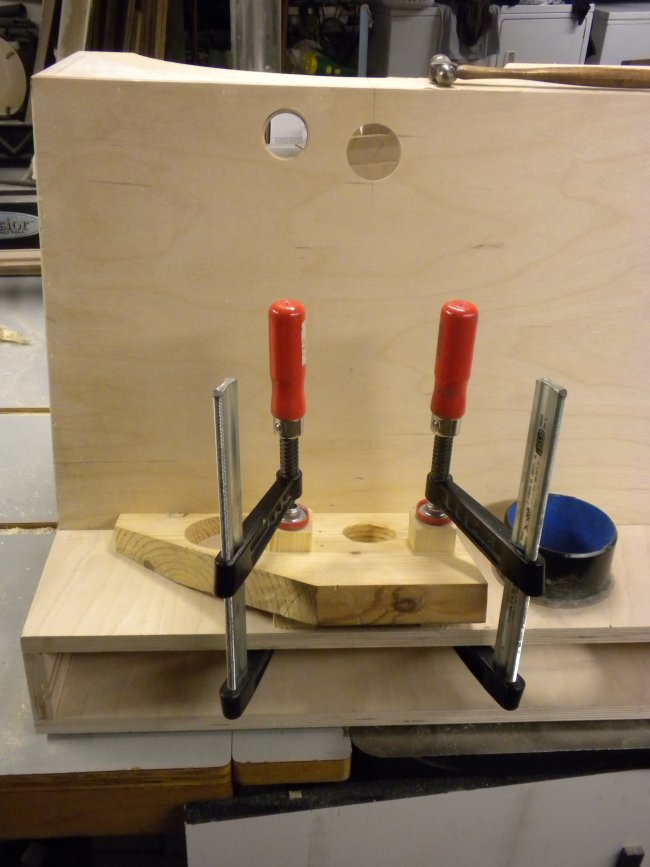 Side view of template showing the 15 degree angle.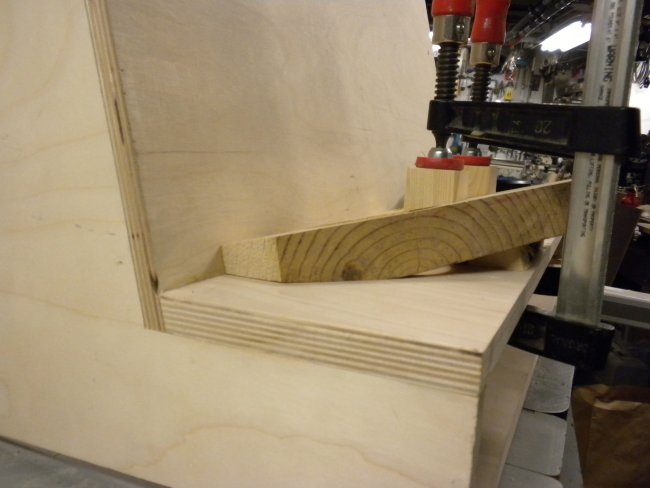 Side view of template showing the drill and hole saw ready to go.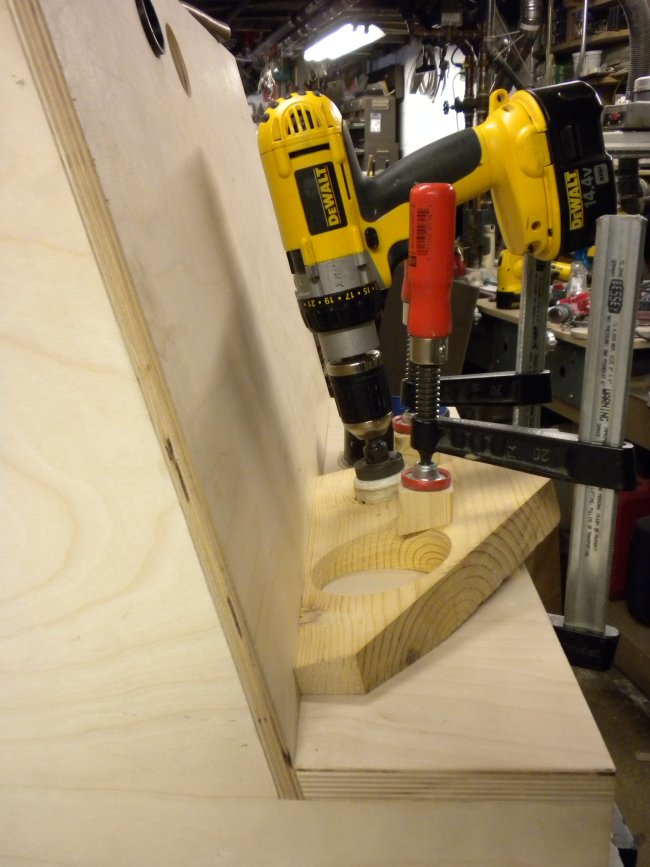 Pipe installed, glued, and clamped.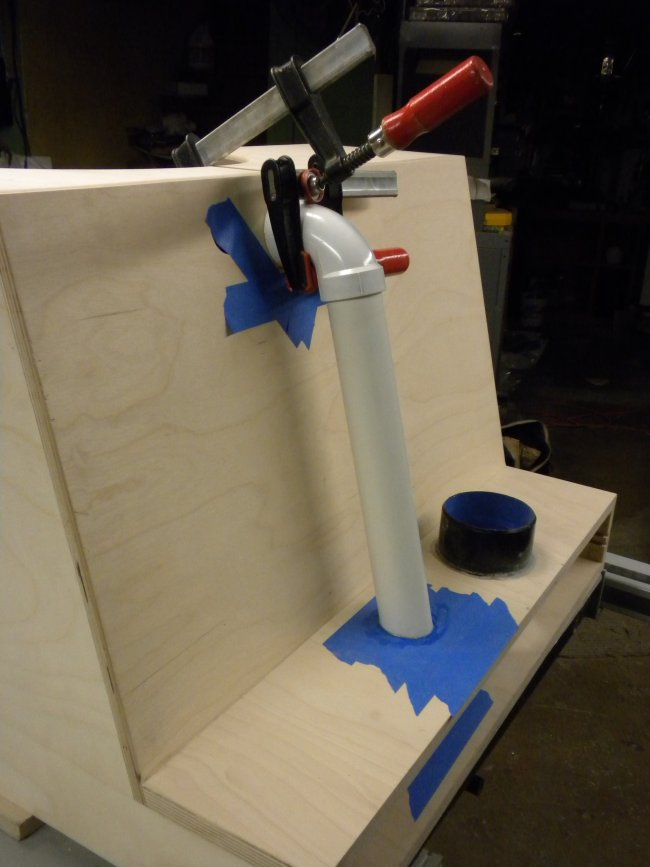 -- -Curt, Milwaukee, WI
---