Now I've added the top and bottom to the plenum box in the back of the collection hood. The idea of the plenum box is to equally distribute the vacuum along the whole length of the opening to collect the sawdust. The 4" duct will connect to the top of the box, inside the plenum 2/3 down from the top is a divider board that splits the box into two chambers. The divider board has three holes in it, a 2-1/4" hole in the middle and two 2-3/8" holes one at each end. What I am hoping this will do is evenly distribute the vacuum in the lower chamber which then has the opening along the bench top to collect the sawdust.
I went to this trouble due to the performance of my previous dust collection hood that I had behind my old chop saw. That one had the 4" duct connected on the left end coming in horizontally. What happened was that the dust collection was good on the left side but at the right side of the hood it was not good at all and sawdust would collect in the bottom at the right side and never get sucked out.
The divider board will allow me to experiment to get the best performance collecting the sawdust by changing the hole sizes and hole locations. All I have to do is make a different board with different hole sizes and/or locations and slide it in. There are also two dadoes along the entire circumference on the inside of the plenum including the back cover that hold the divider board in place. These two dadoes will allow me to try the divider board at different heights thus altering the size of each of the two chamber.
These particular hole sizes where chosen for the first attempt because the sum of their area is equal to the area of the 4" duct that will connect to it. A 4" duct is around 12.5 sq.inches, the two 2-3/8" holes are about 4.4 sq. inches each and the 2-1/4" hole is about 4 sq. inches so that comes to 12.8 sq. inches. This was also why I made the opening 1/2" high. That opening's length is 27" so it's area is 13.5 sq. inches. I'm hoping that by keeping these areas near the capacity of the 4" duct that will help the performance by keeping the vacuum constant.
The hood upside down showing the bottom of the plenum box glued and clamped in place. This bottom cover of the plenum box hangs over the back of the bench thus the bottom of the opening to collect the sawdust will be flush with the top of the bench.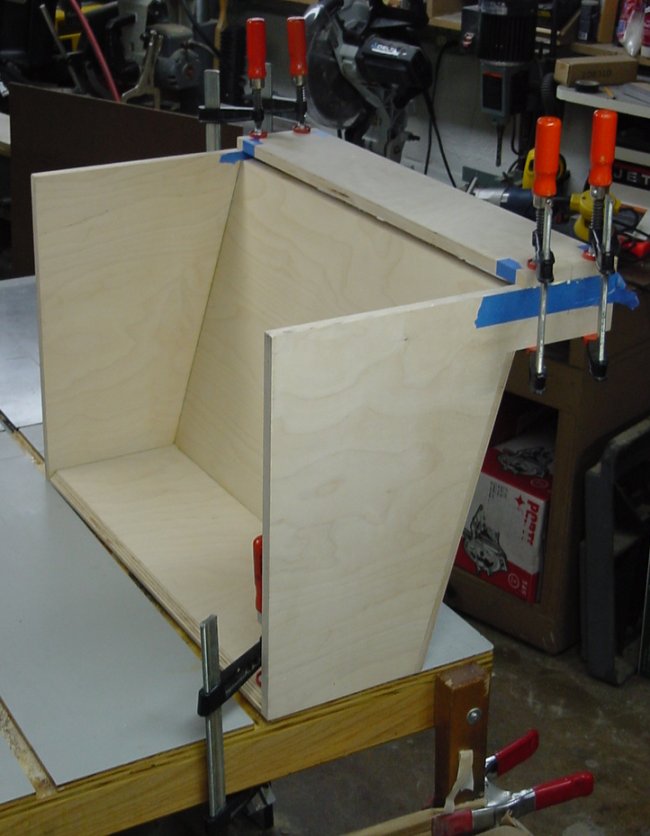 The plenum divider board in place.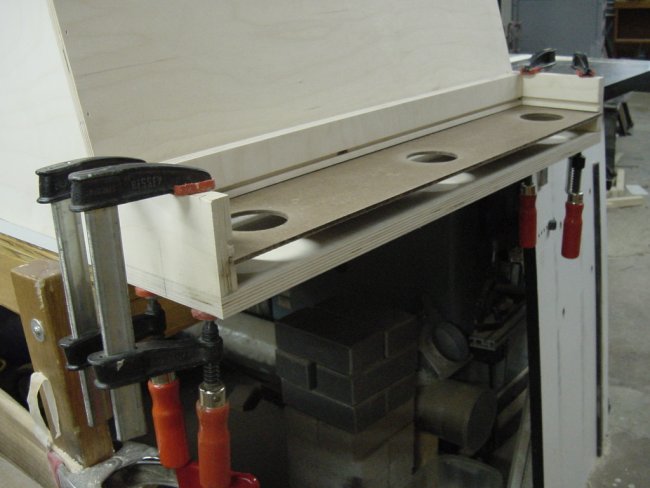 Top of the plenum box glued and clamped in place.

-- -Curt, Milwaukee, WI
---