To be honest, I'm not a big fan of miter joints. They just aren't that strong and they can be fussy. However they're good design option….like on the corners of a blanket chest. To strengthen them, I like using a spline. A spline looks kinda cool and will help alignment during glueup.
Now some woodworkers might be able to get a two foot long spline to fit perfectly and look great on the exposed ends….but they're better than me. So I cheat. Here's how I do it.


-
-
I cut the 45 degee bevels on the tablesaw. Leaving the blade at 45, I set it up to make the groove for the spline. It took two passes to get the width I wanted.
You can use a scrap or test piece for these setups. Don't use a short one. That's dangerous. I just made the pieces extra long and test the cut on the first inch or so.


-
-
Next smooth up the saw marks on your beveled edge.


-
-
Now make some splines. I use…...wait for it…...1/4" plywood! If you think about it, a spline running long grain with the joint is wrong because the grain is weaker that way. So you could make a bunch of smaller cross grain splines like this:


-
-
Or you could just use a scrap of 1/4" plywood. The grain alternates. And it's already uniform thickness. Notice the spline is a couple inches short of the end. We don't want to see the ugly ply in the end.


-
-
Spline a little snug? You can plane the first layer of ply. I know, Rojo loco.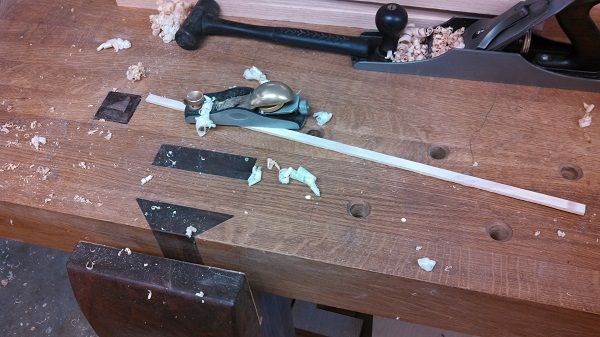 -
-
If you've got a snug spline, glue up should be pretty easy. It helps keep things aligned.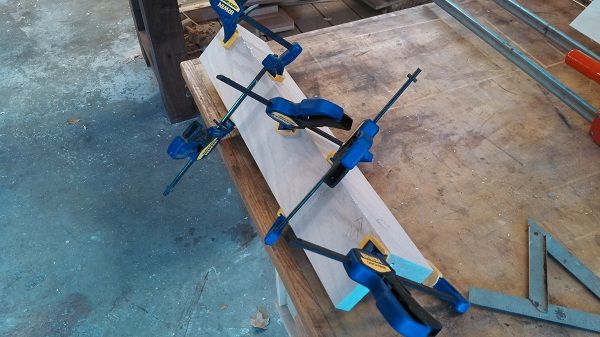 -
-
Cut the legs to the correct length. Don't cut to where you hit the spline!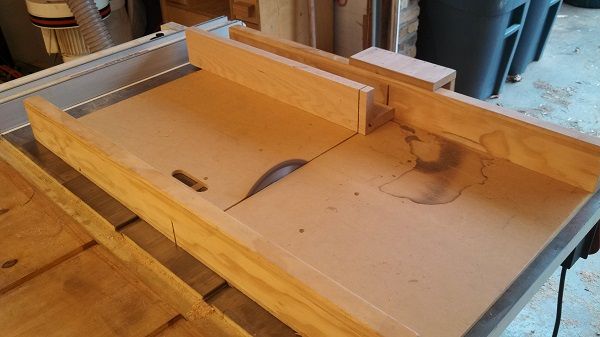 -
-
Now you should have something that looks like this. Even if it doesn't line up perfect or whatever….no worries. Chisel it to a nice rectangle. One of the few times I use an 1/8" chisel.


-
-
When you have it good enough, cut ya a little hardwood spline. I know it's not correct, but I think the end grain looks cool. I rip thin pieces like this on the bandsaw. It's safer.
As with any square peg, dowel….whatever you want to drive in wood. Make it slightly over-sized. Use a block plane or sanding block to taper it. Add some glue The tip should barely go in, then it will expand as you drive it home(Stef). Just don't get too carried away and split the darn thing.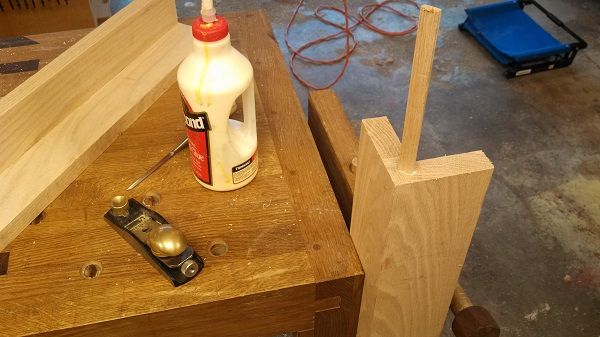 -
-
Flush cut saw. ROS. Little oil. It should look like this.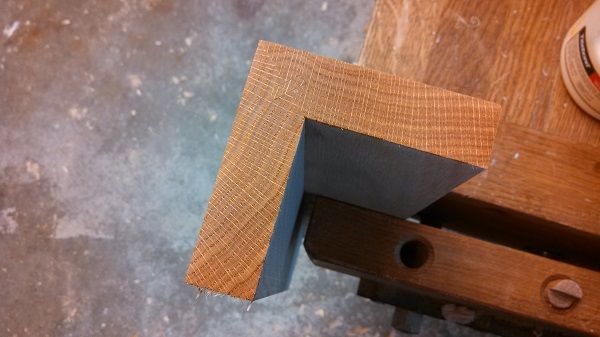 Edit: Well that spline blends so well maybe I should have made it cross grain or an accent wood if I wanted to highlight it. Oh well. Maybe next time.
-- "At the end of the day, try and make it beautiful....because the world is full of ugly." Konrad Sauer
---