The difficult dovetails done. But it was far from complete. On to the stretchers:


I hogged out most of the mortise with a forstner bit. Then cleaned em up with my mortising machine. That machine is just too slick not to take advantage of.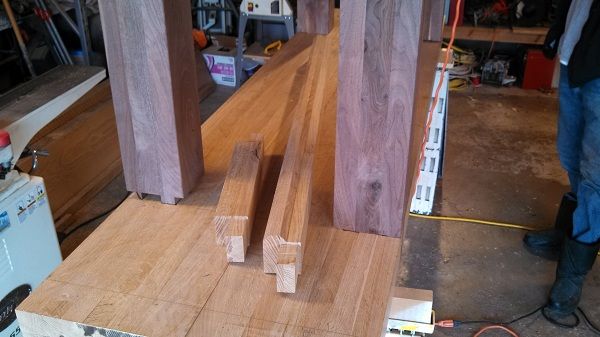 The stretchers are a piece of 8/4, and a piece of 4/4 oak laminated. The front stretch has that peak angle designed to be the runner for the deadman. Unlike other designs, I made small cheeks on my tenon. No other reason than I belive this to be a big factor in the strength of the joint. Check out my neighbors sweet Napoleon Dynamite snow boots.


I admit, I didn't drawbore the legs. I glued and pinned them. I don't think there is any way this joint will loosen. i'll let you know if it does in the next hundred years;-)


Now we're getting somewhere. I made my retired neighbor sign a waiver before he helped me turn it over.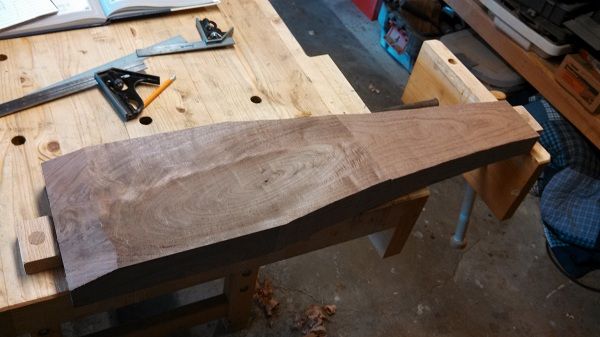 Next I had fun one afternoon making the leg vice and deadman. The were made from two of the better looking walnut shorts I had. Here's roughed out after the bandsaw.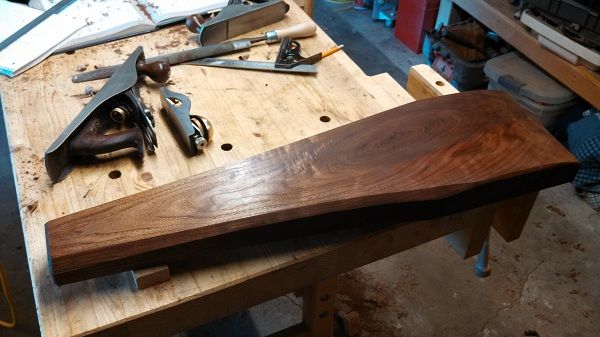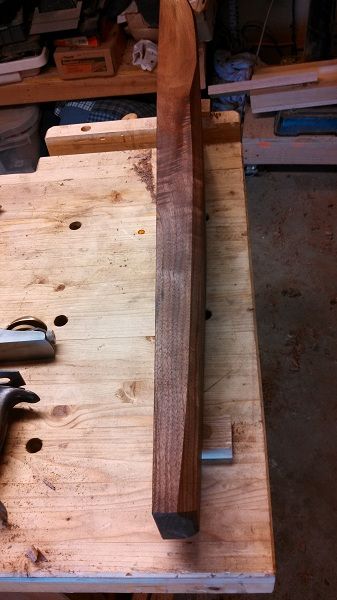 Then I played with planes and scrapers for awhile. I had this design in my mind before I even started the bench. This chunk has some burls toward the top which made it interesting. Little danish oil and we're lookin about right.
NOW…..Breadboard Ends:


I use breadboard ends all the time in my furniture. I took a couple extra shots of my method because I realize not everybody realizes there is funtion behind the design. Meaning, one has to leave room for the wood to expand our it could blow out.
I do the bulk of the work with a router, and tune the joint with hand tools. That being said, I've never done this joint on a 4" thick top. I admit, it was a bear. Here's the first step. Well let me back up. I did the bottom rabbet before I turn the bench over. Always thinkin.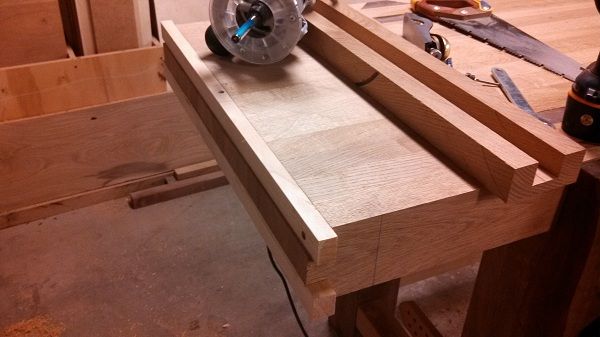 Then I attached two scraps to true up the tongue with a pattern bit.


The end cap is made with a dado blade. Then I use my rabbet plane to get the right fit. I drill the holes on the end cap on the drill press. Fit it, then use a brad point bit to mark the holes on the tongue. Notice only the center hole is the same hole. The others have 2 holes drilled side by side. Then cleaned up with a chisel or round file. Now, when pegged, the top will be able to expand and contract.


Fit the pegs as needed. Block plane and was can help. Only put a little glue towards the top of the peg.


Here's shovel, can ya'll dig it?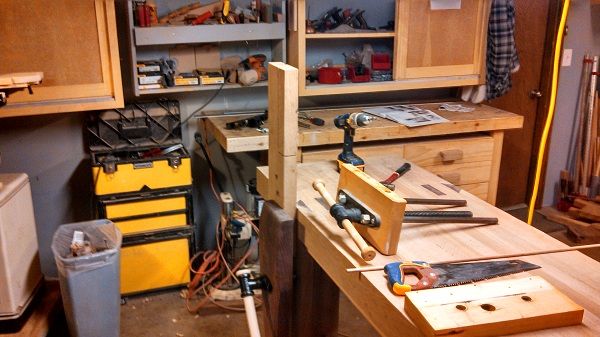 Robbed the vise off of my old bench for my end vise.


Similar breadboard thing. But I beefed up this end.


Next I busted out the stanley 8c and flattened this bugger. I also have a veritas low angle jointer. For some reason, it caused worse tear out on oak. I even honed it at a different angle. I want my money back;-P Got the rest of my life to get better at it I guess.


Marked and drilled some dog holes. I've always be decent at drilling straight free hand. A long bit helps you eye it.


I knew there was a chance my gramercy hold downs wouldn't work well on a 4" top. I was right. So I took a stepped bit, or unibit, and reemed my dog holes from the underside of the bench. This took care of the problem.


Next a planing stop done like our forefathers did.

The stop rod for my leg vise (to keep it from racking) is made from a landscaping nail. Thrifty.


Lastly, some oak boards for my lower shelf. I was diggin the two vise setup already. Another coat of danish oil and good German beer later, I have a bench. Final pics can bee seen on my project page.
I almost couldn't believe I had done it. My old bench, now just a sharpening station in the background, shows how far I've come in 5 years. I'll close this blog with something I posted elsewhere on this site:
"I will forever encourage people to build their own bench. It's such a great opportunity to practice your skills while being easy on yourself because… it is just a bench. My first was Schwartz's $175 bench and I used the tar out it. Just today it got demoted for my new roubo, but I'll keep it. Build one. Not up to your standards, sell it, and build another. That's how we improve, by just doing it."
Questions, comments welcome. Really only started this blog because a few guys asked how I was doing that darn dovetail joint. But I'm glad I did.
-- "At the end of the day, try and make it beautiful....because the world is full of ugly." Konrad Sauer
---