Here's my attempt at building a Roubo bench (with those sweet dovetailed legs) combining power and hand tools. Many of have us seen Chris Schwarz write about doing this with project all hand tools. I opted for my hybrid ways for a couple reasons:
1) I don't have the hand tools nor the skill to pull this off by hand yet.
2) This is my hobby (a rather involved one). I want to enjoy it. Chopping out morties by hand for days on end doesn't sound like fun to me.
I should also note, I hadn't planned on blogging this, but a few friends and Ljs were interested, so here it is. I just shot pics to show progress, not really as intructional, but I think you'll get the point.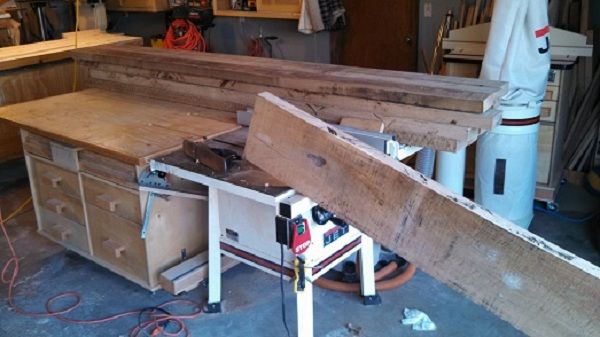 It all starts with a load of 8/4 white oak for my top. I used my jack plane to roughly true up one edge and ripped them to 4 1/2 in. Can you hear my tablesaw in this pic begging for a new owner?
Why white oak for the top? Becasue I can get it as cheap as southern yellow pine here, and because I am secretly in love with the oak tree.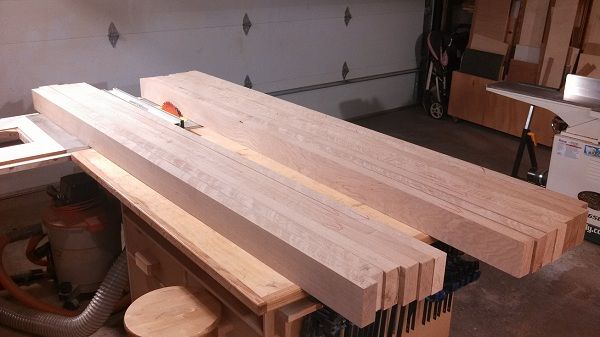 Several hours of milling (jointer and planer) I have some trued up stock ready for layout.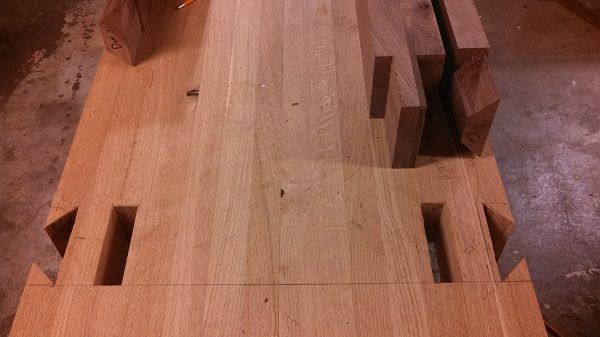 I didn't take a pic of the layout, so I'll jump ahead with pic that'll show you how it ends up. Oh contraire, those dovetails and mortises are cut on the tablesaw before glue up. As for now, I layed them out so they would be directly accross from each other.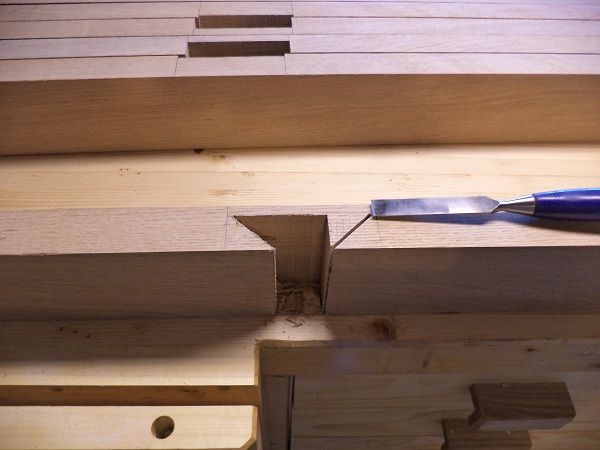 This is how I did the dovetails/mortises. The angled cuts were done with the tablesaw at 45 degrees (you will need someone to help support the long end). Then I used a dado stack to hog out as much as I could. Followed by a good ol chisel to get the rest. The square mortises can just be done with the dado blade. My tenons are 1 1/2 in thick, with a 2 in space between. These can be adjusted if you are no using 8/4 stock.
I suppose one could line up their mortises with the laminated glue joint. But I chose not to.

Massive glue up in sections. I have an 8in jointer so the inner sections have 4 pieces. I was careful on the out sections to keep my dovetails and mortises lined up.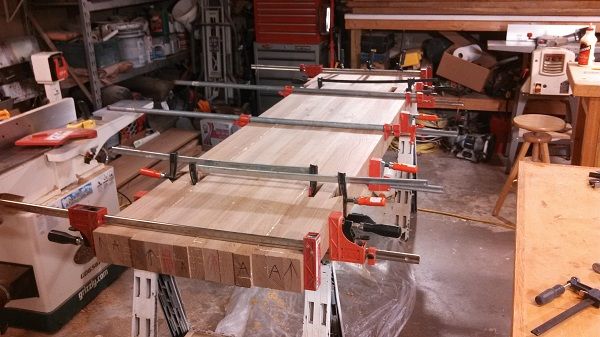 After my sections were dry. I milled them some more, being careful with the outer sections. I really didn't want my jointer to hog a chunk out of my dovetail. Help was needed to support these heavy sections. Retired neighbors come in very handy.
Then I only had a to add the two outer sections, paying close attentions to my layout lines. If they are not truly accross from each other, the base cannot be square.

How about some legs? I got a deal on knotty old Iowa walnut shorts. Should make some cool legs. Actually, the legs are pretty much done. I blog about them tomorrow. I've had my fill of photobucket for one night.
Click on part two at the top of the blog if you want to see the rest.
-- "At the end of the day, try and make it beautiful....because the world is full of ugly." Konrad Sauer
---