Two miracles have happened first thing in this class. Miracle one is that I am not the only woman in this class!!!! Very odd occurrence. Miracle two is the other woman is an orthopedic surgeon! Just what I need. She's been very nice and has given me some tips on what to do to make my back feel better. So that's a blessing.
So onto the class.
This is Kelly – the school's owner. You can tell right off that he is a very nice man and runs a good school.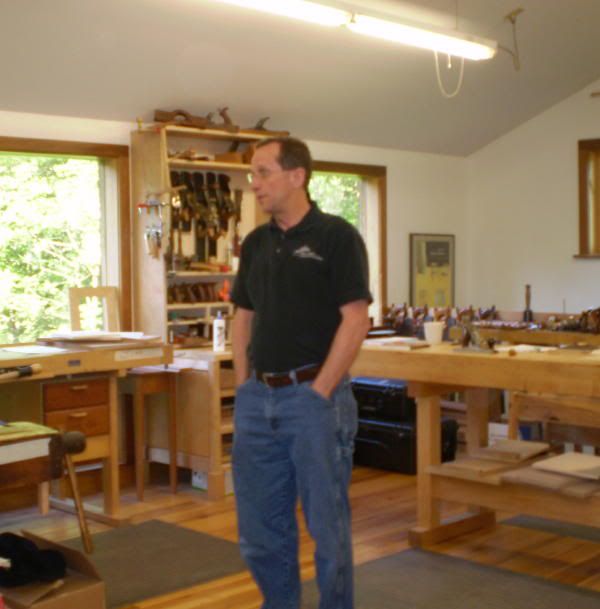 This is Deneb the instructor. Very nice, personable and obviously very informed about woodworking. He works at Lie Nelson but he is not pushing their tools – which is good.
Some points of interest that I learned today.
When tuning up a plane—start with the "Lillypad." Which is what Deneb calls the area of the plane where the frog sits. Make sure that everything that bears against one another is flat and smooth and that no gaps exist.
Once done with the lilly pad move onto the frog itself and clean it up and make sure there are no burrs, etc. that will get in the way of mating pieces.
Then onto the blade – back first then the front.
Then the chipbreaker—make sure there is no gap between the chip breaker and the back of the blade – any light/gap must be eliminated.
Put the plane back together and lap the sole flat. Then check the sides for square.
I'll get into a little more detail later… but onto sharpening which is the main reason I came for this class.
The first thing Deneb really brought home was that when he starts with a new blade – he starts by polishing it on an 8000 grit stone. Doing this will immediately bring out any defects and that allows you to know what you are going to have to do to get the blade flat and ready to sharpen.
He got into back bevels—- but I kind of zoned out about that time——but he talked about the ruler trick.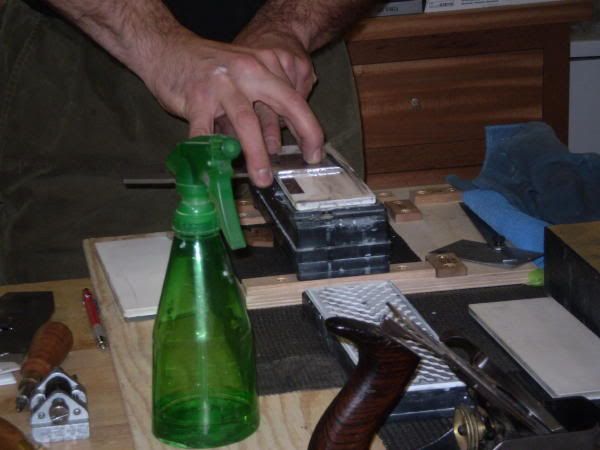 I'm going to have to ask about that again tomorrow – I'm still not feeling all that well and I kind of lost track of the lecture. Sorry guys———I'll try to get that information tomorrow and pass it on.
As to planes as a whole – the smaller the plane the more important it is that it is completely flat === a large jointer plane is not necessarily the one you want to spend all your time tuning up. The smaller the plane gets the more time you spend on it.
After the initial polishing on the 8000 grit, he moves on to 180, 220 and 400 grit paper on a granite surface. He works in a progression. 10 or so strokes on the 180, then 10 or so on the 220 and then 10 or so on the 400 – then back to the 180. He has a very good reason for this—- but I'll have to tell you later——another zone out time for me. Sorry guys.
One thing to remember is that the back of an iron/chisel or the sole of a plane can only be as flat as the surface that you are sharpening on.
Something else that sticks with me is that if you take a stroke with a plane and you don't get a shaving—- it may be the board and not the plane. If you have set the plane up for a light cut and you are sure it's set correctly and you still don't get a shaving – then go back to the last plane you used and rework the board. Then try again. Don't just assume you need to move your blade out further, it's probably that the board is not flat enough from the first plane.
Ok——so here are some pictures of the plane I am working on.
This shows me truing up the frog = the piece is sitting on the shooting board with 220 grip paper on both the top and lower level of the board. Using 3/4 material is perfect for this size piece and made quick work of cleaning it up.
Here's a shot of the other side cleaned up.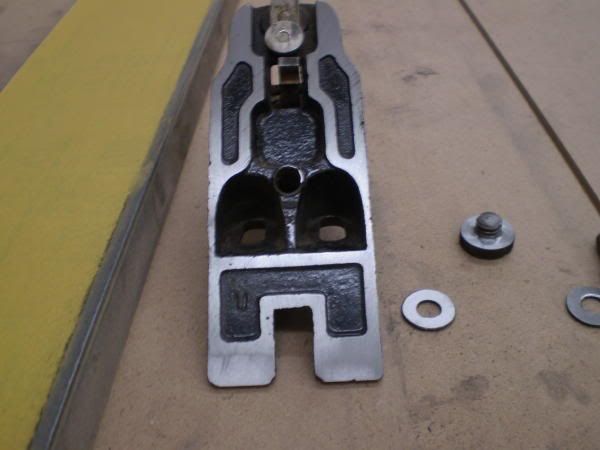 Here I wrapped a piece of adhesive paper around my frog and used this to clean out the body. It worked pretty well.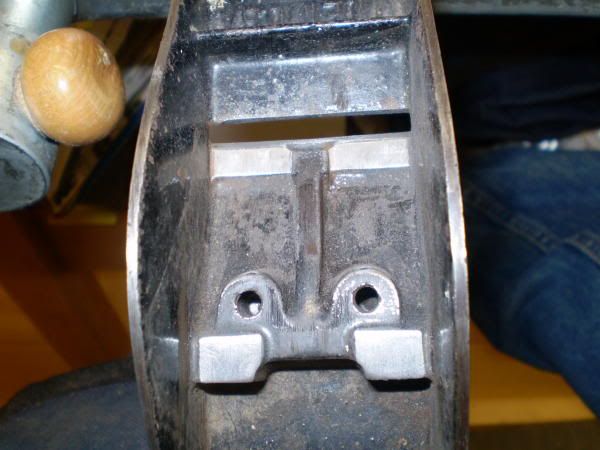 Now to put it back together.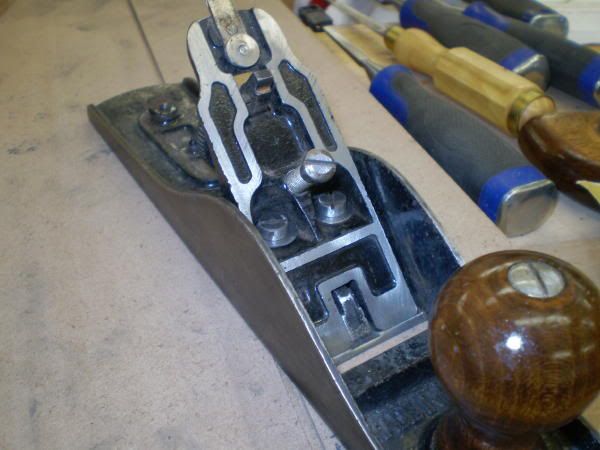 Even at this early stage this plane looks better.
That's all I've got for today fellas. I'm afraid I did not take many notes, and even if I did, I've never been a good note taker.
More tomorrow.
-- "Our past judges our present." JFK - 1962; American Heritage Magazine
---