I've been using a coping saw to cut out the waste—- but found that it was difficult to use. So I got a fret saw and installed a spiral blade that should work well.
This is the saw I bought.

Now would someone explain how the tensioning is supposed to work. I've installed my blade and its quite taught in the frame. You can pluck it and it "sings" the same note as I would be happy with on the scroll saw. But when I cut with it the blade flexes at least 1/2". I'm pretty sure that's not right. So how do you adjust the tension? I've tried pushing the frame tighter—- to no avail. I've fiddled with the wing nut on top—- same.
Ok – now onto the dovetails issue.
I've started doing my final chopping with the board situated so that I can look straight onto the chisel and can tell if the chisel is vertical.
This picture shows the chisel—but the board blends into my workbench.
Now when you chop down on the board to break away the waste do you move your chisel to the right or the left? Moving to the right seems like it makes a divet in the bottom of the piece—moving to the left seems to break the edge so it's not crisp.
Seems to me that the divet in the bottom would be the choice—but wanted to put it out there for your opinions.
I am getting better with the dovetails – here is my latest attempt.
My tail board.
My pin board
Put together – side view
top view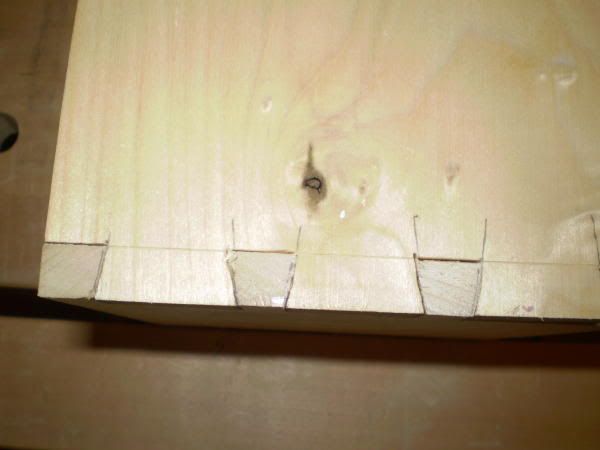 Now – how tight is to tight? I put these together with light taps of my hammer. I'm wondering if this were a real project and I fitted the joint in a dry run – then take it apart to glue that the fact that I compressed the wood the first time it would not fit as well the second time around. But if you don't test fit before you glue you could end up without a good fit.
Thanks for your help.
-- "Our past judges our present." JFK - 1962; American Heritage Magazine
---