Ok—- It's been a while since I've blogged on my hand plane syndrome. I've been playing with them and getting to know a little bit about them. But I'm going to submit a few questions with pictures to hopefully make me understand how these wonderful little devices work.
But before that—- I am reading Garrett Hack – the Handplane Book. It's an excellent read. I'm a skimmer the first time I read through a book like this——I pick up the highlights and go back and read some more. So far though I have to say this is a real keeper. The only thing I can say bad about this book as that the publisher got a page out of order but other than that it's a good book.
ok – so back to my application. of course one of the first things after flattening, sharpening etc. is putting the plane back together. I've gotten over that hurdle. i was never good with mechanics – despite remodeling houses I've always struggled with these little things (confession over). But now to the adjustment side of things.
I am working with a Stanley block plane to begin with. My first questions surround the level cap.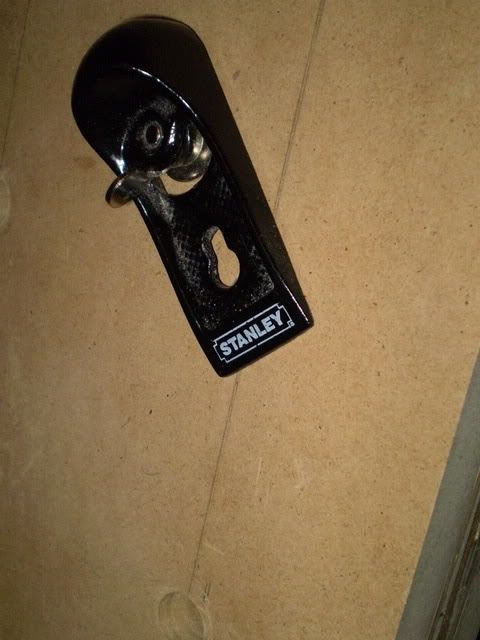 In Hacks' book it says that the flat of the cap needs to be flush with the body of the iron just as a typical cap iron would be flush. I understand the reasoning in that without the added support of being flush you can get chatter and not such good results. My question is in the installation. When you have done as you think you should and flattened the cap – when you put it back on – do you first tighten the screw tight and then slide over the lever or should the lever be over to one side or the other as you tighten the screw? Right now I am tightening the screw and then moving the lever over as far as it will go. But I'm beginning to wonder if I should be tightening just a little then move the level over and then finish tigtening the screw. I'm thinking that the screw is not what is giving strength to the iron – its the lever and if I tighten to the point that I can't move the level then it's null and void.
Hopefully that makes some sense and one of you can tell me if I'm on the right path to thinking this through or simply not asking the right questions. Some of your plane afficionado's probably think I'm crazy – hence the Plane Idiot application. I humble myself before you. :-)
-- "Our past judges our present." JFK - 1962; American Heritage Magazine
---