Hey All,
I use to have my woodshop in the basement of our home but that didn't work out too well after I finshed the Family room. I have since taken over the 22'x22' Garage and that is home for the shop. I have been working on getting it organized. I am currently working on my Miter Saw / Storage Bench based loosely on the one that Norm Built on the NYW. I am using Birch Ply from Home Depot ($23.00 a sheet) for the case and the drawer fronts. And 1/2" birch ply for the drawer boxes and bottoms. The top is 2×4's on the flat and I used pocket screws instead of half laps and they work Great! Sheeted with 3/4" CDX ply and then topped with 1/4" hardboard. It will be trimmed out with maple. This is what I have got done so far….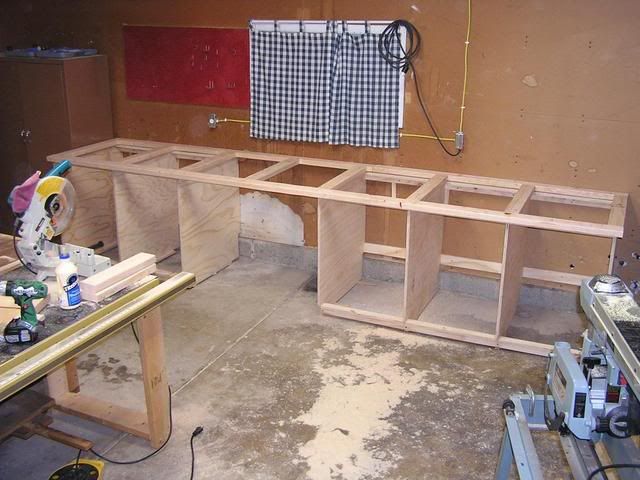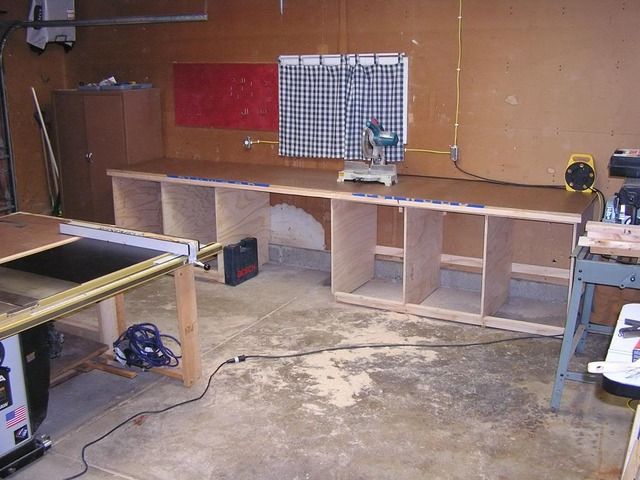 I will finish it up once I get back from a trip I have to make. I can hardly wait to get this done. I really need the storage! This is the first time I have ever tried to build shop cabinets and I am learning a lot. I made a ton of mistakes already, but I guess that is how we learn. Working on a garage floor is fun trying to get everything to line up and get it plum and square. One of the lessons that i learned on this projects (and there have been many lessons learned) is to pay attention and not get in a hurry. I got in a hurry and lost my focus and missed my grain match on my draw fronts by about three inches :( No harm done, lesson learned.
John
-- Formerly known as John's Woodshop - and NO not the one from Ohio!
---