Yesterday evening was a reminder of why I do what I do, as a parent, and as a woodworker.
During the day I was stressed at work keeping up with all the phone calls. It's getting into the busy season so things are really picking up. That's fairly inconsequential though, it's not that difficult to do on mental autopilot.
What the main source of my stress was, my wife and I have some friends who are a couple that are going through a rough patch, and have been for a while now. Friday nights have been a regular thing with them for a couple of years now, and my daughter has really grown fond of them too. The guy, whom my daughter has affectionately dubbed "Silly Guy" might be on his way out unless he gets his act together, relationship-wise. He's a fun dude and my daughter loves playing with him, so the idea of having to explain to her why Silly Guy isn't around anymore just hurts to think about.
So when I got home from work yesterday and my daughter greets me at the door saying, "Daddy! Let's work on my toolbox!", I knew that was just what the doctor ordered. Daddy-daughter time, combined with distraction from other problems? Sounds great. The other day she told me she wanted a toolbox, just like Handy Manny. It's a kid's show, where a guy and his talking tools fix things.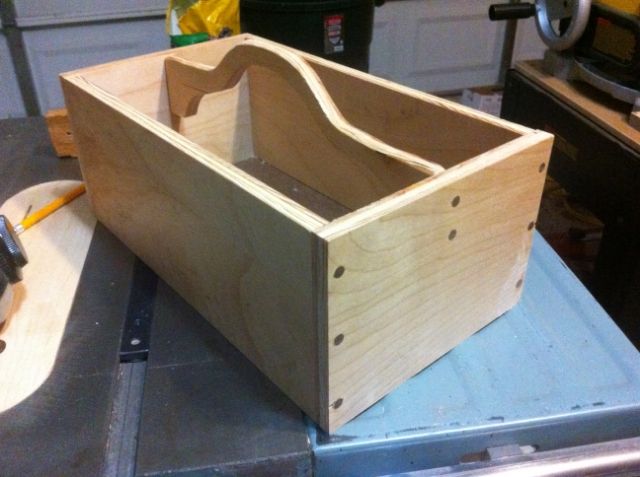 The day before, we'd cut the parts from 1/2" birch ply, drilled holes, and pegged the joints together with walnut dowels. Today we got to saw the pegs and sand them flush. She absolutely loves to saw things. She's only four, so she's not quite old enough to do it by herself. But she'll stand on her stool with her hand on the saw as I guide the cuts. After getting the remaining glue off with a card scraper, I had her stay back while I gave it a good coat of spray lacquer on the back porch. She also told me of her intent to paint it. I guess that'll be another day.
She sure has a strong spirit, I'll give her that. It's been hell to deal with during potty training, but her stubbornness can certainly be an assett in the future, I think. I just have to channel it properly. If I had a nickel for every time I've heard her say, "Daddy, I can do it myself", "I don't need help", or "Here, let me do it", I'd have saved enough for a good down payment on her first car by now.
And she definitely digs tools. The other day I took her over to my parents' house to hang out. My dad told her, "Show your daddy what you did with the tools the other day." So my daughter grabs my dad's ratchet set and goes over to their minivan and starts pretending like she's changing a tire. She wasn't actually turning the lug nuts, but she has a firm grasp of what it's supposed to do.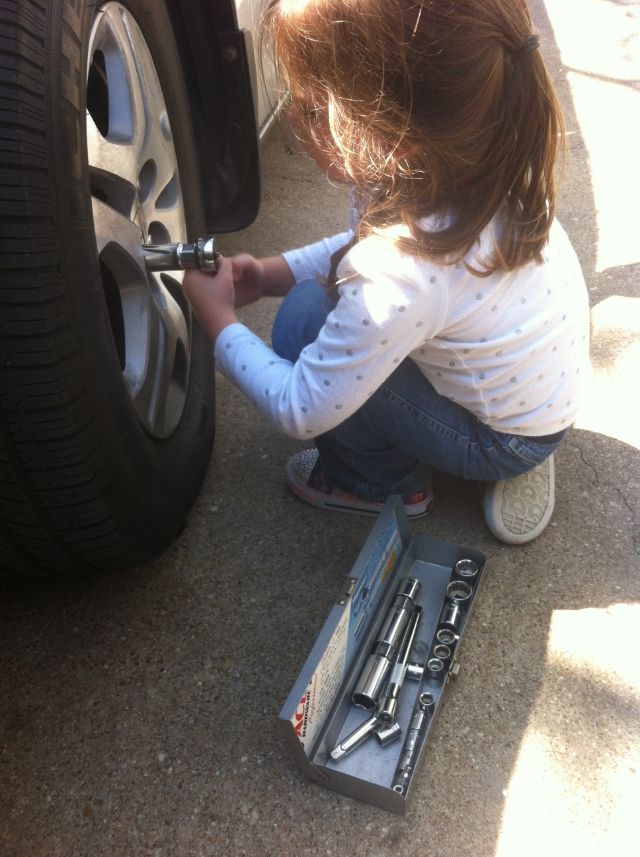 The other day I had to run to the Big Orange Box with her. She was enamored with the riding lawn mowers, and insisted that I let her "drive the tractor". She kept asking me how to start it, having every intent to run the thing herself.
Our friend from the aforementioned couple is the mother of two boys, 15 and 12. The younger one in particular is fasincated with machines and building things. When I showed him my woodworking setup in the garage, he begged me to make him a functioning crossbow. Naturally that was met with an emphatic "not only no, but hell no". Although I said if he wanted me to make him something fun that doesn't have the potential to easily kill someone, that would be fine.
He took a liking to the sword I'd made for myself, and asked if I could make him a dagger.
Now that I could do, with blunt edges, of course. So here's what I came up with him. It's mahogany with a walnut grip. It was a fun little distraction.
Naturally, now my daughter wants one too. She said she wanted a sword, so I'm making her a sword, albeit one for her size. I drew out a few options, like a straight knightly sword or a curved pirate sword. She opted for the straight variety, but added a strange qualifier that I'm still not quite sure how to accomplish. She said, and I quote, "Make me a donut sword." Uh…ok. After asking a few questions I'm still not sure if it's supposed to have donuts that fit around the blade, or have donuts painted on the hilt, or what. It's a mystery.
Anyway, that project remains a work in progress, so no pictures yet. Just wanted to share some amusing notes from parenthood. Nothing we're doing right now will be seen in the pages of Fine Woodworking, but I know that when she grows up that it's days like yesterday that will be her most fond memories. That's what counts.
-- Brian Timmons - http://www.BigTWoodworks.com
---