The shims I glued to my tenons are ready to be pared back. Seems like the mortises were just a little less than square with each other, which caused the twist when connecting the two of them with the center piece. So this session involved a lot of me hunching over the bench paring away paper thin shavings.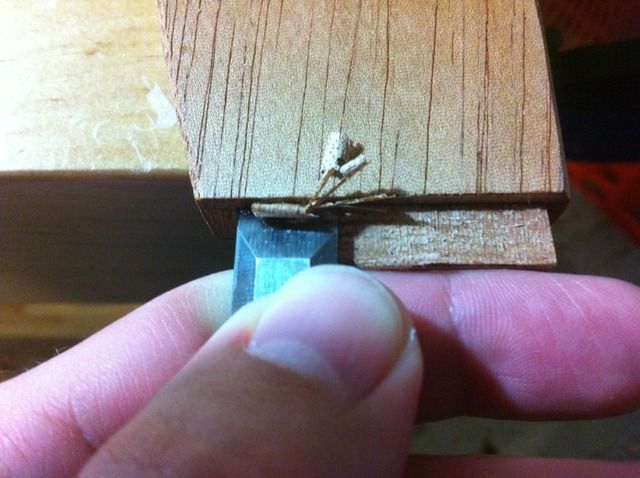 Testing my fit. The top of the tenon cheek is good, but the rest of it is still a little too fat.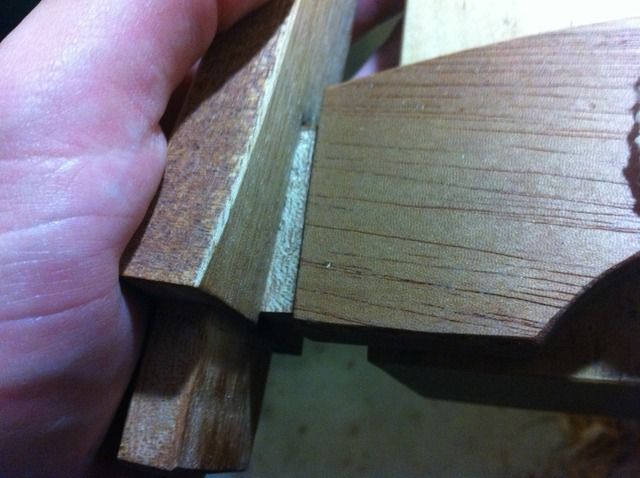 Shaving just a bit off, and then it fits nice and snug.
I also determined that I need a bar connecting the feet for better structural support. This is a pretty common design feature for these pieces, and I think it offsets the curves nicely. It hasn't been oiled yet in the picture, hence the color difference. Oh yeah, I just eyeballed the placement of these mortises, rather than making sure they were square with each other. So like an idiot, I was totally surprised when the bar didn't run parallel to the center piece just above it! Seemed OK from the front, but from the top you could see that one end pulled backward slightly. After moving the mortise on one foot slightly forward to compensate, it looked better. Although there is a tiny visible gap behind one side of the bar caused by a now too-big mortise. I'll need to plug that.
Let my mistake be a lesson! When you're cutting joinery, eyeballing it is NOT good enough.
So here's the finished shape. It needs more coats of boiled linseed oil all over, especially the spots where end grain is exposed. Look at how dry the feet look compared to the rest of it. This mahogany is seriously thirsty. At least from here on out there's no cutting involved. Let's hope I don't find a way to screw up a BLO finish.
-- Brian Timmons - http://www.BigTWoodworks.com
---