A katanakake is an elegant way to display Japanese swords. Like much of the aesthetic that descends from feudal-era Japan, it can be purely functional or highly decorative, but form always follows function. The Edo period of Japan saw the creation of countless beautiful artworks in every possible medium, be it woodworking, architecture, sword making, painting, etc.
So how did I stumble upon this specialized niche, anyway? A few years ago I started practicing Muso Jikiden Eishin Ryu Iaido, but I've been out of martial arts ever since my daughter was born over two years ago and I probably won't be continuing. In any city, it seems like you're a stone's throw from a Karate dojo no matter where you stand. But dojos that teach sword arts, with a legitimate lineage from Japan, are extremely hard to come by. The dojo I attended is an hour away from my house, and it's simply too far away to be practical now that I'm a family man. But my inclinations and appreciations haven't changed much since then.
So, on to the current project at hand! Here I have some pieces of mahogany, cut to length and planed smooth. I tell you man, there's nothing like nice wood just after you hit it with a #4 Stanley plane.
All pieces are roughly 1/2" stock, with the exception of the square stock that will be shaped into the feet of the stand. At this point, I'd already chiseled out my mortises in the feet and fit the tenons of the main rack pieces into them. The center piece has also been cut to shape. The center radius cut out was done with a cheap paddle drill bit, if you can believe that. All it took was a light touch, and drilling from both sides to meet in the middle to avoid blowout. I also need to refine the curves on a spindle sander.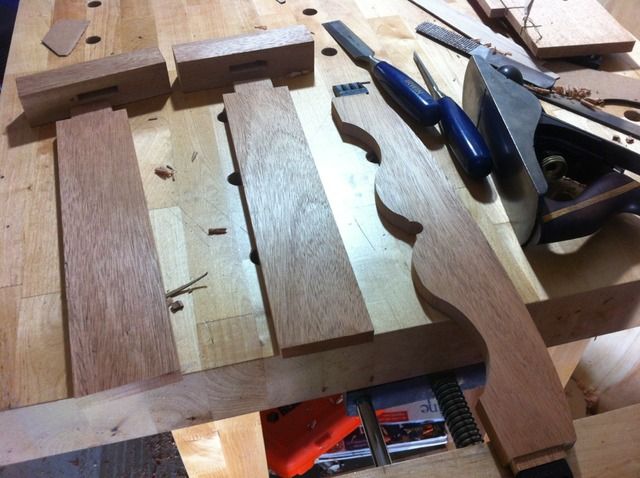 Since the tenons on the center piece have already been cut and trimmed, it's time to mark out the mortises on the racks. A few pulls from my new wheel marking gauge, and voila.
Time to chisel out these mortises. I used nothing but the chisel pictured to do this, taking extra care not to go through the other side! A through tenon is not what I'm going for here. I did chip out a little morsel at the bottom, but it will be covered up by the center piece so it doesn't really matter. On the other rack piece I managed to leave it intact. The tenons look a little chewed up, but they fit much better than they look!
The rack pieces have now been rough cut on my band saw. Here they are sandwiched together in my vise so I can refine the rough spots with some files, before I even it all out with my spindle sander.
Stay tuned…
-- Brian Timmons - http://www.BigTWoodworks.com
---