Hello everyone,
My wife and I have been designing our office in a way that we hope will fit our needs and server as a guest room for our kids when they come to visit. When we got the news that we are becoming first time grandparents, we quickly changed some of the design a bit and got started on it right away.
We drew this up in Skecthup and liked it because it met many of our needs.
<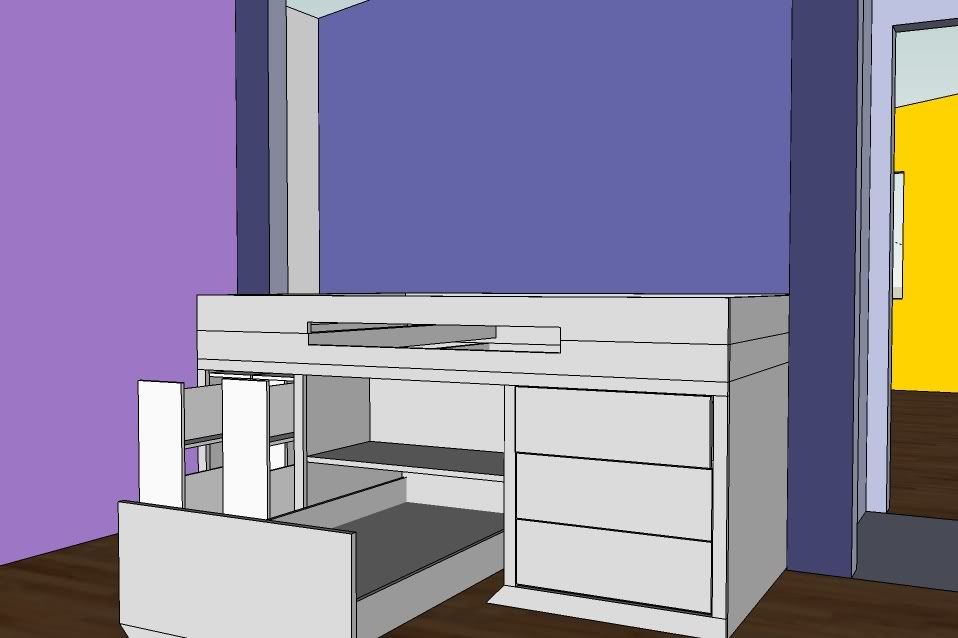 The top will accommodate a full size bed so that it is not too big, but can sleep two people comfortably. Below the bed where the narrow hole is, there will be a slide out 3'x3' work table, so when there are no visitors my wife will have a place she can work on her art, and scrap booking. On the left we will have two pull out shelves that will hold a lot of our old VHS movies that my wife can't bear to get rid of. (I tried to talk her into making it so it holds DVD, but I lost that battle.) On the right side is three large drawers, (Two to hold clothes, and one for baby toys.) that will be for guest that might stay for longer than a couple of days. The center is a shelf that will be used for whatever my wife fancies, and below that will be a pull out baby bed that is built to hold a mattress the size of a crib mattress.
Now, the problem is when we originally designed this sleep area we were planning to make a custom size mattress out of some foam material, with two narrow shelving/entertainment centers that sat on both sides of the bed, and over head cabinets. But, when talk of grandchildren came into the picture we thought it would be neat to add a baby bed into the design. This made the bed too big to fit the entertainment centers in the space allowed. My wife really wants to put in a small TV and VCR in the left over space, but we can not think of what else it could be used for.
Here is a picture of how far we are as of today, and the space we have left to work with.
We thought it would be fun to have our friends in Lumberjocks to help us with ideas of how to use this space. The space allowed is 12 1/2" x 24" x 90", and we would real like it to hold a 19" LCD TV and a VCR, and the rest we are open to suggestions no matter how extreme (We like challenges).
Thanks
-- A man who moves mountains starts one stone at a time.
---