You every had one of those days when you go in to your shop when you feel like you shouldn't? Well, I just had one of those days. I have been working on a sushi style tray for the cook off. When I took it out of the clamps I noticed this.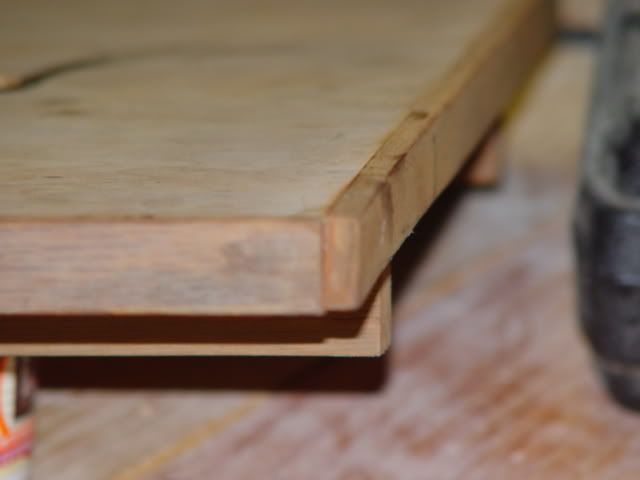 Three corners were perfect and this one must have slipped a little when I was clamping. I was using my Jet clamps side ways, so I did not notice it. No big deal I will just get out the scraper and bring it even with the rest of it.
Well, I ebonized the boarder with vinegar and steel wool solution and I found that it does not penetrate as deep as I thought. Now I have a light spot on the top of the boarder. No problem I will ebonize it to match, (haha) but for some reason it stays lighter than the rest of the boarder. Not know what to do and getting to my wits end I figure "forget it, nobody will notice."
Then Michele gets home from works and says "Oh no, we have to fix that!" So I did what any normal husband would do. I ignored it and moved on to the next task.
I noticed that there were light spots on the inside of the boarder, probably from the glue. Michele had the good idea to wood burn the edge of the inside boarder. Hey that would be a good cover up. There's already an image burnt in the center, and it would look like I meant to do it. (HAHAHA)
Word to the wise: Make sure all the glue is off! Glue does not burn well! In fact it does not burn at all!
Take a good look at the above picture, because in all of my reading I have not read anything that mentioned this little fact. So, for all novice woodworks like myself, and like I told all my sons when they were growing up, learn from my mistakes, and try your best not to repeat them and you will have a very successful life.
That's all for now, I am going to bed, get a good night sleep, and try again tomorrow.
Aubrey
-- A man who moves mountains starts one stone at a time.
---