Well here is my latest sled design.

This sled is a combination of many sleds that i have seen in the past. One sled that really influenced it, is the super sled by john nixon at eagle lake woodworking. I like the t track on the sled part (the sheet part) but i am going to use real t track. I also liked the t track on top of the fence, which i incorporated, but it stops there. This sled should be able to do just about everything. You can cut 45's ( blade tilting at 45 deg ) and every other angle, and you can cut dado's. So here is it, lets get started.
First the fence. The fence will be made out of baltic birch plywood, 3/4" and 1/2". I will sandwich 3 layers of 1/2" and 2 layers of 3/4". The fence length will be 36" long, 6" high and 3" thick. I am using ply because on the one i have now i have 2" of red oak and it bowed on me and its not perfectly parallel between the faces. I am hoping that the ply will fix this.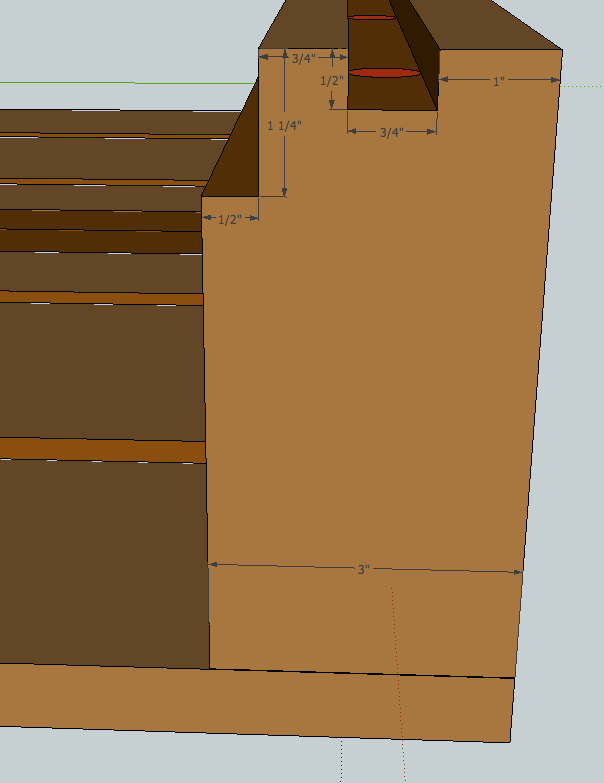 Starting from the left there will be a piece of 1/2" ply cut at 4 3/4" tall, then a piece of 3/4" at 6". Then another sheet of 3/4" cut at 5 1/2". And finally two sheets of 1/2" ply at 6" tall. All these will be 36" long. The reason for these cuts is to accommodate incra t track. On the face, where the 4 3/4" piece is, a t track plus will go there (it has a t track and a ruler), and another set of t track in the 1/2" by 3/4" slot on top. The reason for using sheets of ply was to make it as simple as possible to put together and to make as little of technical cuts ( dado's to fit the t track), so the error's could be kept small.
Another advantage i thought of is that with the 1/2" sheet on the face, i could easily make a cut out for a sacrificial face plate to go.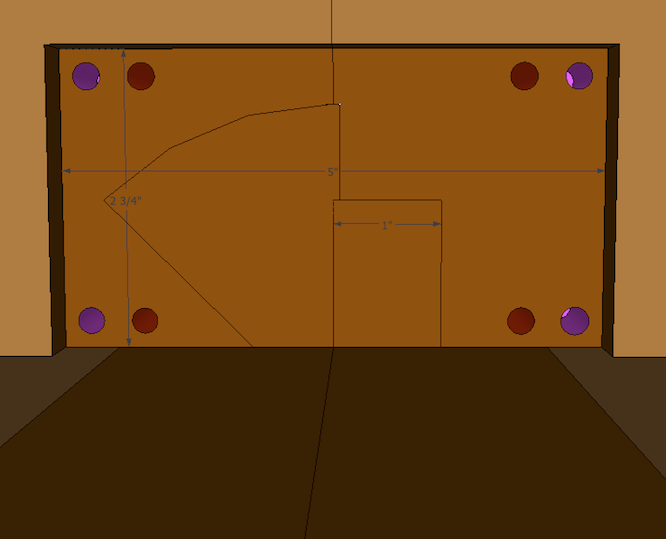 The red and pink holes will receive threaded inserts for a 1/4" – 20 screw. The pink holes, maybe an inch deep from the face, will attach the sacrificial piece. While the red holes will be drilled all the way through and will be used to make the insert piece flush with the face of the fence. I thought adjusting it from the back would be much quicker then removing the sacrificial piece and fiddling with set screws. I was also thinking of veneering the back and sides but am a little reluctant as too the t tracks not being flush with the face.
Now for the sled portion. Since i want to be able to use this for dado's and angled cuts (blade tilting) i had to make a sacrificial piece for the middle ( where the blade will be).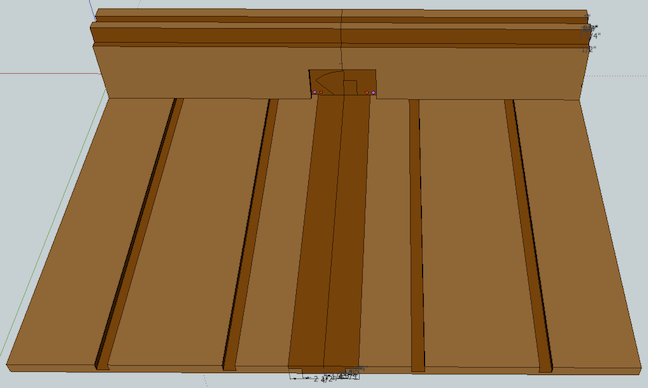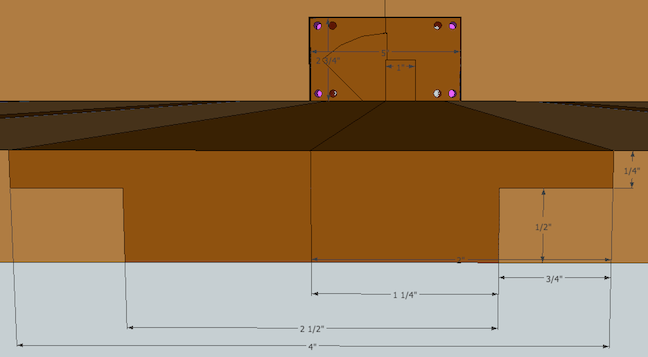 I will again use threaded inserts placed in the sled for the sacrificial pieces to removed and replaced. The sled will be 3/4" ply and will have a 1/4" rabbit along the inside edge to attach the sacrificial inserts. I will make a long strip, one piece, that will fit the opening and chop it down and make a bunch of them. The two slots on either side of the center section will have some incra t track.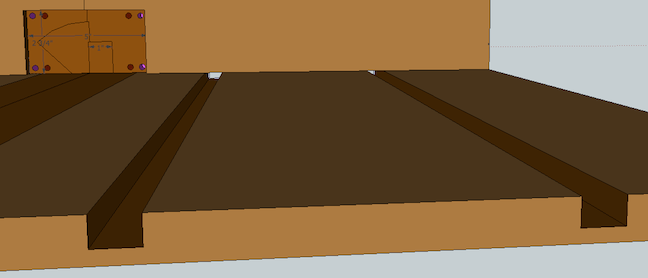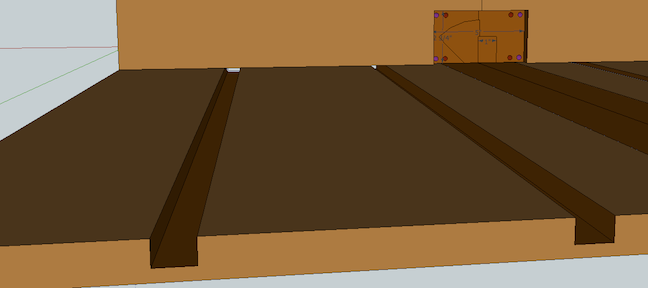 I am pretty sure i am just going to make the t track and center sacrificial piece go all the way through to the back as to have easier cuts.

And now attaching the two together. To be honest i haven't ironed this out very well. i think i am going to make 4 or 6 recessed holes (1/2" to 3/4") underneath the t track on the top part of the fence. I don't have the hardware yet for this so its subject to change.

And the runners Haven't come up with much. i don't want to pay $20 a piece for the incra ones, and i definatly don't like the wood ones on my sled now. I would go with some umhw but i have no where to get it. I think i might even use some plexi-glass. I have a sheet of scrap about 3/8" thick.

That was a mouth full. Well there is my design. I have overhauled this thing 4-5 times adding new things and trying to make it easier to make, and cheaper. Right now my sled is almost un-usable, and i can't wait to get this thing rolling. To be honest, i wish i could just get this cnc milled from a single piece of aluminum, just so i never have to make another. But it is a woodworking tool so i guess its only fitting that i make it from wood. Please, give me some criticism and or pointers, i really want this to come out well. Ya if you want to look at my sketch up file just message me. o ya, this is the first thing i made on sketch up, as well as my first blog entry, ever, on any site, in the world, woot!!
-- Ben L
---